Let freedom ring with our roundup of mouthwatering 4th of July recipes! From grilled mains to sweet desserts, we've got the All-American Independence Day classics!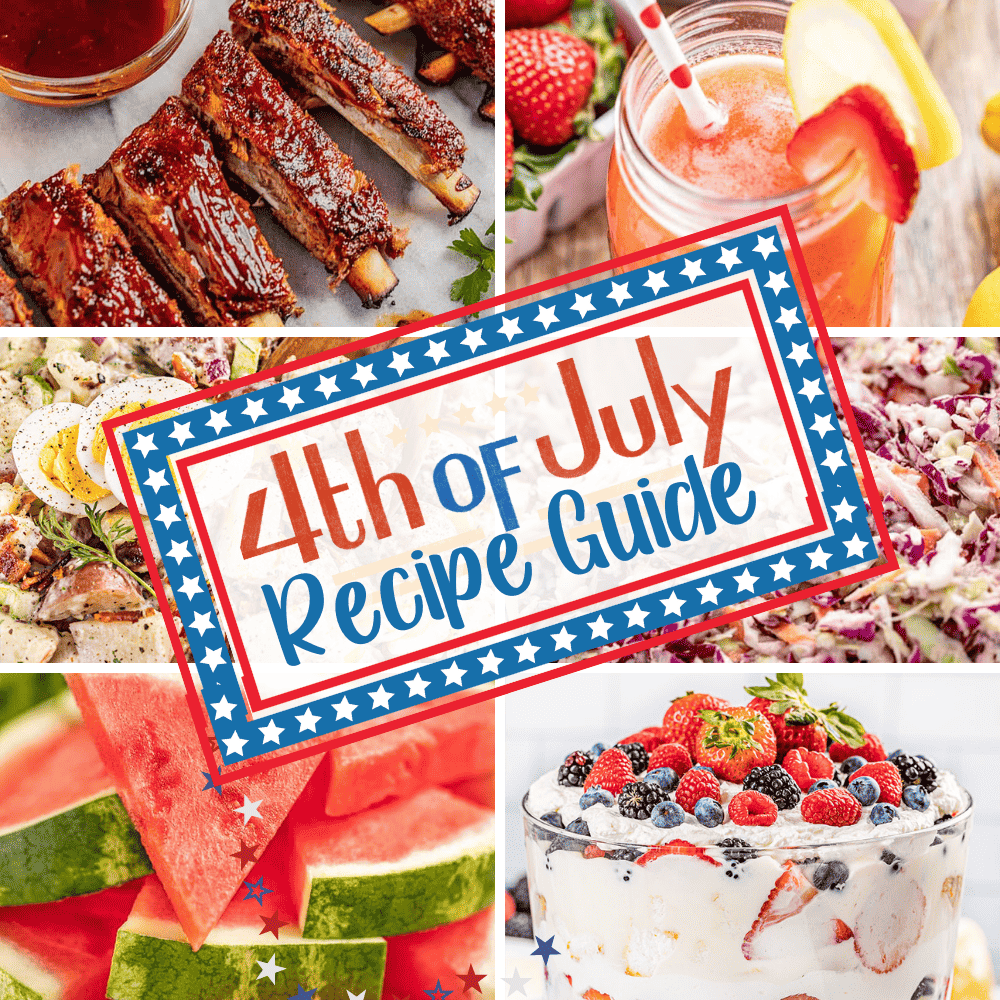 Welcome to our grand 4th of July All-American Recipe Roundup! There's no better way to celebrate our nation's Independence Day than gathering with friends and family around a table laden with a feast of traditional American favorites. From smoky ribs straight off the grill to vibrant salads bursting with summer freshness, this roundup covers all the bases for a spectacular 4th of July spread.
We're sharing a smorgasbord of recipes perfect for your backyard celebration. Whether you're firing up the barbecue or the smoker, mixing up patriotic desserts, or blending refreshing summer cocktails, we've got you covered. We believe that every dish should be a celebration in itself, and with these recipes, your holiday feast will be just that.
So get ready to don your apron, fire up those grills, and celebrate Independence Day in true all-American style with these unforgettable recipes. Here's to a holiday filled with good food, good company, and good times!
---
Classic Cookout Grilling
There's nothing more American than firing up the grill on the 4th of July! This section brings you all-time favorites like juicy burgers, steak, and grilled chicken, all with that distinctive smoky flavor we love. Each recipe is designed to be simple yet delicious, perfect for that backyard celebration.
---
35 mins
Learn how to make perfect Fried Chicken with the crispiest, most flavorful crunchy outside with moist and juicy meat on the inside. 
Fall-off-the-bone Ribs
Succulent Rib Recipes: If there's one thing that stands out in an American barbecue, it's a rack of delicious, tender ribs. Ribs are the superstar of any grill and are sure to be a hit at your 4th of July celebration. Whether you prefer them smothered in a tangy barbecue sauce or dry-rubbed with your secret blend of spices, we've got a rib recipe just for you. From fall-off-the-bone baby back ribs to St. Louis-style ribs, you'll find something here to satisfy your craving for that perfect, slow-cooked flavor. Dive into these hearty, satisfying rib recipes that are guaranteed to make your Independence Day feast a truly mouthwatering affair.
---
From the Smoker
Sensational Smoker Recipes: There's a special kind of magic that comes with using a smoker, a slow and steady transformation that takes your ordinary barbecue and turns it into something extraordinary. This 4th of July, let's slow things down a bit and enjoy the deep, smoky flavors only a smoker can bring. In this section, we're featuring a lineup of impressive smoker recipes guaranteed to level up your Independence Day celebration. We're talking smoked brisket that melts in your mouth, pulled pork that's packed with flavor, and even a few surprising picks like smoked mac and cheese or smoked salmon. Ready to impress your guests? Fire up that smoker, and let's get started on a journey of flavorful perfection. This Independence Day, we're not just cooking – we're creating culinary art.
---
Summer Salads
Balance out your 4th of July feast with our selection of refreshing summer salads. They're light, fresh, and packed with the flavors of the season. Whether it's a classic coleslaw, a tangy pasta salad, or a watermelon and feta delight, these salads are just what you need on a warm summer day.
---
Finger-Licking Good Sides
Finger-Licking BBQ Side Dishes: No 4th of July barbecue is complete without a bevy of irresistible sides. Baked beans, cornbread, potato salad – we've got them all here! These recipes are made to pair perfectly with your grilled mains and are guaranteed to have your guests coming back for seconds.
---
Drinks and Cocktails
Quench your thirst this Independence Day with our selection of summery beverages. From family-friendly lemonades and iced teas to vibrant cocktails, these recipes will keep you cool as you celebrate the 4th in style. Here's to an unforgettable summer celebration!
---
Americana Desserts
Dessert time is a special part of any celebration, and on the 4th of July, it's all about the red, white, and blue. These eye-catching dessert recipes, from flag-themed cakes to berry-laden pies, are sure to add a patriotic touch to your Independence Day spread.
---

And there you have it, our ultimate 4th of July All-American Recipe Roundup! These dishes represent the best of American cuisine in all its delicious diversity. Whether you're an experienced home chef or a beginner in the kitchen, these recipes are designed to make your Independence Day celebration not just memorable, but also filled with culinary delights.
Remember, good food is the heart of every gathering, and we're confident these dishes will bring joy to your table. From our grill to yours, we wish you a fantastic 4th of July filled with laughter, love, and of course, delightful flavors.
Don't forget to share your cooking adventures with us – we'd love to see your interpretations of these recipes and the joyful celebrations they're part of. Here's to an incredible Independence Day. Happy cooking from all of us at TheStayAtHomeChef.com!