These dinner rolls are soft and practically melt in your mouth. They are truly the most amazing dinner rolls ever. Just read all the rave reviews!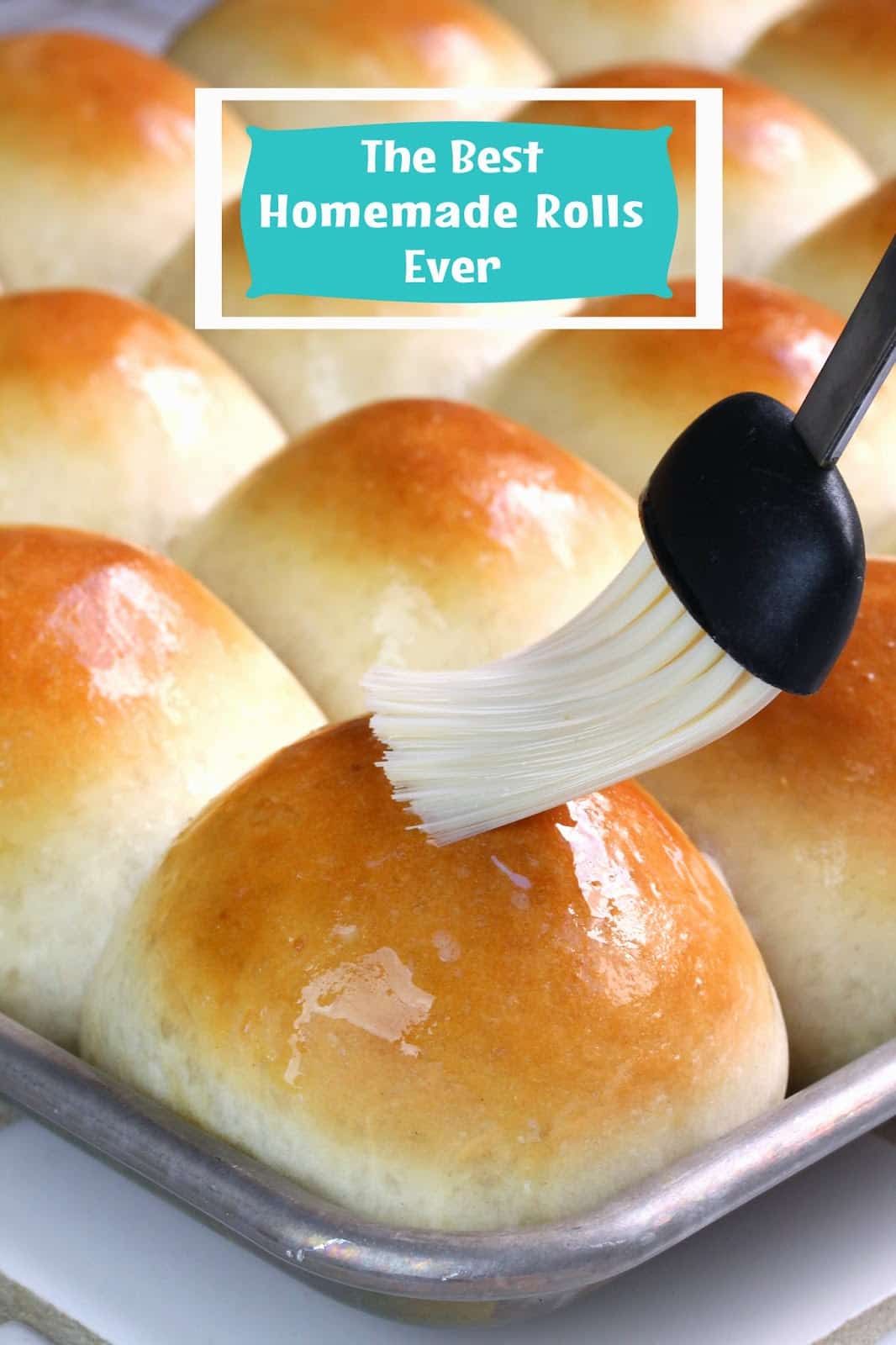 This recipe has been in development for over 5 years. Not joking. I have been attempting to master the dinner roll for over 5 years. I have made dozens upon dozens upon dozens of batches, slowly developing the perfect roll. I've had the recipe solid for about a year now and I am finally ready to share it.
What if I don't have a stand mixer?

You can knead it by hand! Start out by stirring with a spoon until you can't do it anymore and then knead it with your hands. Just keep on kneading until all the flour is incorporated and/or the dough is soft to the touch and only slightly sticky. It's a bit of a workout, but it's worth it!

Can I use another kind of yeast besides instant dry yeast?

Yes, all yeasts will work in this recipe, it's simply a matter of understanding how each kind of yeast works and differs. Instant dry yeast can be added straight to dry ingredients and doesn't require any sitting or proofing. It also rises a bit quicker. Active dry yeast is a bigger size of granule and generally needs to be dissolved in a liquid before adding to a recipe. It activates a bit slower so expect 10-15 minutes extra in rise time.

What should the dough feel like?

The dough should be slightly sticky, but still very soft and pliable. It should just barely not be sticking to the bowl. If you add too much flour and the dough stiffens, your rolls will also get a little stiff. I like to say you can feel a soft roll just by touching the dough.

How should I measure the flour?

The flour you buy at the store these days is generally pre-sifted. There is no need to sift your flour. I prefer the scoop and sweep method as it is ultra-convenient. Simply use your measuring cup to scoop out the flour and level off the top. Weighing your flour using a kitchen scale is the only way to ensure complete accuracy. Even then, bread making is a both fickle and forgiving and the actual amount of flour you add can change just due to the humidity in the air. When making this roll recipe, it is best to go by the touch and feel of the dough. 1 cup of flour is approximately 125 grams.

Can this recipe be made gluten free? Can I substitute gluten free flour?

This recipe was not designed to be gluten free. Gluten free baking involves completely different chemistry. In general, you cannot substitute gluten free flour in baking recipes and expect it to work, however, several people have reported that a blend like Cup for Cup will work.

How do I make my rolls equal in size?

The best way to ensure that your rolls are equal in size is to weigh them. Weigh the entire batch of dough using a kitchen scale and divide that weight my 24. This will give you your target weight for each roll. Usually this is somewhere around 2.5 ounces.

Does this roll recipe make a good loaf?

We love a good loaf of bread and we know that the amazing results of these rolls will quickly have you wondering if you can turn it into a loaf of bread. Unfortunately, the incredibly soft and melt-in-your moth results of this roll does not produce a sturdy loaf. Instead, we worked tirelessly to bring you the ultimate guide to homemade bread instead.

How should I shape the rolls?

Once you have your dough divided into 24 pieces you can shape your rolls. Place your hand into a cupping shape parallel to a clean countertop. Roll the dough in a circular motion between your palm and the countertop.

Can I freeze these?

You can freeze these after you shape them into rolls. When ready to eat, remove them from the freezer and allow to thaw and rise until double in size before baking. This can take anywhere between 1 to 2 hours, depending on the temperature in your home.

Can I make these ahead and put them in the fridge?

Yes! You can make your dough, shape them into rolls, cover them and place them into the fridge up to 24 hours before you bake. When ready to bake, remove from the fridge and let sit 30 minutes before baking.

Can I use this recipe to make cinnamon rolls?

Yes! I've made these into a fantastic cinnamon roll recipe too! Best cinnamon rolls ever!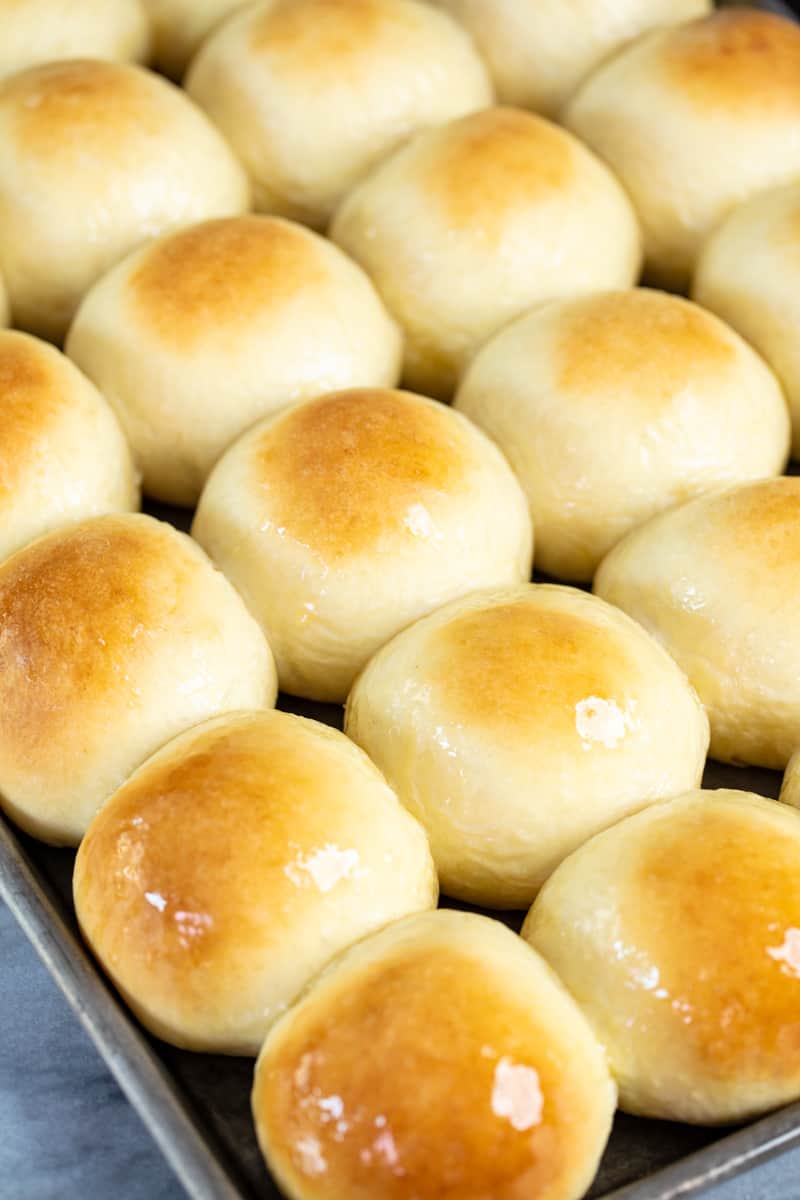 Watch the video below where Rachel will walk you through every step of this recipe. Sometimes it helps to have a visual, and we've always got you covered with our cooking show. You can find the complete collection of recipes on YouTube, Facebook Watch, or our Facebook Page, or right here on our website with their corresponding recipes.
The Best Homemade Dinner Rolls Ever!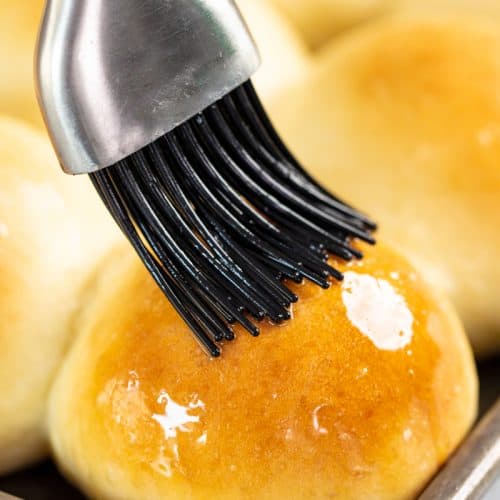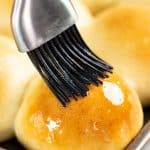 Perfectly soft dinner rolls that melt in your mouth! These are truly the most amazing dinner rolls ever. Just read all the rave reviews!
Ingredients
2

cups

warm milk

2

tablespoons

instant dry yeast

1/4

cup

white granulated sugar

2

teaspoons

salt

6

tablespoons

salted butter

softened

2

large eggs

6

cups

all-purpose flour

1

tablespoon

melted butter
Instructions
In the bowl of a

stand mixer

, combine warm milk, yeast, sugar, salt, butter, and eggs.

Add in 5 1/2 cups of flour. Using a dough hook, turn the

mixer

on to a low speed. Once the flour starts to incorporate into the dough, increase the speed to a medium range. Slowly add the remaining 1/2 cup of flour until the dough pulls away from the sides of the bowl. The dough mixture should be slightly sticky and soft. Add more or less flour until the dough reaches the desired consistency. The amount of flour you add in bread making is always an approximation and you should go by feel.

Transfer the dough to a lightly greased

mixing bowl

. Cover with a towel and let rise 90 minutes.

Lightly grease a

baking sheet

. Punch down the dough and form into 24 rolls. Place on the greased

baking sheet

in six rows of four. Cover and let rise 1 hour.

Preheat oven to 375 degrees. Bake the rolls for 12 to 14 minutes, until lightly browned.

Remove rolls from oven and brush with melted butter. Serve the rolls warm, or to cool, let rest on the pan for 15 minutes before transferring to a

wire cooling rack

. Once cooled completely, store in a plastic bag.
Notes
Metric Measurements
473 mls warm milk
20 grams instant dry yeast
52 grams white granulated sugar
16 grams salt
80 grams salted butter, softened
2 large eggs
750 grams all-purpose/plain flour
15 grams melted salted butter
Bake at 190 degrees Celsius
Nutrition
Calories:
169
kcal
|
Carbohydrates:
27
g
|
Protein:
4
g
|
Fat:
4
g
|
Saturated Fat:
2
g
|
Cholesterol:
24
mg
|
Sodium:
237
mg
|
Potassium:
68
mg
|
Sugar:
3
g
|
Vitamin A:
155
IU
|
Calcium:
31
mg
|
Iron:
1.5
mg