Learn how to make Homemade Hawaiian Sweet Rolls that are soft, fluffy, and totally easy to make. These sweet rolls will be an instant family favorite!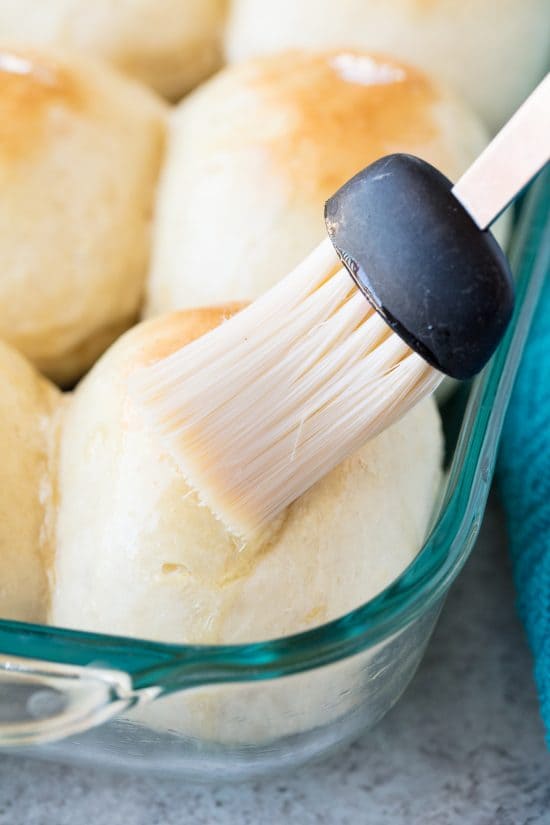 I've taken my recipe for The Best Homemade Dinner Rolls Ever and altered it to create Hawaiian Sweet Rolls. These rolls are sweet, tender, and just as tantalizing as the name brand store bought version. They practically melt in your mouth!
What makes a Hawaiian Sweet Roll? It's all about the pineapple. Crushed pineapple is added to the dough for both the added sweetness and flavor. It's important that you use crushed pineapple in this recipe. Measure your crushed pineapple without draining off any of the juices. I actually just take my measuring cup and dip it directly into the opened can of crushed pineapple.
Making your own rolls is a lot easier than you might think. I've included extensive, detailed notes below the recipe to help with any questions you might have. Be sure to check them out and watch the video demonstration and feel free to leave a comment if you still have questions.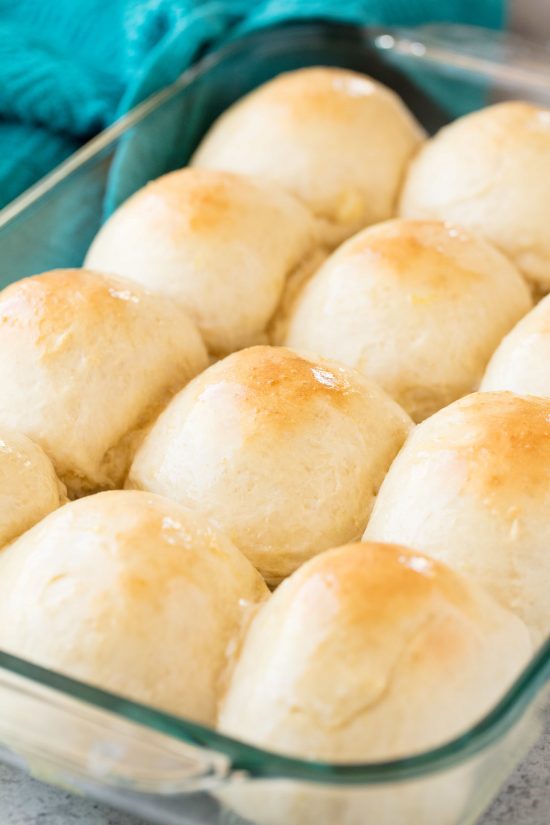 Frequently Asked Questions
What if I don't have a stand mixer?
You can knead it by hand! My Kitchen Aid was broken for more than a year and I still made these rolls by hand. I start out by stirring with a spoon until I can't do it anymore and then I knead it with my hands. Just keep on kneading until all the flour is incorporated and/or the dough is soft to the touch and only slightly sticky. It's a bit of a workout, but it's worth it!
Can this recipe be made gluten free? Can I substitute gluten free flour?
This recipe was not designed to be gluten free. Gluten free baking involves completely different chemistry. In general, you cannot substitute gluten free flour in baking recipes and expect it to work.
Can I use another kind of yeast besides instant dry yeast?
Yes, all yeasts will work in this recipe, it's simply a matter of understanding how each kind of yeast works and differs. Instant dry yeast can be added straight to dry ingredients and doesn't require any sitting or proofing. It also rises a bit quicker. Active dry yeast is a bigger size of granule and generally needs to be dissolved in a liquid before adding to a recipe. It activates a bit slower so expect 10-15 minutes extra in rise time.
Can I freeze these?
You can freeze these after you shape them into rolls. When ready to eat, remove them from the freezer and allow to thaw and rise until double in size before baking. This can take anywhere between 1 to 2 hours, depending on the temperature in your home.
Can I reduce the salt in this for a low sodium diet?
Reducing the salt will not affect the rising. The only thing it will impact is flavor.
What temperature should the milk be?
The milk should be warm to the touch, between 100 and 110 degrees. You can use 1% up to whole milk. I'll never recommend using skim milk for anything 😉
How should I measure the flour?
The flour you buy at the store these days is generally pre-sifted. There is no need to sift your flour. I prefer the scoop and sweep method as it is ultra-convenient. Simply use your measuring cup to scoop out the flour and level off the top. Weighing your flour using a kitchen scale is the only way to ensure complete accuracy. Even then, bread making is a both fickle and forgiving and the actual amount of flour you add can change just due to the humidity in the air. When making this roll recipe, it is best to go by the touch and feel of the dough.
1 cup of flour is approximately 125 grams.
How soft should my butter be?
The butter should be at room temperature and smoosh easily to the touch. If you soften the butter in a microwave, be sure to work in small time increments so you don't get any melted pools of butter.
Does it matter if I use unsalted butter?
I have tested the recipe with both salted and unsalted butter without a huge or notable difference. Either will work.
Does it matter if I use bread flour?
I have used both all-purpose flour and bread flour without a huge or notable difference. I do not have a preference and just use whichever is convenient.
What should the dough feel like?
The dough should be slightly sticky, but still very soft and pliable. It should just barely not be sticking to the bowl. If you add too much flour and the dough stiffens, your rolls will also get a little stiff. I like to say you can feel a soft roll just by touching the dough.
How can I make each roll the same size?
I use a kitchen scale to measure each of my dough balls. It isn't much added effort and I end up with rolls that are nearly uniform in size.
How much do each of your rolls weigh?
Using my handy dandy kitchen scale , I make each roll to be between 2.4 and 2.5 oz.
Can I double the recipe?
Yes, this recipe can easily be doubled.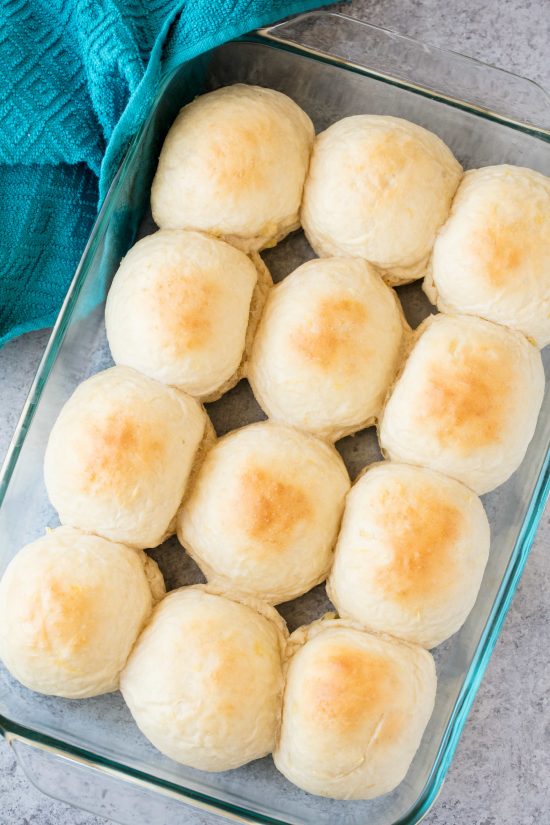 Watch the video below where I walk you through every step of this recipe. I like to include videos with all of my recipes so that you always have as much information as possible to make these recipes at home perfectly the first time. You can check out my entire video library over on YouTube.