Looking for a delicious twist on a classic cheesesteak sandwich? Try these juicy and savory cheesesteak sliders, made with thin-sliced beef steak, melted Provolone cheese, and a creamy garlic and onion butter topping. Perfect for game day snacking or any other gathering, these sliders will satisfy all your cravings.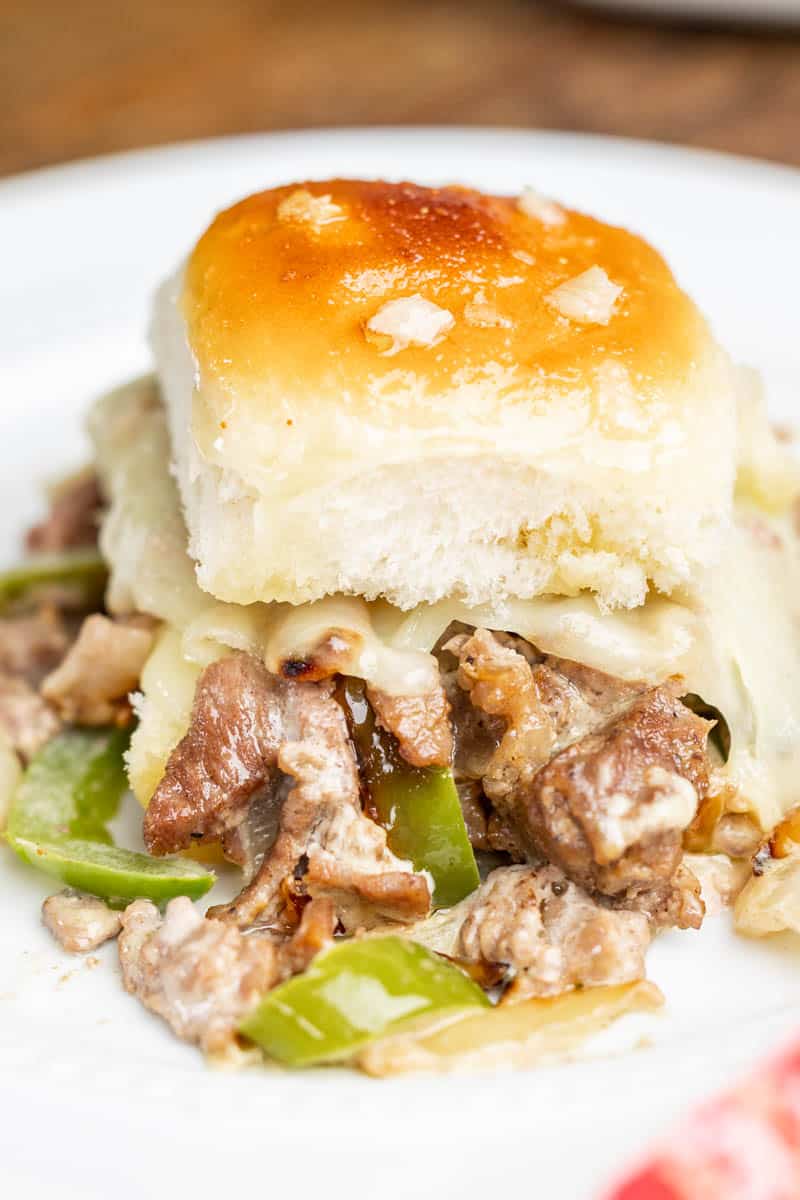 Are you tired of giant cheesesteak sandwiches that are too big to eat in one sitting? Want to add a fun twist to your typical lunch or dinner? Introducing cheesesteak sliders – the perfect solution! These bite-sized morsels pack all the bold flavors of a classic cheesesteak into a handheld size. And the best part? You can customize each slider to your liking with your favorite add-ins, making each bite unique and satisfying. So, say goodbye to messy, over-sized sandwiches and hello to these tasty and convenient cheesesteak sliders. Trust us, the whole family is going to love these!
Traditional Cheesesteak vs. Sliders
The classic cheesesteak sandwich is a staple in Philly cuisine, known for its thin slices of beef, melted cheese, and crispy hoagie roll. This cheesesteak slider recipe puts a fun spin on the traditional sandwich by using smaller slider buns and slicing the beef to the same thinness. The result is a tender and flavorful bite that packs all the deliciousness of the original sandwich into a convenient, hand-held size.
Cheese Options
The original Philly Cheesesteak didn't even have any cheese! Later they added Provolone, and now you typically get a choice of Cheese Whiz, American, and sliced Provolone cheese.
Onions
We love the added flavor of onions to a Philly Cheesesteak. However, authentic Cheesesteaks are served 'wit onions' or wit-out onions', so the choice is up to you!
Beef Options
For the best results, choose a cut of beef such as ribeye, tri-tip, chuck roast, sirloin, tenderloin, or anything from the round, and make sure to cut against the grain and trim off any sinew pieces to ensure the meat is not chewy.
Popular Add-Ins
One of the best things about cheesesteak sliders is the variety of toppings you can add to suit your taste. Some popular options include:
Sautéed bell peppers (sliced or diced)
Sautéed sliced mushrooms
Pickled jalapeno slices
Hot cherry peppers
Long hot peppers
Sweet peppers
Lettuce
Tomatoes
Marinara + Toasted bun
Mayo
Mustard
Tobasco sauce
Cheesesteak Slider Tips
To bring these sliders up a notch, consider adding in a smear of cream cheese. Soften the cream cheese by popping it into the microwave for 20 seconds.
Cut the beef against the grain and trim off any sinew pieces to ensure the meat is not chewy.
Storage and Reheating Instructions
To store your cheesesteak sliders, wrap them tightly in plastic wrap or aluminum foil and place them in an airtight container. They will keep in the refrigerator for up to 3 days. To reheat, place the sliders on a baking sheet and heat in a 350°F oven for 10-15 minutes, or until heated through.
If you like this recipe, you may be interested in these other delicious sandwich recipes: