Homemade Pretzel Rolls are soft on the inside with a salty, chewy exterior and super easy to make. These rolls will quickly become a family favorite in your house!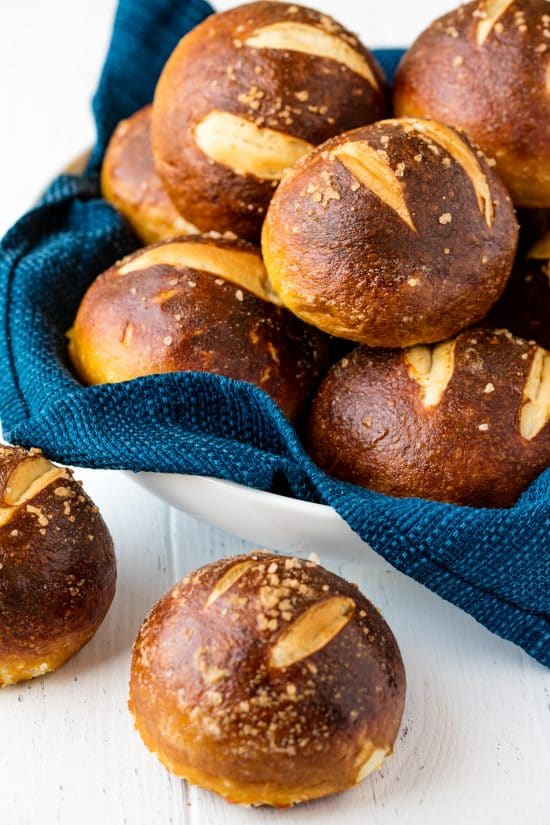 These rolls have a crisp, flaky, chewy crust, with a soft interior, which all combines together to create the perfect pretzel roll. It is kind of to die for. If you thought those store bought pretzel rolls were good, you are about to be in heaven. I love biting into them and having the bottom roll crunch and flake like a pastry. And that course salt on top? It might be my very favorite part of pretzels.
You can eat these plain or serve them up sandwich style with something like pulled pork. They are chewy, but still soft so they are perfect for either. If you want a great slow cooker pork recipe, be sure to check out my recipe for Luau style pork. It's incredibly simple, but it goes perfect on these rolls.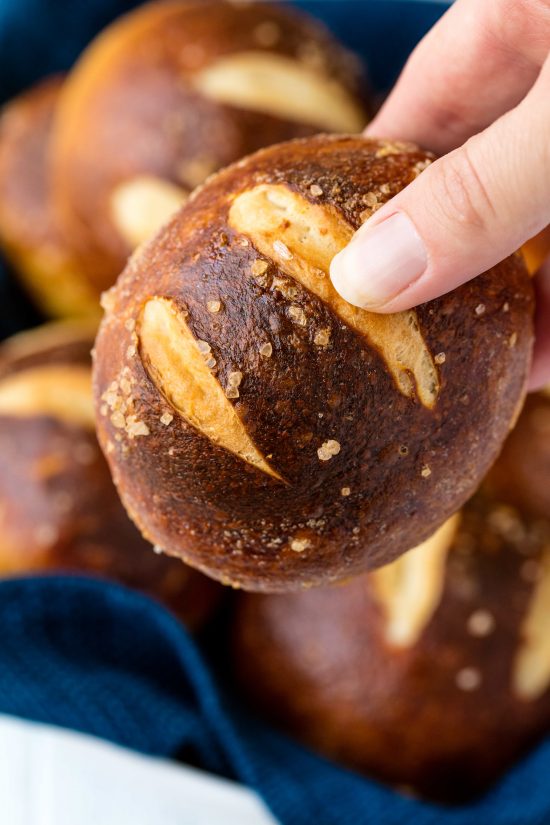 This recipe as written makes one dozen rolls. It's very easy to double or triple this recipe if you need more. If you are using a stand mixer, just make sure it has enough capacity to handle it. That's the only thing holding you back with these babies. When doubling or tripling, the rising time will remain the same.
I prefer to use instant dry yeast in my baking. It doesn't require proofing! That's just genius I tell you. Some brands label theirs "rapid rise yeast" so watch for that too. They are the same thing and they work wonders when it comes to baking.
You all love my baking so much so be sure to check out my recipe for The Best Homemade Dinner Rolls Ever as well as my recipes for Homemade Soft Pretzels. Those soft pretzels are so darn good and they are so much fun to make with the kids.
These rolls will stay good for about 3 days, though as with most baked goods, they are best eaten within 24 hours. Store them in an airtight container or bag. Just be sure to make sure they are completely cooled off first, otherwise steam will escape and make them soggy. They can also easily be frozen for later use.
Watch the video below where I walk you through every step of this recipe. Sometimes it helps to have a visual and I have an entire library of video content for you. Check out my cooking show on YouTube for easy access to all of my videos…there are hundreds!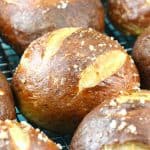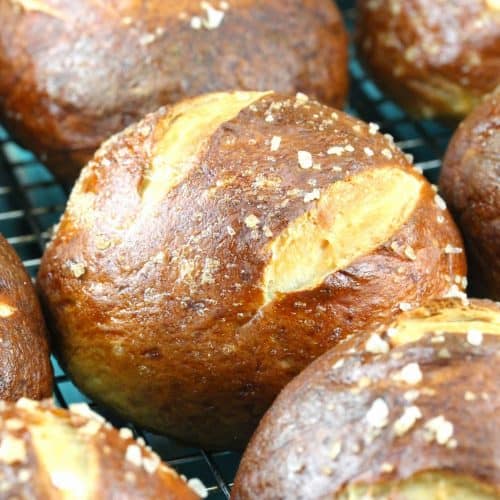 Homemade Pretzel Rolls are soft on the inside with a salty, chewy exterior and super easy to make. These rolls will quickly become a family favorite in your house!
Ingredients
1

tablespoon

brown sugar

2

teaspoons

instant dry yeast

1

teaspoon

salt

2

tablespoon

softened butter

1 3/4

cups

warm milk

4 1/2

cups

all-purpose flour

1/2

cup

baking soda

1

egg white

lightly beaten

coarse salt
Instructions
In the bowl of a stand mixer, combine brown sugar, yeast, salt and butter. Pour in warm milk and 4 cups of flour. Knead on a low speed until combined, increase speed to medium and then add more flour as necessary until the dough pulls away from the sides of the bowl. The dough should still be tacky, but should be able to form its own dough ball. Cover and let rise 1 hour.

Divide the dough into 12 balls and shape into rolls. Let rest 15 minutes.

Line a baking sheet with parchment paper and spray with nonstick spray. Preheat oven to 425 degrees.

Bring a large saucepan of water to a boil. Add in 1/2 cup baking soda. Working in batches of 2-3, use a slotted spoon to transfer the rolls into the boiling water. Boil 1 minute, flip, and boil 30 to 60 seconds more. Use the slotted spoon to remove the rolls from the water and transfer to prepared baking sheet. Allow at least 1 inch of space between each roll.

Use a sharp knife to slice two parallel lines in the top of each roll. Brush with egg white. Sprinkle with coarse salt.

Bake in the preheated oven for about 20 minutes, until a deep golden brown.
Nutrition
Calories:
220
kcal
|
Carbohydrates:
39
g
|
Protein:
7
g
|
Fat:
3
g
|
Saturated Fat:
1
g
|
Cholesterol:
8
mg
|
Sodium:
1600
mg
|
Potassium:
120
mg
|
Fiber:
1
g
|
Sugar:
2
g
|
Vitamin A:
115
IU
|
Calcium:
47
mg
|
Iron:
2.2
mg