Homemade Pretzel Rolls are soft on the inside with a salty, chewy exterior and super easy to make. These rolls will quickly become a family favorite in your house!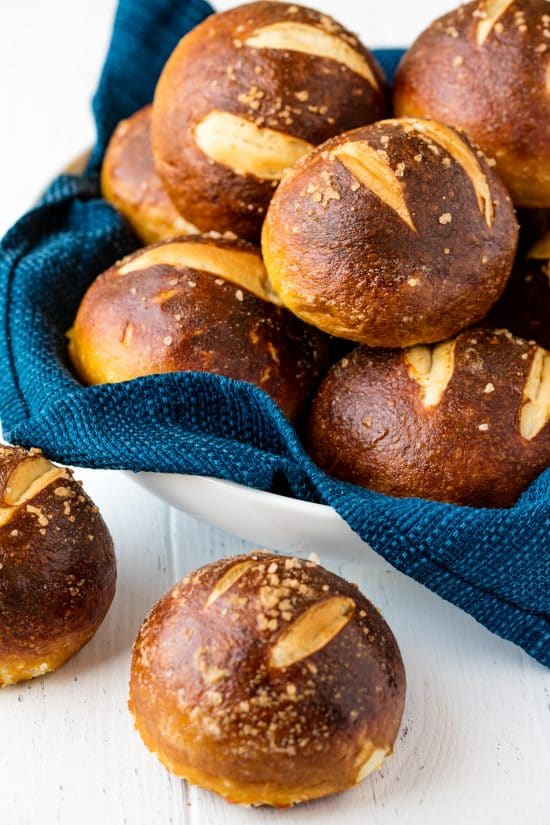 These rolls have a crisp, flaky, chewy crust, with a soft interior, which all combines together to create the perfect pretzel roll. It is kind of to die for. If you thought those store bought pretzel rolls were good, you are about to be in heaven. We love biting into them and having the bottom roll crunch and flake like a pastry. And that course salt on top? It might be our very favorite part of pretzels.
Can I double this recipe?
This recipe as written makes one dozen rolls. It's very easy to double or triple this recipe if you need more. If you are using a stand mixer, just make sure it has enough capacity to handle it. That's the only thing holding you back with these babies. When doubling or tripling, the rising time will remain the same.
Yeast in Homemade Pretzel Rolls:
I prefer to use instant dry yeast in my baking. It doesn't require proofing! That's just genius I tell you. Some brands label theirs "rapid rise yeast" so watch for that too. They are the same thing and they work wonders when it comes to baking.
Serving Suggestions:
You can eat these pretzel rolls plain or serve them up sandwich style with something like Luau style pork. They are chewy, but still soft, so they are perfect for either.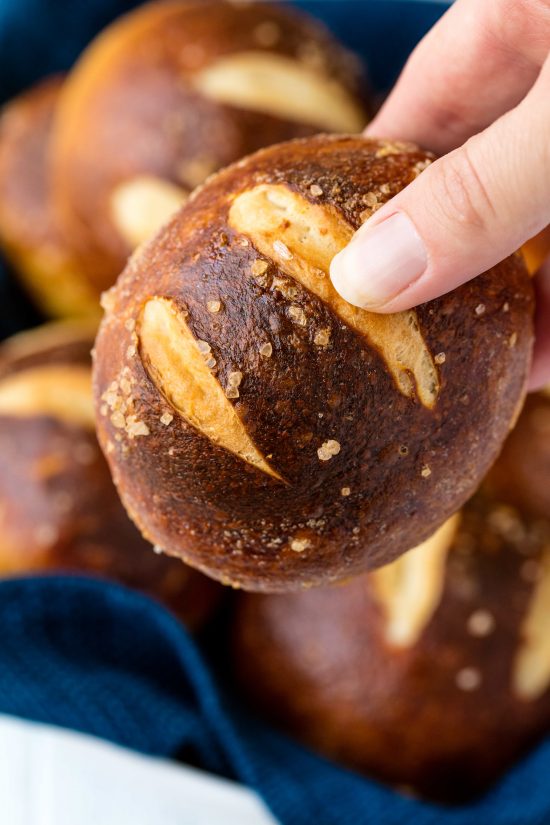 Storage Instructions:
These rolls will stay good for about 3 days, though as with most baked goods, they are best eaten within 24 hours. Store them in an airtight container or bag. Just be sure to make sure they are completely cooled off first, otherwise steam will escape and make them soggy. They can also easily be frozen in a freezer-safe bag for up to 3 months.
If you like this recipe, you may be interested in these other delicious bread and roll recipes:
Watch the video below where Rachel will walk you through every step of this recipe. Sometimes it helps to have a visual, and we've always got you covered with our cooking show. You can find the complete collection of recipes on YouTube, Facebook Watch, or our Facebook Page, or right here on our website with their corresponding recipes.