Easy Pasta Fresca is a tasty, light, and totally delicious 15 minute meal. Give yourself an easy pasta for dinner that's full of veggies!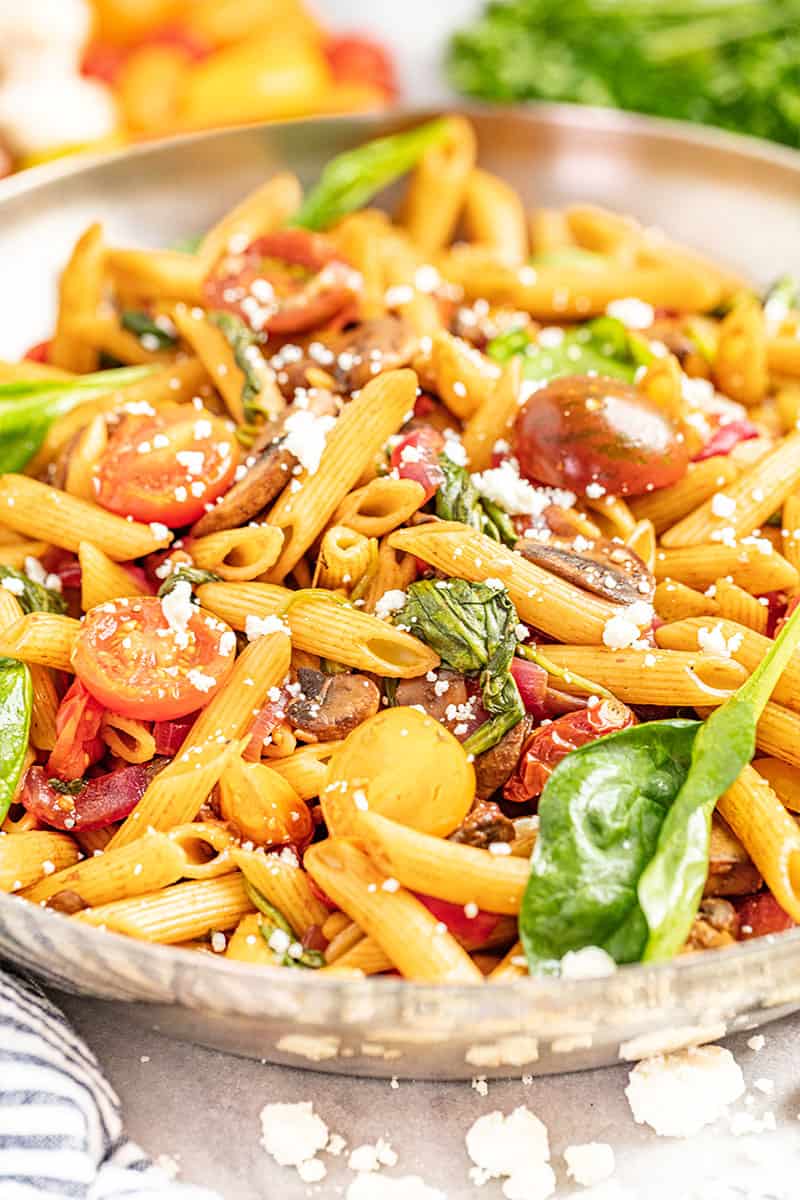 This Pasta Fresca is nice and light and tasty to boot. It is a great low-cal pasta option, and even sneaks in healthy stuff like spinach and tomatoes. It is super easy to make at home and guess what? It is a 15 minute meal. Seriously. It literally takes 15 minutes to make this, start to finish. Start your water boiling for your pasta, prep your onions, mushrooms, garlic, spinach, and tomatoes, boil your pasta while you sauté your veggies, combine and serve. Pretty tasty!
We think this dish is delicious all by itself, but sometimes we're looking for a little added protein. You have so many choices when it comes to protein options. If you like that this is a vegetarian meal, you can always add in some plant based meat alternatives. If you are a meat eater, we love chicken or salmon in pasta fresca.
Cheese Options for Pasta Fresca:

The recipe as written calls for crumbled feta cheese as a topping. You can also use shredded or grated Parmesan cheese, or leave it out completely for a vegan meal.

Gluten Free Options:

Need to make this recipe gluten free? It's super easy! There are so many gluten free pasta options on the market today so all you have to do is purchase your favorite one to use in this recipe.

Protein Options:

This recipe is vegetarian for a good meatless meal. If you'd like to add protein, it's so simple!

Chicken: use chicken tenders or chicken breasts for equally quick cooking. Season with a little salt and pepper, add a dash of lemon pepper if you'd like, and sear it in olive oil in a skillet over medium high heat. Reduce the heat to medium and continue cooking until the chicken is cooked through.

Salmon: Season salmon portions with a little salt and pepper. Add 1 tablespoon of olive oil to a skillet heated to medium-high heat. Sear salmon portions for 3-4 minutes per side. Squeeze some lemon juice over top just before serving.
If you like this recipe, you may be interested in these other quick and easy pasta recipes: