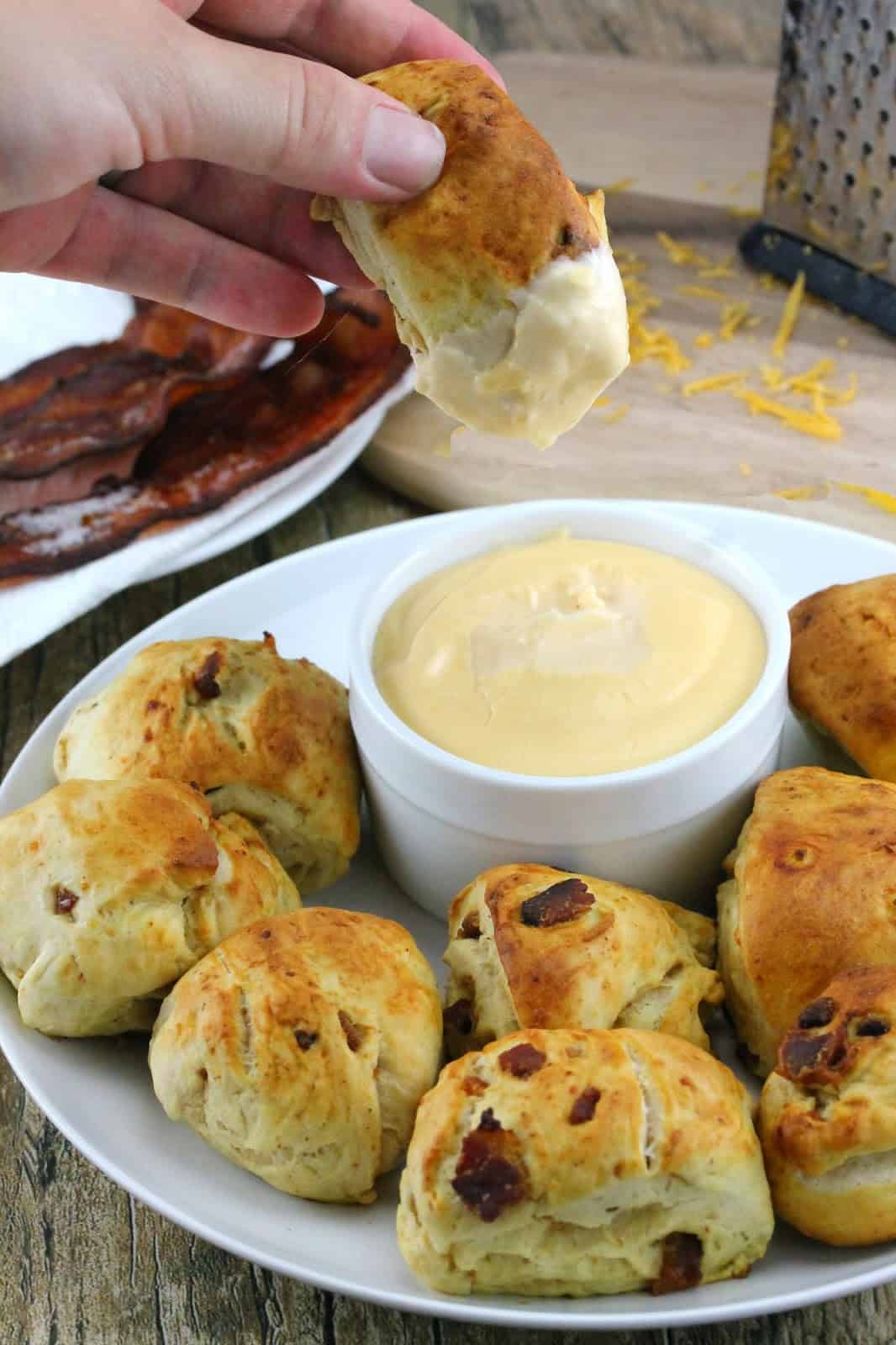 This is a sponsored conversation written by me on behalf of Horizon Organic. The opinions and text are all mine. Comments submitted may be displayed on other websites owned by the sponsoring brand. Thank you to the sponsors who make this blog possible. Check them out on Pinterest and Twitter or look at their website for more information on their fabulously tasty and high quality products. Seriously, have you tried organic milk? Way tastier! 
Well, the first day of school was yesterday. Life is back to schedules and homework. My kids love cooking with me in the kitchen. It is a special time for us where I can teach them important life skills, but also a place where we can casually talk about our days. Lots of important discussions happen in our kitchen and around our dinner table. We connect. It is an important part of our regular routine. My kids have recently discovered a love of bacon so I knew they'd be excited to make bacon pretzel bites. You can turn these into regular pretzels, of course, but for the age of my children, bites are easier for them and a better serving size. Plus, we made dip and bites just dip better than an entire pretzel. However you decide to roll, let the kids get into the kitchen to help. They love to help and there's lots that they can help with in this recipe. Get them in there! Teach them about cooking, and connect with them. You won't regret it!
Time to Make It: 45 to 60 minutes
Yield: about 3 dozen bites
Ingredients
Pretzel Dough
4 slices bacon
2 tablespoons bacon drippings
1 1/4 cups water, lukewarm
1 tablespoon yeast
1/4 cup brown sugar
3 1/2 to 4 cups flour
1 cup shredded cheddar cheese
1 cup warm water
2 TB baking soda
Cheese Sauce
2 TB butter
2 TB flour
1 tsp ground mustard
3/4 cup milk
1 cup shredded cheddar cheese
8 oz cream cheese
Instructions
1. Cook the bacon in a large skillet. Lay the bacon strips in the cold pan and then put it over the burner over medium heat. Cook until crispy, flipping once, about 10 minutes. Drain on paper towels and crumble.
2. Make your dough by dissolving the yeast and brown sugar in the water.
3. Add in the bacon drippings, crumbled bacon, cheddar and flour and mix until combined. No need to knead. Let the dough rise in a warm place until almost doubled (about 20 minutes).
4. While the dough is rising, make the cheese sauce by melting the butter in a medium-size saucepan. Whisk in flour and ground mustard to form a paste. Pour in milk while whisking and bring to a simmer. Turn the heat to low and stir in cheddar and cream cheese until melted and smooth.
5. Line a baking sheet with parchment paper or spray with non stick cooking spray. Preheat oven to 500 degrees.
6. Divide the dough into 8 golf ball sized lumps. Roll each ball into a snake or rope. Cut them with a butter knife into bite sized pieces.
7. In a large glass, mix together warm water and baking soda. Dip the pretzel dough bites into the water and lay out on the baking sheet.
8. Bake at 500 degrees for 5-8 minutes, until golden brown.
This is a sponsored conversation written by me on behalf of Horizon Organic. The opinions and text are all mine.