You haven't lived until you've eaten these chocolate peanut butter pretzel cupcakes. The salty peanut butter mixed with the creamy, sweet chocolate and crunchy pretzels will blow your mind!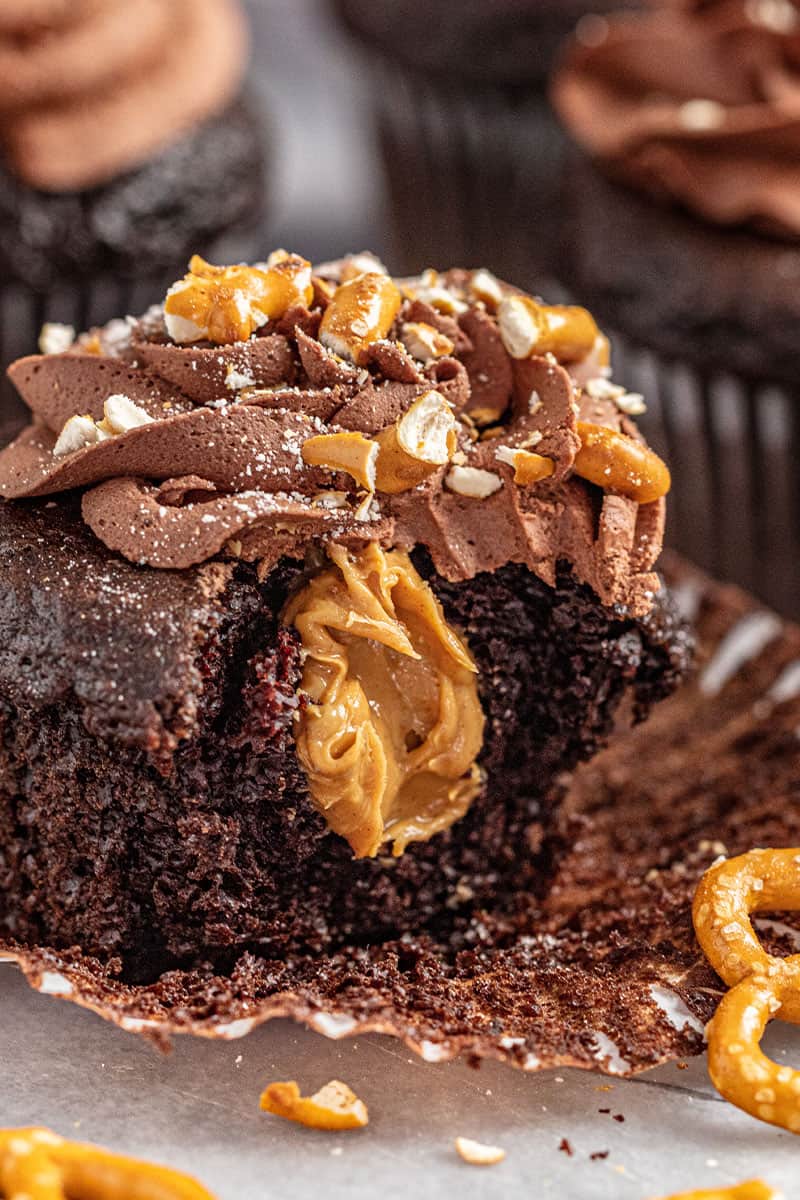 These babies are stuffed with a peanut butter cream filling, topped with a whipped chocolate ganache and crushed pretzels. Oh. My. Word. We can't decide if they are sinful or heavenly, but they sure are delicious! They take some time, but the efforts are completely worth it. It is one extraordinary cupcake.
The cupcakes for this recipe were adapted from The Most Amazing Chocolate Cake which has garnered over 18 million views on YouTube and hundreds (or thousands) of reviews. It really is the most amazing chocolate cake you will ever have. Next time you have a reason for a large cake, you should definitely try it. It's three layers of indulgent perfection.
Are semi sweet chips necessary? Can I use milk chocolate chips?

Let's talk cocoa percentages. Semi sweet has a cocoa content of about 60%, and is relatively bitter on its own. Milk chocolate has a cocoa content of about 20% and is much sweeter than semi sweet. If you just can't get enough sweetness in your life, mix it up with milk chocolate! If you want to to reign it in a bit, stick with semi sweet chips.

What can I use if I don't have a piping bag?

No piping bag? No problem. Grab a Ziplock bag and fill with frosting. Squeeze out any air and seal. Then, cut a small corner off to act as the tip. You will need a wide enough opening for this ganache, so make sure you don't cut your hole too small. Just squeeze and go! But be careful, it will come out quicker than you think!

Buttermilk Substitutes:

If you don't have buttermilk on hand, you can use regular milk or a milk substitute like almond milk. For best results use buttermilk or you can even make your own buttermilk substitute by adding 1 tablespoon white vinegar (or lemon juice) per 1 cup of milk. Let sit 5 minutes, and it is ready to go!
If you like this recipe, you may be interested in these other decadent cupcake recipes:
Watch the video below where Rachel will walk you through every step of this recipe. Sometimes it helps to have a visual, and we've always got you covered with our cooking show. You can find the complete collection of recipes onYouTube, Facebook Watch, or ourFacebook Page, or right here on our website with their corresponding recipes.