Learn how to make Smoked Pork Chops on a smoker. This recipe is perfect for beginner meat smoking and produces a juicy, smoke filled thick pork chop that is to die for!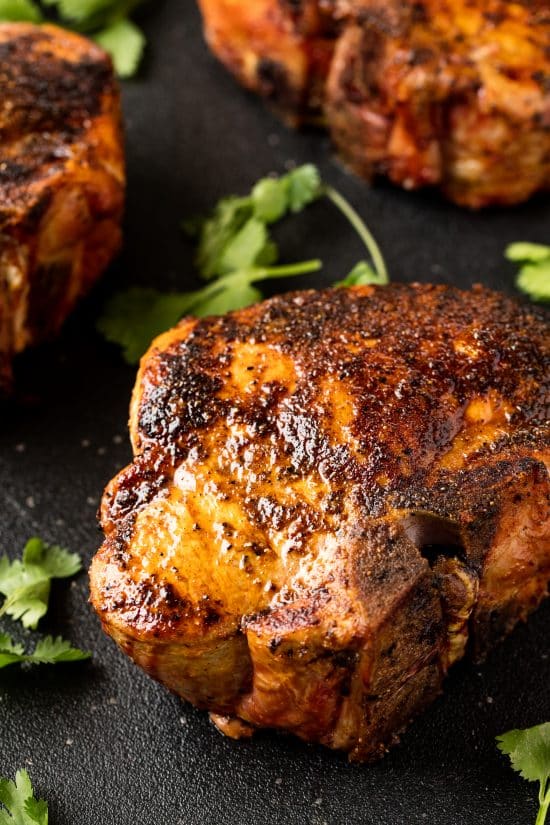 This post is sponsored by Camp Chef. All opinions expressed are my own.
If you don't have a smoker in your backyard, it's time to get one! Smokers have never been more affordable and they can make the most delicious and impressive meals to take your backyard barbecue to a whole new level. Camp Chef recently sent me their Woodwind Pellet Grill as a new addition to my backyard. There's only one word to describe it: incredible!
I have found that people are often intimidated by smokers. Having to worry about maintaining temperatures, long cooking times, and cooking temperatures scare people away. But I'm here to tell you that you don't need to be a pitmaster to use a smoker at home. At least not anymore!
This Camp Chef smoker uses technology doodads to make smoking easier than ever. All you have to do is supply the pellets into the box and put the food inside and you can let the computer take care of everything else. The computer in it controls the pellets which keeps your smoker at a steady temperature the entire time without you having to worry about it. Plus you can use the probe to monitor the temperature of your meats (or veggies, or desserts, or any other delicious smoked recipe). That means you never have to lift the lid to check on the food.
This recipe is perfect for beginner smokers. The first key to the perfect smoked pork chop is buying the right meat. You are most likely going to need to ask the butcher at your grocery store meat counter to cut these specially for you. Ask for 2-inch thick bone-in center cut pork chops. This may very well put a smile on your butcher's face as this is a good sign that you know what you are talking about. Thick pork chops are where it's at. When cooked properly they can rival any good beef steak!
In fact, thick cut pork chops are one of my favorite meats to serve up for special occasions like Father's Day, Independence Day, Memorial Day, Labor Day, etc. They are easy to make, impressive to guests, and I can easily feed a crowd a high quality meal without spending a ton of money. Each of my pork chops cost about $3. You'll never be able to equal the quality for that price when it comes to beef steaks or even fish steaks. Seriously, thick cut pork chops are my secret weapon.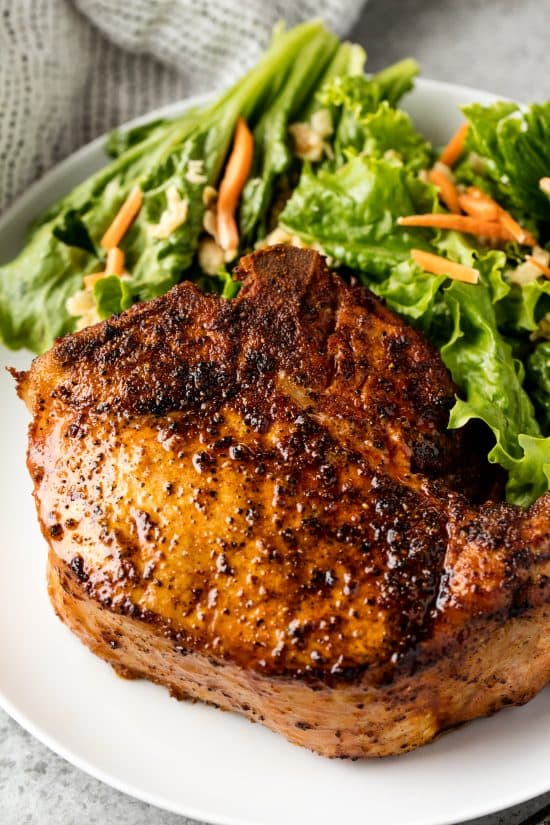 Watch the video below where I walk you through every step of this recipe, including how to work the smoker. You'll be blown away by how easy it is! Now is the time to get yourself a smoker and make all your neighbors insanely jealous! The intimidation factor should be gone and you should be ready to get smoking in no time.