Crispy fried pork chops are on the menu tonight! Thinly sliced pork chops are coated in a flavorful buttermilk mixture and dredging seasonings, and then fried in oil. You're gonna love these!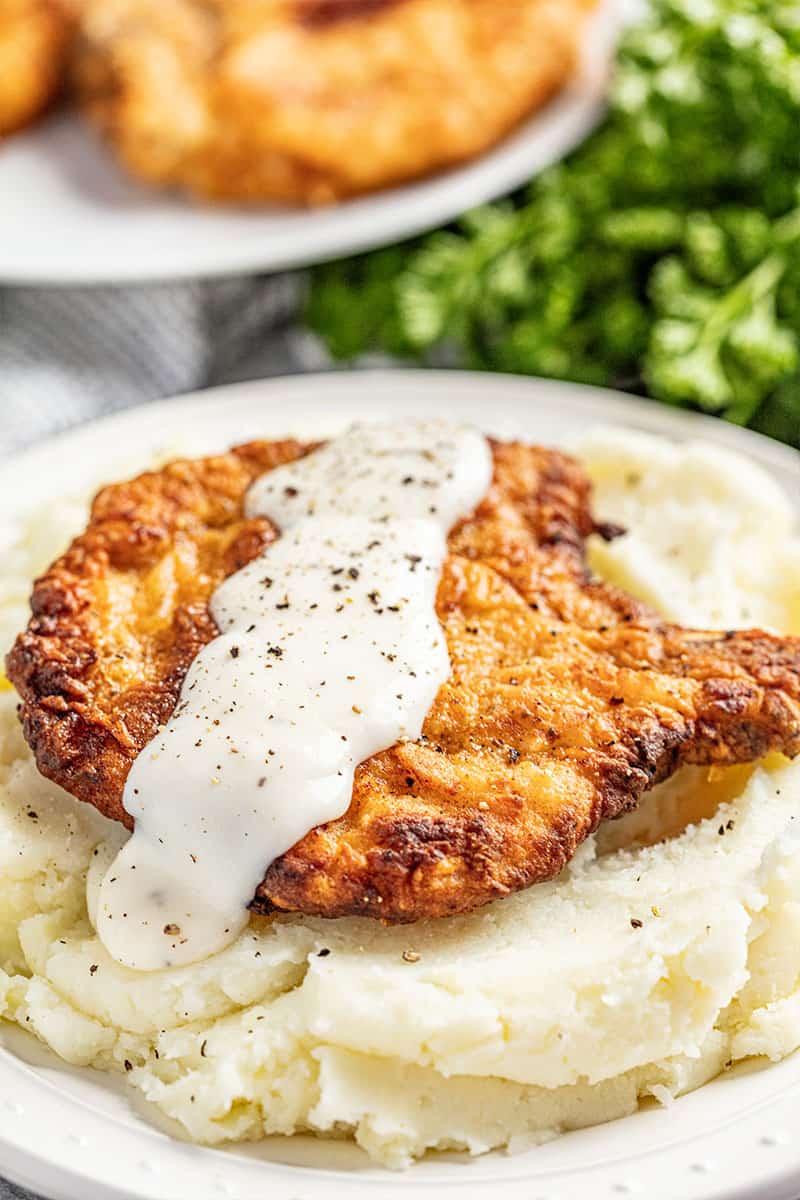 If you're looking for a tender and juicy pork chop, look no further. We've all eaten our fair share of overcooked, dry pork chops, and we are not about that. This recipe is also packed with flavor, which you don't always expect from a quick meal.
Pork chops are amazing on their own, but with a milk gravy on top, these are downright addicting. Serve it up with creamy mashed potatoes, and your favorite veggie on the side, and you're family will go nuts. You might want to make a couple extra pork chops, because one just won't be enough!
Boneless or Bone-In:
When it comes to making fried pork chops, you really can go with either boneless or bone-in. Boneless pork chops are easier to eat, but bone-in pork chops cook more evenly.
Pork Chop Cuts:
We used a rib chop in this recipe. It has a large bone running along just one side, making it easy to find and pull out. Other cuts of pork you can use are: loin chop, boneless chop, or shoulder chop.
Rib Chop: This is the most desirable cut of pork chop. It comes from the rib section (hence its name) and has a large bone running along one side. This cut is very tender with a nice pork flavor.
Loin Chop: This pork chop cut has a t-bone in the middle. It has two different kinds of meat on it, with loin meat on one side, and tenderloin meat on the other side. These two meats cook at different rates so it is a more difficult cut to work with.
Boneless Chop: This is the most lean cut of pork. It is very easy to over cook this cut and dry it out as it has very little fat, connective tissue, and doesn't have any bones. This is the most commonly sold pork chop cut in the United States, but it is certainly not the most desirable because it is lean, and so easy to overcook.
Shoulder Chop: This is the least desirable cut of pork chop and is not commonly found in American grocery stores. They have lots of flavor, but also have a lot of gristle and bones. This cut of chop is best braised.
What should I serve fried pork chops with?
Mashed potatoes are amazing on the side. Fried Pork Chops can also be often found served smothered with a milk gravy. We also love to pair it with something green, either a crisp salad or roasted veggies, or both!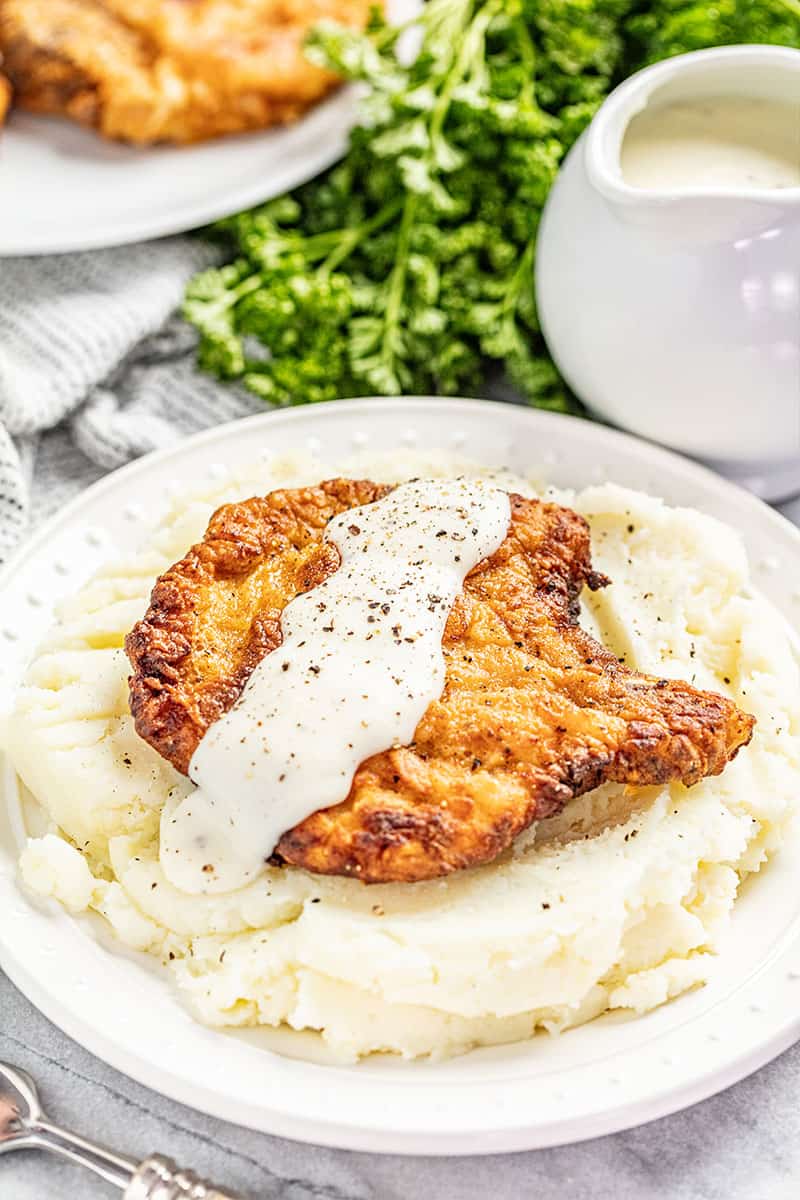 Storage and Reheating Instructions:
Store any leftovers in an airtight container in the refrigerator for up to 4 days. Reheat individual servings in the microwave in 30 second increments, or in an oven preheated to 350 degrees until warmed through.
If you like this recipe, you may be interested in these other savory pork recipes:
Watch the video below where Rachel will walk you through every step of this recipe. Sometimes it helps to have a visual, and we've always got you covered with our cooking show. You can find the complete collection of recipes on YouTube, Facebook Watch, or our Facebook Page, or right here on our website with their corresponding recipes.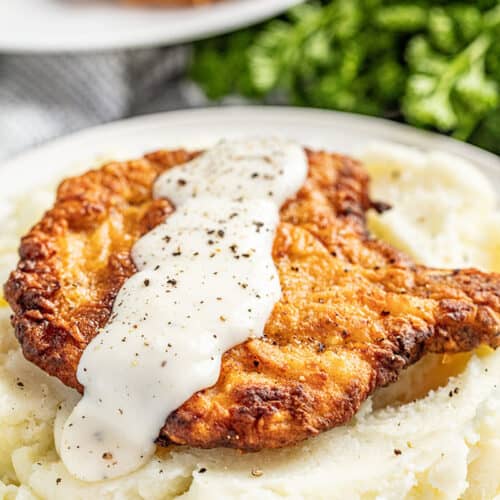 Crispy fried pork chops are on the menu tonight! Thinly sliced pork chops are coated in a flavorful buttermilk mixture and dredging seasonings and then fried in oil. You're gonna love these!
Ingredients
Pork Chops
4

boneless pork loin chops

1/4 to 1/2 inch thick

1

teaspoon

salt

1

teaspoon

pepper

2

cups

buttermilk

1/4

cup

Buffalo Hot Sauce

optional
Dredging Mixture
1 1/2

cups

all-purpose flour

1/2

cup

cornstarch

2

teaspoons

salt

2

teaspoons

paprika

1

teaspoon

black pepper

1

teaspoon

onion powder

1

teaspoon

garlic powder

2

cups

vegetable oil for frying
Instructions
Season pork chops with 1 teaspoon salt and 1 teaspoon black pepper.

Pour buttermilk and hot sauce into a 9×13 pan and stir to combine. Submerge seasoned pork chops into buttermilk mixture and set aside. Refrigerate up to 6 hours, or use right away.

In another shallow bowl, stir together flour, cornstarch, 2 teaspoons salt, paprika, 1 teaspoon black pepper, onion powder, and garlic powder.

Working one at a time, remove pork chops from buttermilk mixture. Shake it gently to remove the excess. Place it in the dredging mixture and coat thoroughly. Tap off the excess.

Place the breaded chops into the 350 degree oil. Fry 2 to 3 chops at a time. The meat will drop the temperature of the oil so keep it as close to 350 degrees as possible. Fry each piece for 4 to 5 minutes, per side, until golden brown and pork is cooked through to an internal temperature of 145 degrees F.

Remove from the oil and place on paper towels. Let them rest for 5 minutes before serving.
Notes
Fried Pork Chops are often served drizzled with a basic milk gravy, though it is completely optional. It is very easy and simple to make.
Simple Milk Gravy Recipe
2 tablespoons butter
1/4 cup all-purpose flour
2 cups milk
Salt and pepper, to taste
Melt butter in a medium saucepan over medium-high heat. Once melted, whisk in flour and cook 2-3 minutes.
Slowly pour in the milk and bring to a simmer. As it heats, the liquid will thicken. Once the gravy has thickened, season with salt and pepper to taste. 
Nutrition
Serving:
1
pork chop
|
Calories:
496
kcal
|
Carbohydrates:
39
g
|
Protein:
35
g
|
Fat:
21
g
|
Saturated Fat:
12
g
|
Cholesterol:
99
mg
|
Sodium:
1620
mg
|
Potassium:
662
mg
|
Fiber:
1
g
|
Sugar:
4
g
|
Vitamin A:
460
IU
|
Calcium:
106
mg
|
Iron:
2
mg