The perfect recipe for the creamiest mashed potatoes ever!  This recipe is perfect for the holidays as well as your regular weeknight dinners.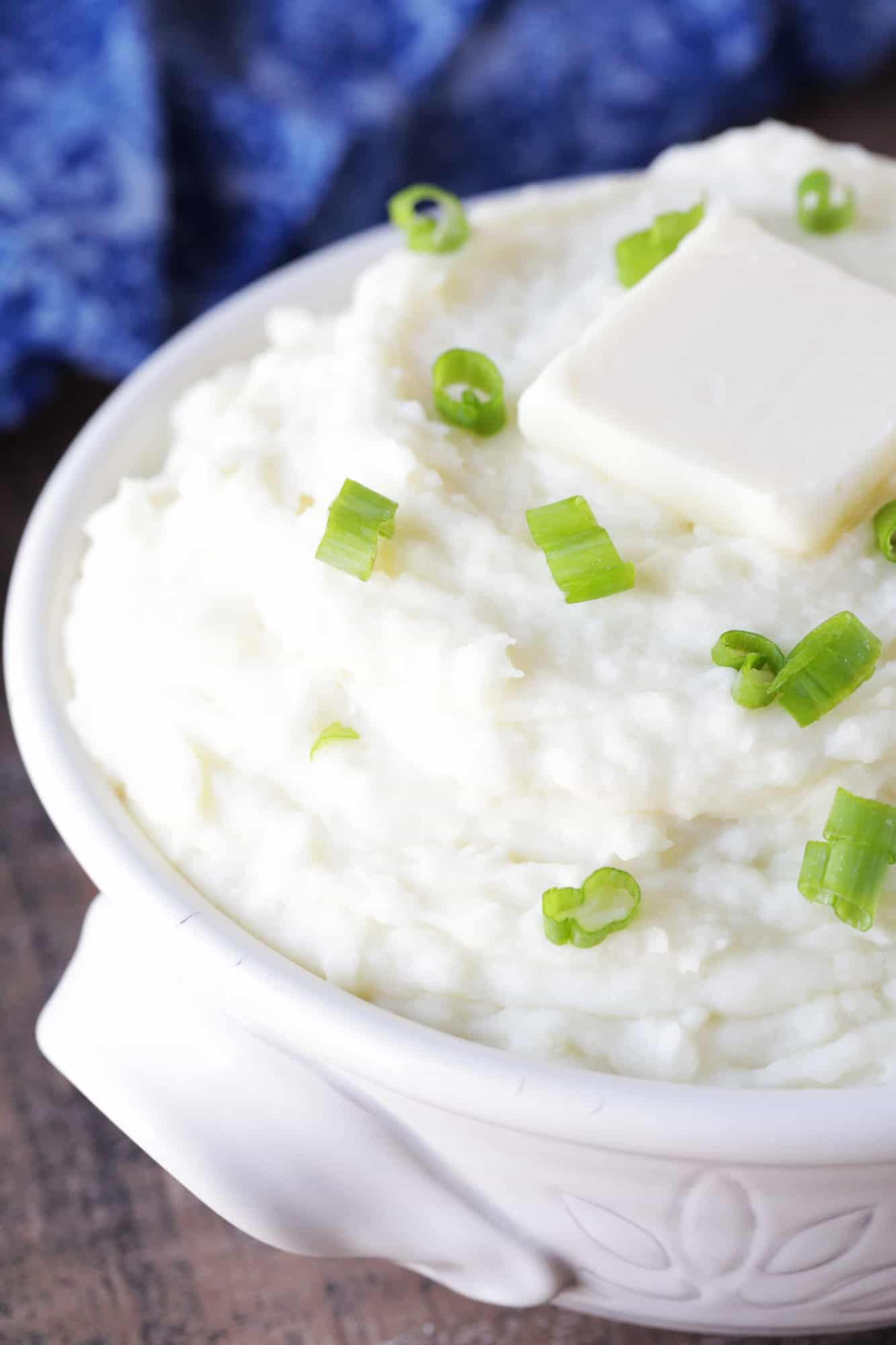 "These mashed potatoes are so creamy!"
If you haven't heard that line before then you need to run out immediately and find yourself a copy of While You Were Sleeping. The line comes from a scene where a large family is sitting around a dinner table at a holiday gathering haven't the most random conversation. We adopted the saying in my family and for years said the line when the conversation got awkward, stale, or far too random. It's always good for a laugh. Creamy mashed potatoes are important to my family I suppose.
How do you make the perfect mashed potatoes?
To make perfect mashed potatoes you need the perfect recipe and right ingredient. Luckily for you, I have the recipe part covered. The secret to this recipe is that it uses the right proportions of Chicken Broth, cream cheese, butter, and buttermilk. When the recipe is followed correctly you will end up with perfect, creamy, and delicious mashed potatoes that you will be wanting to eat every night.
What can you add to mashed potatoes?
Wanting to add some other ingredients to your mashed potatoes? Here are some of my recommendations.
Bacon Mashed Potatoes – Cook between 1/4 of a pound to 3/4 of a pound of Bacon and make sure it is crispy. Replace half the butter in the recipe below with 1/8 cup – 1/4 cup bacon grease.
Cheddar Mashed Potatoes – Add in about 3 – 4 cups of shredded Cheddar Cheese. Then add in 1/3 cup of parsley and scallions to give you some great tasting Cheddar Mashed Potatoes. I recommend starting with the lower amount of ingredients and working up until you get the taste you want.
Other Ingredients to test out. – Dill, red bell peppers, applesauce and nutmeg, Pesto, hummus, Parmesan and Romano Cheese, Italian sausage, Garlic powder.

MY OTHER RECIPES
What can you use instead of butter in mashed potatoes?
If you want a little healthier mashed potatoes you can use Olive oil in place of the butter. For this recipe replace the 1/2 cups of butter with 6 Tbsp of Olive Oil. If you are doubling the recipe use a 3/4 cup of Olive oil instead of the cup of butter. You can also simply use less butter in the recipe if you want to.
How can I Fix my lumpy Mashed potatoes?
If you end up with lump mashed potatoes that probably means the potatoes were undercooked. Don't worry though there is a simple fix. All you need to do is add a little bit more cream or milk to the potatoes and cook the potatoes over a low heat until those lumps start to soften. Then just mush the potoatoes again (: repeat till you get the right texture. Be carful though not to add to much cream or milk.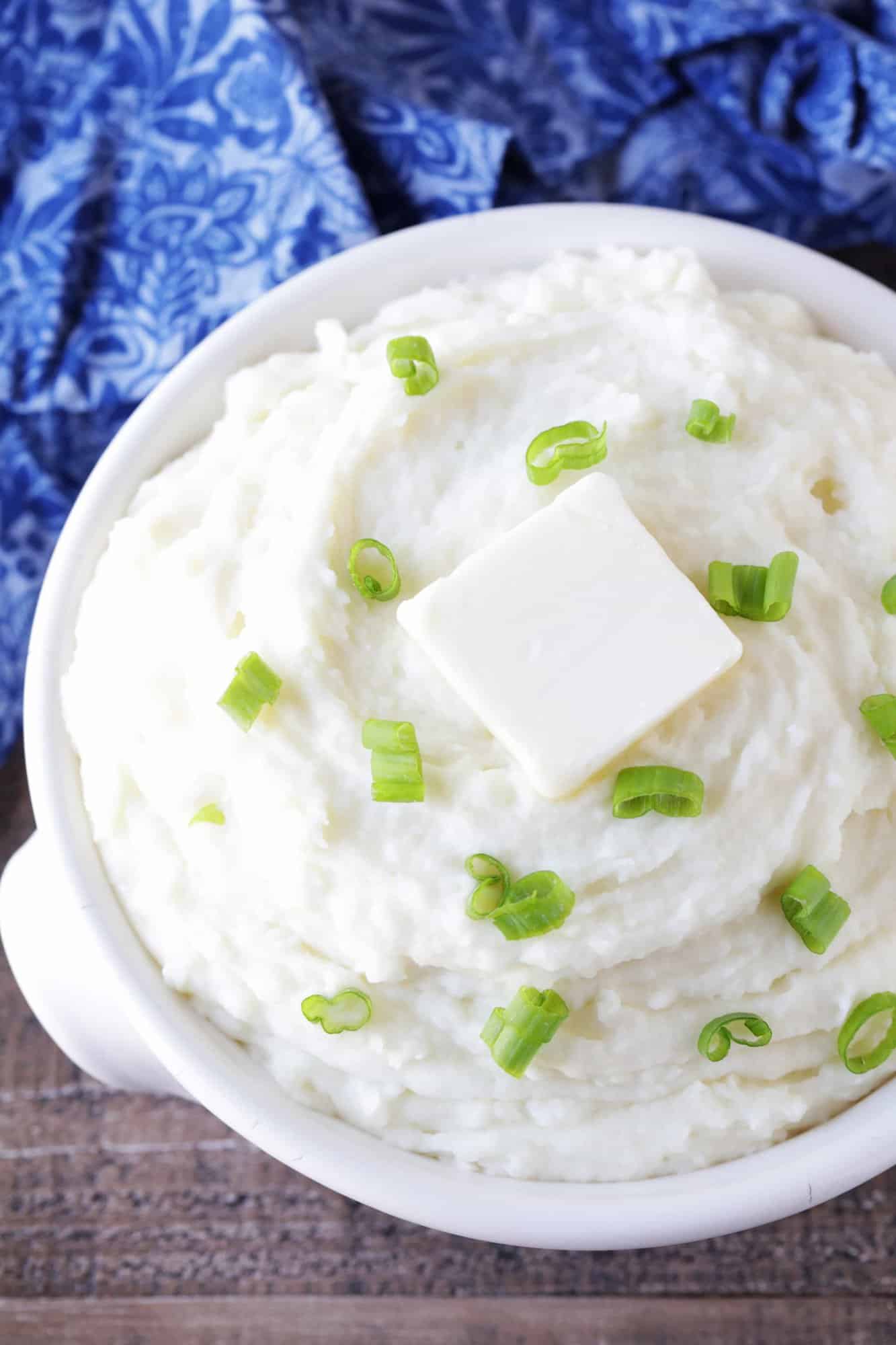 Are Red Or White Potatoes better for mashing?
Russet or other high starch potatoes like Yukon golds are the best potatoes to use for Mashed potatoes. These high starch potatoes will absorb the flavoring of the butter and creams better, and end up more fluffy and smooth mashed potatoes. That being said you can use Red Potatoes or types of white potatoes, BUT! they require more mashing to become creamy and have a chance to become more of a paste than mashed potatoes.
I find this to be the perfect recipe for absolutely creamy mashed potatoes. On special occasions like Thanksgiving, where calories and fat are plentiful, I like to double the cream cheese and butter for an extra special creamy treat.
Chef's Note:
After being cooked, these mashed potatoes can be placed in a
crockpot
on the low or warm setting for up to 4 hours before serving. This comes in quite handy for large and demanding meals like Thanksgiving or Christmas.
Watch the video
where you can see just how I make these, plus get more great tips and tricks for making the creamiest mashed potatoes ever. You can also check out my
YouTube Channel
where I have hundreds of cooking show episodes just waiting for you!
The Creamiest Mashed Potatoes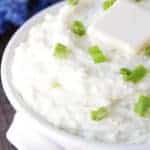 The Creamiest Mashed Potatoes
Make sure everyone at your dinner table raves about how yours are the creamiest mashed potatoes ever! This recipe is perfect for the holidays as well as your regular weeknight dinners.
Print
Pin
Rate
Ingredients
6

cups

chicken broth

5

pounds

russet potatoes

washed and peeled

1/2

cup

salted butter

4

oz

cream cheese

1/2

cup

buttermilk

1

teaspoon

salt
Instructions
Bring the chicken broth to a boil in a large pot over high heat.

Meanwhile, cut the peeled potatoes into 1 inch cubes or chunks. Place the potatoes chunks into the boiling chicken broth and boil until tender, about 15 minutes.

Strain the potatoes from the broth and put the cooked potatoes into a large mixing bowl.

Add in the butter, cream cheese, buttermilk, and salt. Use a hand mixer to whip the potatoes and other ingredients until light, fluffy, and creamy (3-5 minutes).
Nutrition
Calories:
523
kcal
|
Carbohydrates:
71
g
|
Protein:
11
g
|
Fat:
23
g
|
Saturated Fat:
13
g
|
Cholesterol:
63
mg
|
Sodium:
1483
mg
|
Potassium:
1817
mg
|
Fiber:
4
g
|
Sugar:
3
g
|
Vitamin A:
15.2
%
|
Vitamin C:
46.1
%
|
Calcium:
10.9
%
|
Iron:
21.1
%
This recipe first appeared on The Stay At Home Chef on October 22, 2013

Get New Recipes Sent To Your Inbox 😃
Join my newsletter and get new mouth watering recipes sent directly to you weekly!