This is THE perfect recipe for the creamiest mashed potatoes ever! People absolutely rave over them!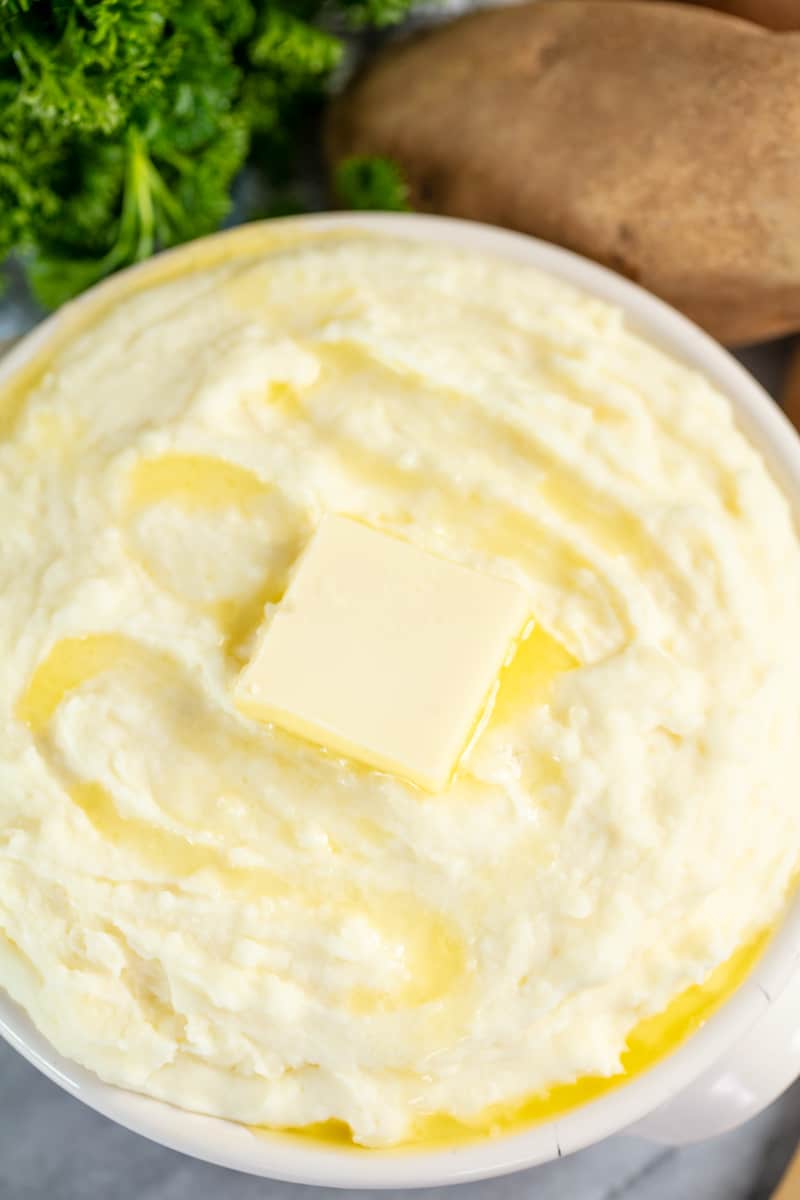 How do you make the perfect mashed potatoes?
To make perfect mashed potatoes you need the perfect recipe and right ingredients. The secret to this recipe is that it uses the right proportions of cream cheese, butter, and buttermilk to create the most buttery and delicious mashed potatoes. When the recipe is followed correctly you will end up with perfect, creamy, and delicious mashed potatoes that you will be wanting to eat every night.
What can you add to mashed potatoes?
Wanting to add some other ingredients to your mashed potatoes? Here are some of my recommendations.
Bacon Mashed Potatoes – Cook between 1/4 to to 3/4 of a pound of bacon until crispy. Replace half the butter in the recipe below with 1/8 cup – 1/4 cup bacon grease.
Cheddar Mashed Potatoes – Add in about 3 of shredded cheddar cheese. Then add in 1/4 cup of parsley or chives for some some great tasting cheesy cheddar mashed potatoes.
Other Possible Flavor Additions: Dill, red bell peppers, pesto, Parmesan cheese, Italian sausage, or garlic.
How can I fix my lumpy mashed potatoes?
If you end up with lumpy mashed potatoes that probably means the potatoes were undercooked. Don't worry though there is a simple fix. All you need to do is add a little bit more cream or milk to the potatoes and cook the potatoes over a low heat until those lumps start to soften. You should be able to mash again to create smooth and creamy mashed potatoes.
Are red or white potatoes better for mashing?
Russet or other high starch potatoes like Yukon golds are the best potatoes to use for mashed potatoes. These high starch potatoes will absorb the flavoring of the butter and cream better, and end up more fluffy and velvety smooth. That being said you can use red potatoes or types of white potatoes, but they will require more mashing to become creamy and may be a bit more gummy.
PRO TIP: I find this to be the perfect recipe for absolutely creamy mashed potatoes. On special occasions like Thanksgiving, where calories and fat are plentiful, I like to double the cream cheese and butter for an extra special creamy treat.
Chef's Note: After being cooked, these mashed potatoes can be placed in a crockpot on the low or warm setting for up to 4 hours before serving. This comes in quite handy for large and demanding meals like Thanksgiving, Christmas, or Easter.