This is THE perfect recipe for the creamiest mashed potatoes ever! Everyone absolutely raves over them, and we know you will too!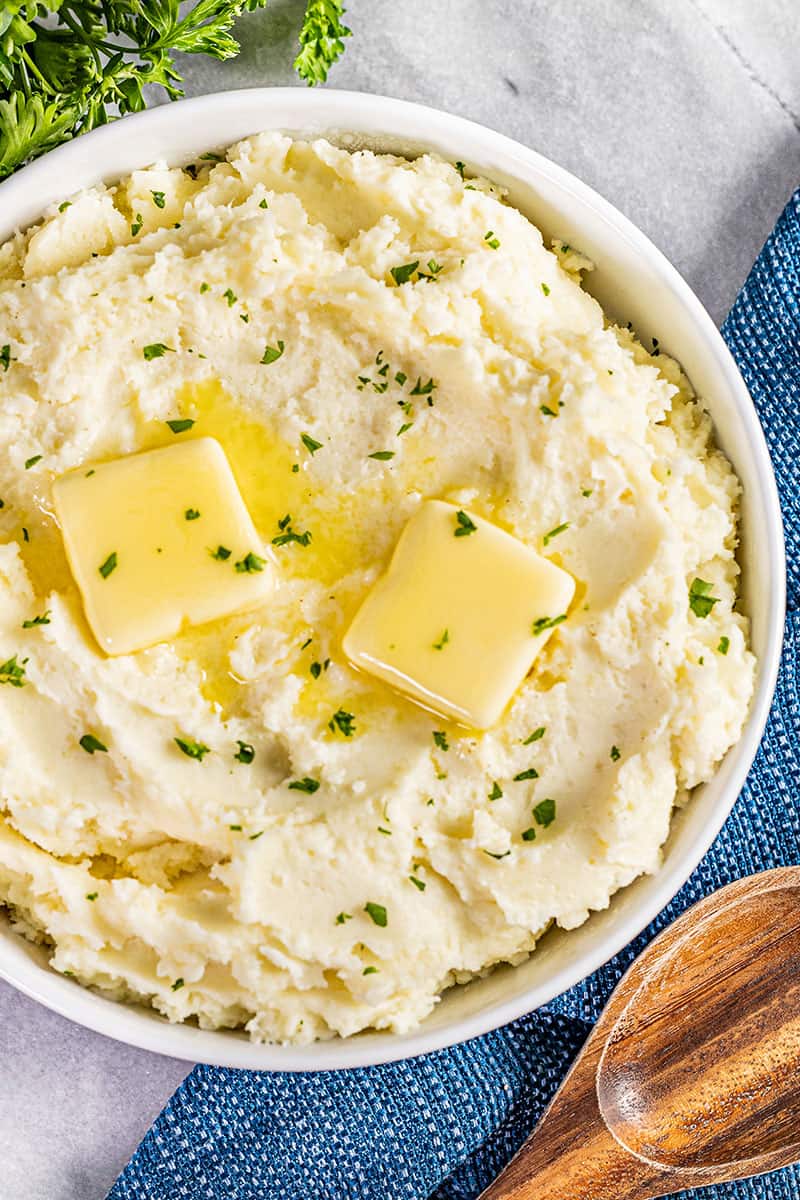 Mashed potatoes are life. Too often we have been subjected to sub-par mashed potatoes, and we do not want that life for you! Perfectly creamy mashed potatoes are worth the effort, and we're here to hold your hand every step of the way so you can have amazing mashed potatoes every single time. To make perfect mashed potatoes, you need the right proportions of cream cheese, butter, and buttermilk to create the most buttery and delicious mashed potatoes. When the recipe is followed correctly you will end up with perfect, creamy, and delicious mashed potatoes that you will want to eat every single night.
Add-In Options for The Creamiest Mashed Potatoes:
Bacon Mashed Potatoes: Cook between 1/4 to 3/4 pound of bacon until crispy. Replace half the butter in the recipe below with 1/8 cup to 1/4 cup bacon grease.
Cheddar Mashed Potatoes: Add in about 3 cups of shredded cheddar cheese. Then add in 1/4 cup of parsley or chives for some some great tasting cheesy cheddar mashed potatoes.
Other Possible Flavor Additions:
Dill
Red bell pepper
Pesto
Parmesan cheese
Italian sausage
Garlic
Troubleshooting: Lumpy mashed potatoes
If you end up with lumpy mashed potatoes, that probably means the potatoes were undercooked. Simply add a little bit more cream or milk, and cook the potatoes over a low heat until those lumps start to soften. You should be able to mash again to create smooth and creamy mashed potatoes.
Potato Options:
Russet or other high starch potatoes like Yukon golds are the best potatoes to use for mashed potatoes. These high starch potatoes will absorb the flavoring of the butter and cream better, and end up more fluffy and velvety smooth. That being said, you can use red potatoes or types of white potatoes, but they will require more mashing to become creamy, and may be a bit more gummy.
For an Extra Indulgent Treat:
On special occasions like Thanksgiving, where calories and fat are plentiful, I like to double the cream cheese and butter for an extra special creamy treat.
Chef's Note: After being cooked, these mashed potatoes can be placed in a crockpot on the low or warm setting for up to 4 hours before serving. This comes in quite handy for large and demanding meals like Thanksgiving, Christmas, or Easter.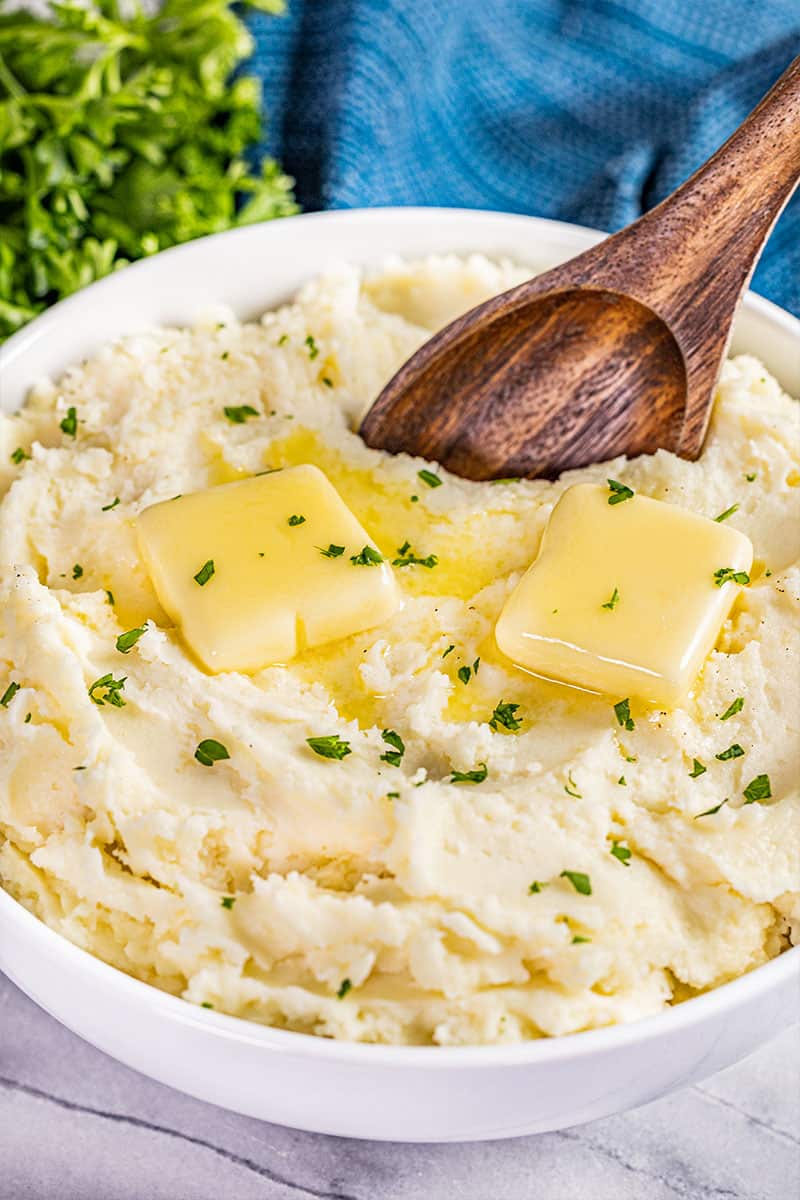 Why chicken broth?
Your potatoes will absorb some of the liquid that they are cooked in. Cooking your potatoes in chicken broth infuses your potatoes with flavor. You can use homemade chicken stock, chicken broth, bouillon cubes, or better than bouillon. For a vegetarian option, use vegetable stock. When draining the potatoes, you can reserve the broth for a potato soup, but just remember that the broth will be very starchy.
Storage and Reheating Instructions:
Store any leftovers in an airtight container in the refrigerator for up to 5 days. Reheat individual servings in the microwave in 30-second increments until warmed through.
If you like this recipe, you may be interested in these other delicious potato side dish recipes:
Watch the video below where Rachel will walk you through every step of this recipe. Sometimes it helps to have a visual, and we've always got you covered with our cooking show. You can find the complete collection of recipes on YouTube, Facebook Watch, or our Facebook Page, or right here on our website with their corresponding recipes.