The Best Scalloped Potatoes are easier to make than you might think! This scalloped potato recipe has a classic creamy sauce and is topped off with extra cheese for cheesy scalloped potatoes that are total comfort food.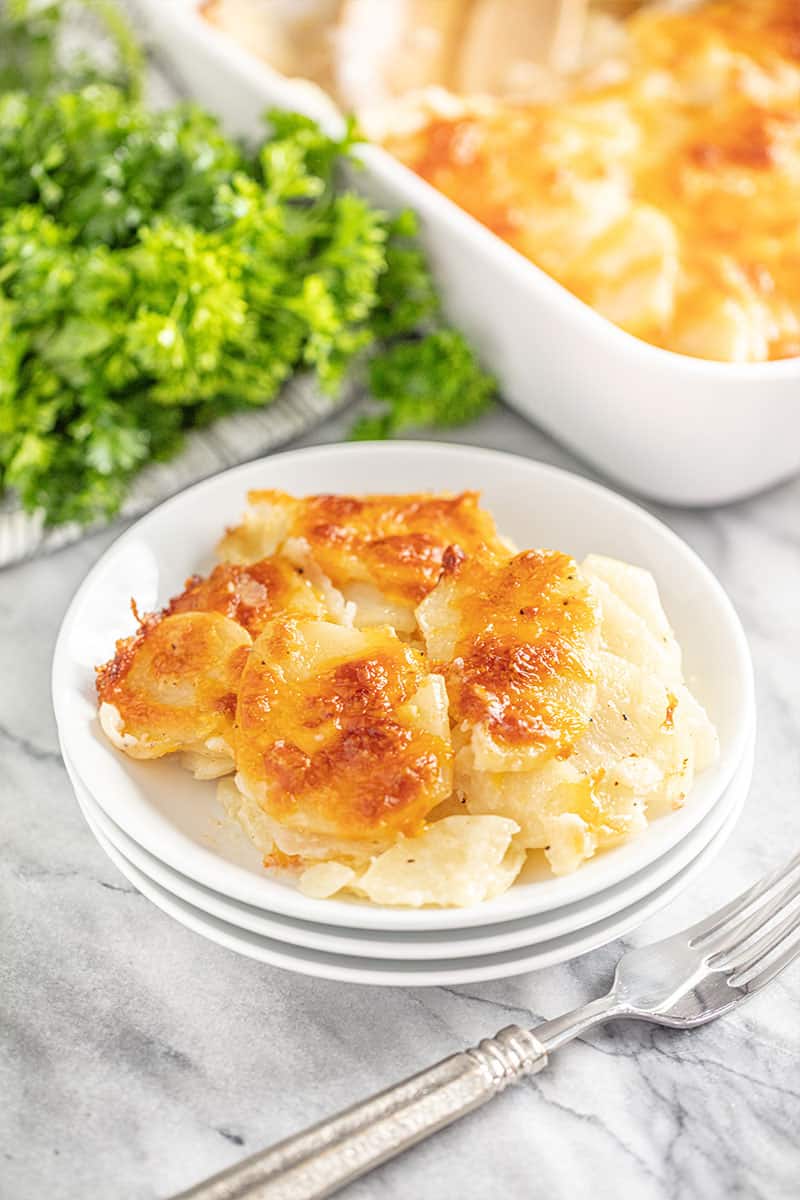 Scalloped potatoes may seem complicated and time consuming, but nothing could be further from the truth. Scalloped potatoes are simple to make, but are so delicious and satisfying. These potatoes are savory, cheesy and hearty. They make a great side dish for almost any dinner, and are so tasty, you might even want to make them to eat on their own!
You will start with peeled and thinly sliced potatoes. Then, you will add the cream, Parmesan cheese and spices. Top that with shredded cheddar cheese, and pop them in the oven for about an hour. Depending on how thick or thin you cut your potatoes, you might need to adjust your baking time. Thicker slices may need 15-30 additional minutes and thinner slices may be done sooner. If you like a little browning on the cheese topping, you can let them broil for the last 4-5 minutes of bake time.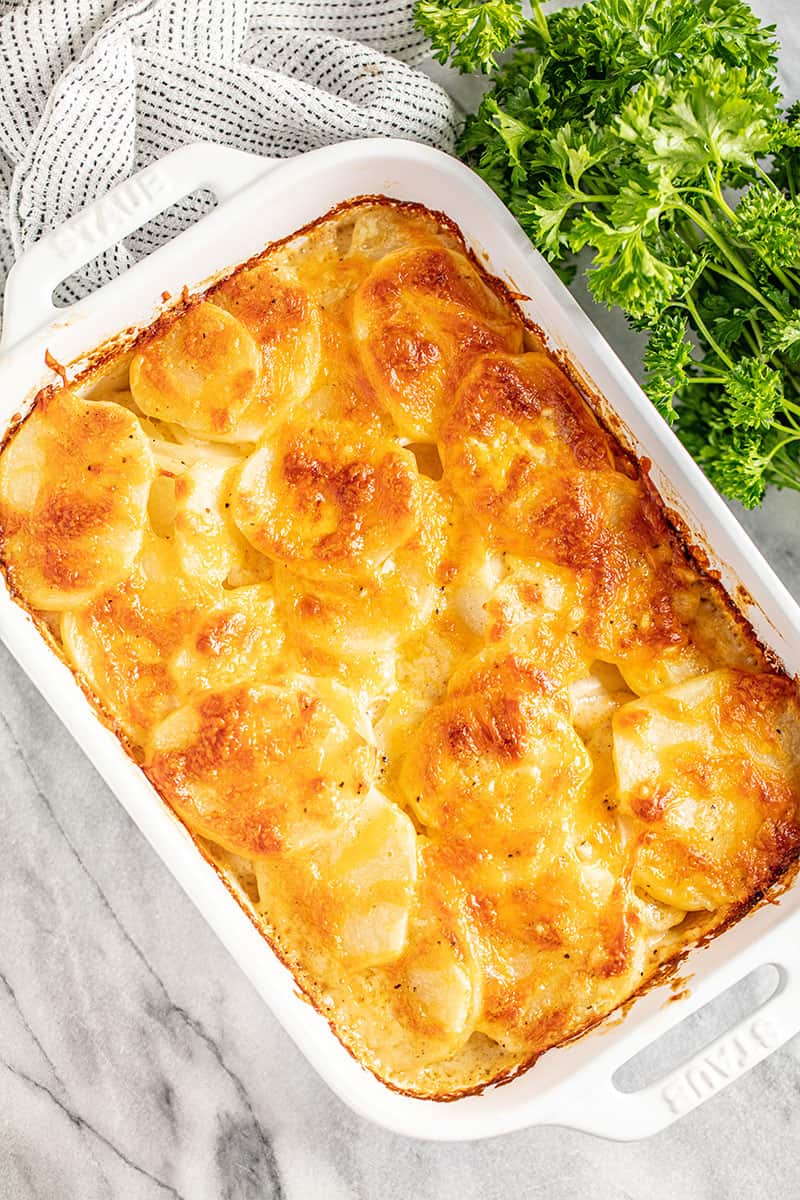 What is the best way to slice potatoes thin?

The easiest and most uniform way to slice potatoes is with a mandoline. If you don't have one, you can use a slicing blade attachment on a food processor. If you don't have either of those tools, you can always use a regular chef's knife. Slice your potatoes in half, lengthwise, to create a flat, stable surface for cutting. Then simply use your knife (the sharper the better) to cut the potatoes as thinly as you can.

Which variety of potatoes should I use?

The best scalloped potatoes are made with Russet potatoes. You can also use a red potato or a yukon gold potato, but the starch content is different for these and will produce a slightly different result. They are also a little bit harder to work with since they are smaller than Russet potatoes.

Will other cheeses work with scalloped potatoes?

Yes. Although we prefer the cheese to be a little more sharp, as it gives the dish more flavor, you can swap out the Parmesan for a milder cheese if you prefer. The cream in this recipe balances the Parmesan really nicely.

Make Ahead Instructions

Need to make your scalloped potatoes ahead of time? No problem! Slice your potatoes and combine them with your other ingredients and place into your prepared baking pan as directed in the recipe. Instead of baking, cover and refrigerate for up to 24 hours. When ready to bake, remove the covering and give the potatoes a quick toss. Top with shredded cheddar cheese (if using) and bake as directed in the recipe. View slow cooker instructions here: https://thestayathomechef.com/slow-cooker-scalloped-potatoes/
If you're looking for other delicious potato recipes, here are some of our favorites:
PRO TIP: The baking time on scalloped potatoes ultimately depends on how thinly you were able to slice your potatoes. The estimate of 1 hour provided in the recipe is only an estimate. If you cut your potatoes on the thicker side, they may take 15-30 minutes longer. If you cut your potatoes paper thin, your casserole may be done after only 40 minutes. Please adjust the cooking time accordingly.
Watch the video below where Rachel will walk you through every step of this recipe. Sometimes it helps to have a visual, and we've always got you covered with our cooking show. You can find the complete collection of recipes on YouTube, Facebook Watch, or our Facebook Page, or right here on our website with their corresponding recipes.