Easy Roasted Parmesan Pesto Potatoes is an easy side dish that is full of flavor. Red potatoes are coated with a basil pesto and parmesan cheese and roasted to perfection. You'll love it!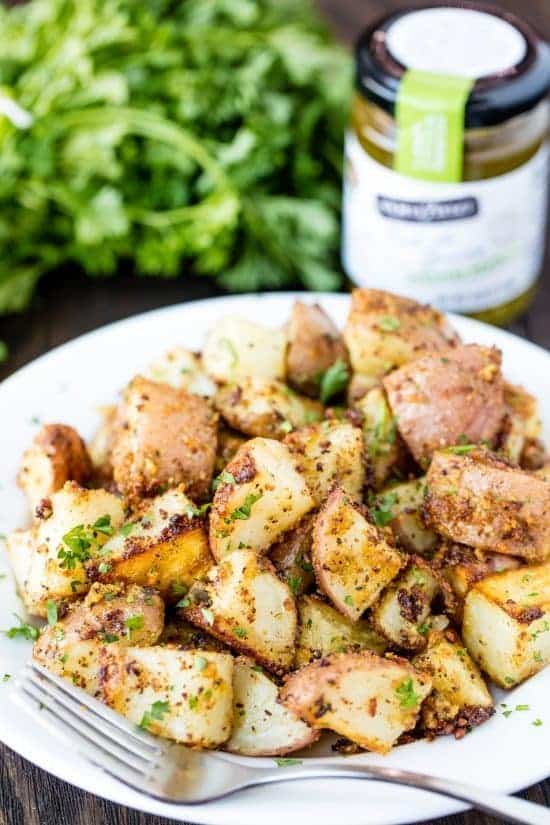 This is a sponsored post for HemisFares™ brand that is available exclusively at Kroger family of stores. All opinions are honest and 100% my own.
These potatoes are so good! You know I wouldn't publish the recipe if they weren't good, but I have to tell you, these potatoes are something special. They really pack a punch of flavor which makes them totally craveable. This may be my new favorite way to eat potatoes!
One of the best parts about this recipe is that it is super easy. I love a good easy side dish! All you really have to do is cut up some potatoes and then toss them with some flavor and send them off to the oven to roast. So simple!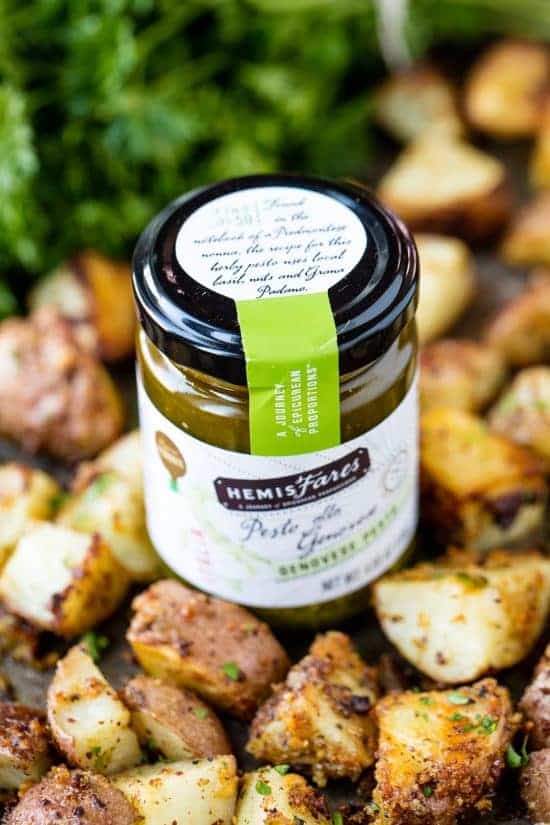 This recipe features HemisFares Genovese Pesto. HemisFares is a new line of high end products sold at Kroger banner stores. These are high end products that cater to foodies like me so I absolutely love it. The idea behind it is that they are bringing high end specialty products from around the world to your local grocery store.
My local Kroger banner store is Smith's. In your area it might be Smith's or Ralph's or Fred Meyer or another one of the popular Kroger banner stores. As a blogger, I spend a lot of time at the grocery store and I'm always excited when I see something new pop up.
Every HemisFares product is marked with a number on it. Genovese Pesto is Find No. 50. You'll have to see if you can find them all! I've previously featured No. 47 for you in my Olive Oil Pasta. For more information on HemisFares you can check out the website HemisFaresFinds.com or facebook.com/Hemisfares.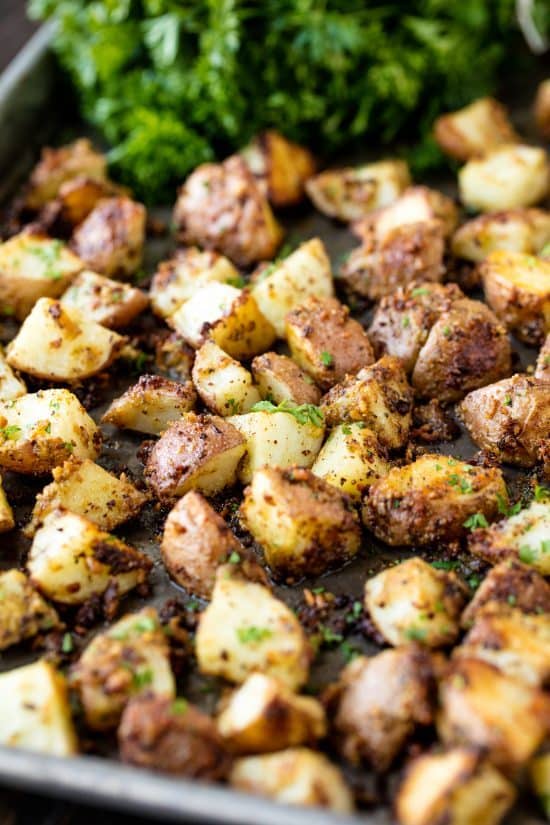 This recipe calls for red potatoes. I find that red potatoes are my favorite for roasting. You can also use another thin skinned potato like yukon gold. Simply cut them up into bite sized pieces before using in the recipe. No need to peel as both red potatoes and yukon gold potatoes have enjoyable peels. Steer clear of something like russet potatoes for roasting like this.
The cooking time is an estimate. Total roasting time will depend on what size you cut your potatoes and is given as an estimate. You should roast your potatoes until they are fork tender. Give one a test bite before pulling the baking sheet out of the oven. Just be warned that you will love it and start getting impatient to sit down to dinner so you can scarf them all down!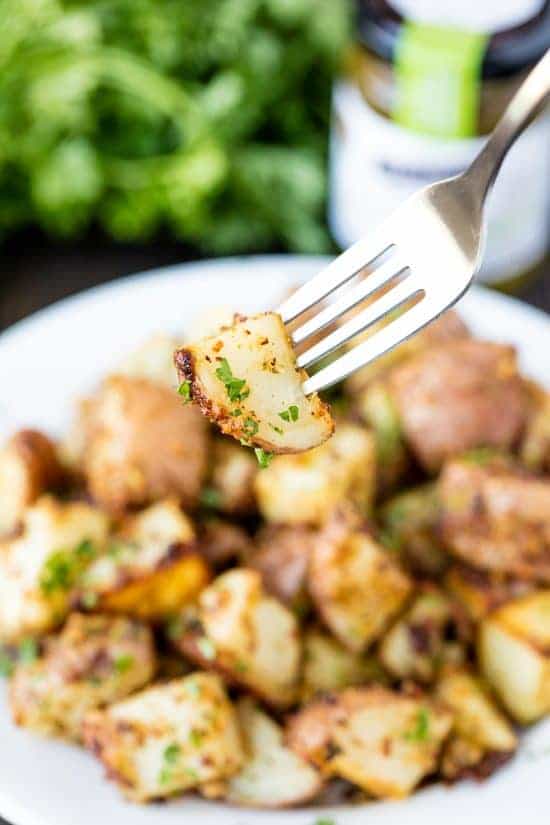 These potatoes would be great to serve up along side my Italian Stuffed Chicken or my Apple Glazed Pork Loin. Both are such delicious recipes and they would pair well with this tasty side dish.
Easy Roasted Parmesan Pesto Potatoes