This Pork Tenderloin Marinade produces the most juicy and flavorful pork. It takes mere minutes to prepare your marinade before putting it in the fridge to let it soak up those flavors. You're going to love it!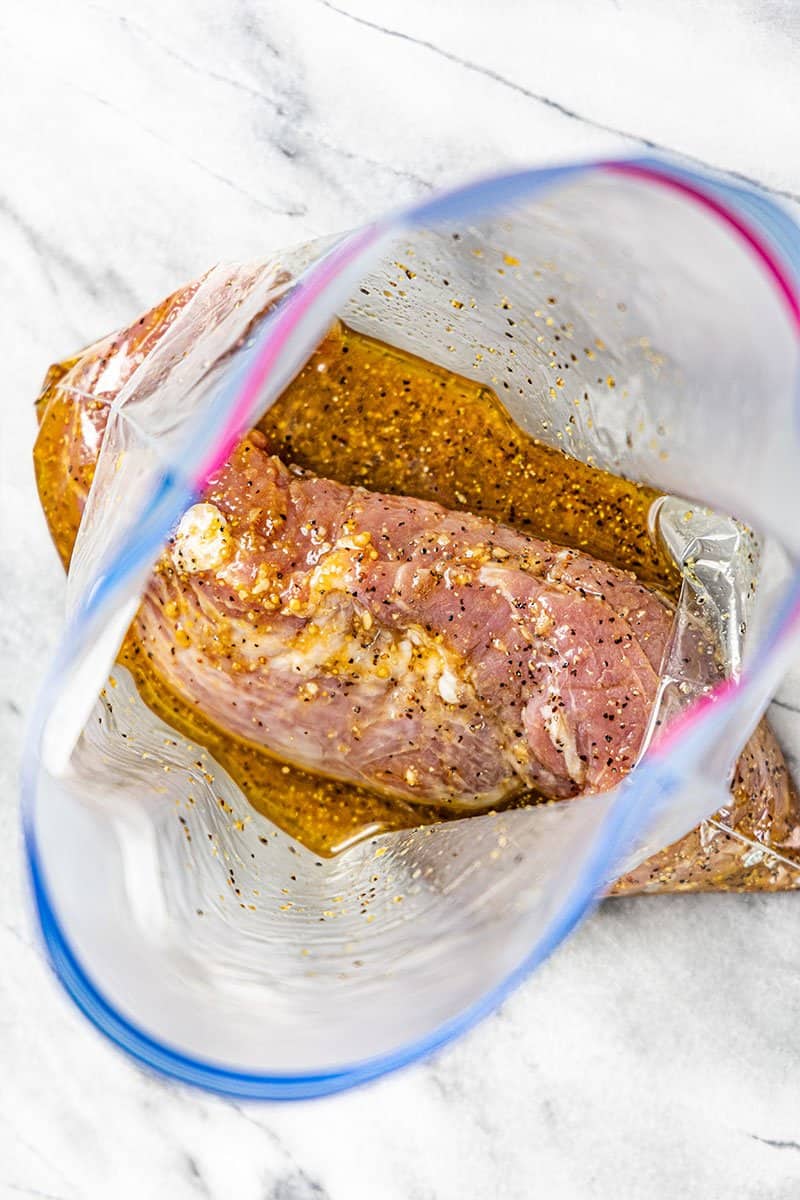 We are so excited to share with you our favorite pork tenderloin marinade today. Pork tenderloin is one of those foods that we crave, but try to save for special occasions. And we take advantage of just about any excuse we can to make it! Holidays, special occasions, Sunday dinners, or really, just about any night of the week. You can't tear us away from our love for tenderloin! We absolutely love this marinade and cooking method because it produces the most juicy and flavorful pork. We seriously consider it better than any cut of beef! Give it a try, we're sure you'll agree!
Pork Tenderloin vs. Pork Loin:
Pork loin is a large, lean piece of meat cut from the back area. It is commonly sold boneless, but can also be purchased bone-in. It is best suited for cooking over medium heat, or slow-roasted in the oven.
Pork tenderloin is a small, thin strip of meat that comes from the backbone area. It is always sold boneless and only weighs 1 to 1 1/2 pounds. Pork tenderloin is the most tender cut of pork. It is best suited for quick cooking using high heat.
We highly prefer the tenderloin to the pork loin, however, this marinade can be used with either a pork loin or pork tenderloin. You will want to double or triple the marinade for a pork loin due to the size difference. Cooking time will vary depending on the size of your loin, so you will want to use a digital thermometer to ensure 100% accuracy.
Pink Center:
Pork tenderloin should be a pale pink color in the middle. The USDA now recommends that pork be cooked to an internal temperature of 145 degrees Fahrenheit , where previously it was 165 degrees Fahrenheit. At 145 degrees Fahrenheit you will have the juiciest pork tenderloin possible which will be a pale shade of pink in the center, but still fully safe to eat. Pork tenderloin that is not pink in the middle has been overcooked and can easily dry out.
Cookware Options for the Juiciest Pork Tenderloin Marinade:
This recipe calls for you to sear your meat first on a stovetop, and then finish cooking in the oven. The most convenient way to do this is by using an oven-safe skillet, like cast iron. If you do not have an oven safe skillet, place an oven safe baking pan into the oven and preheat it. Once your meat has been seared on the stovetop, simply place it into the hot pan in the oven to finish.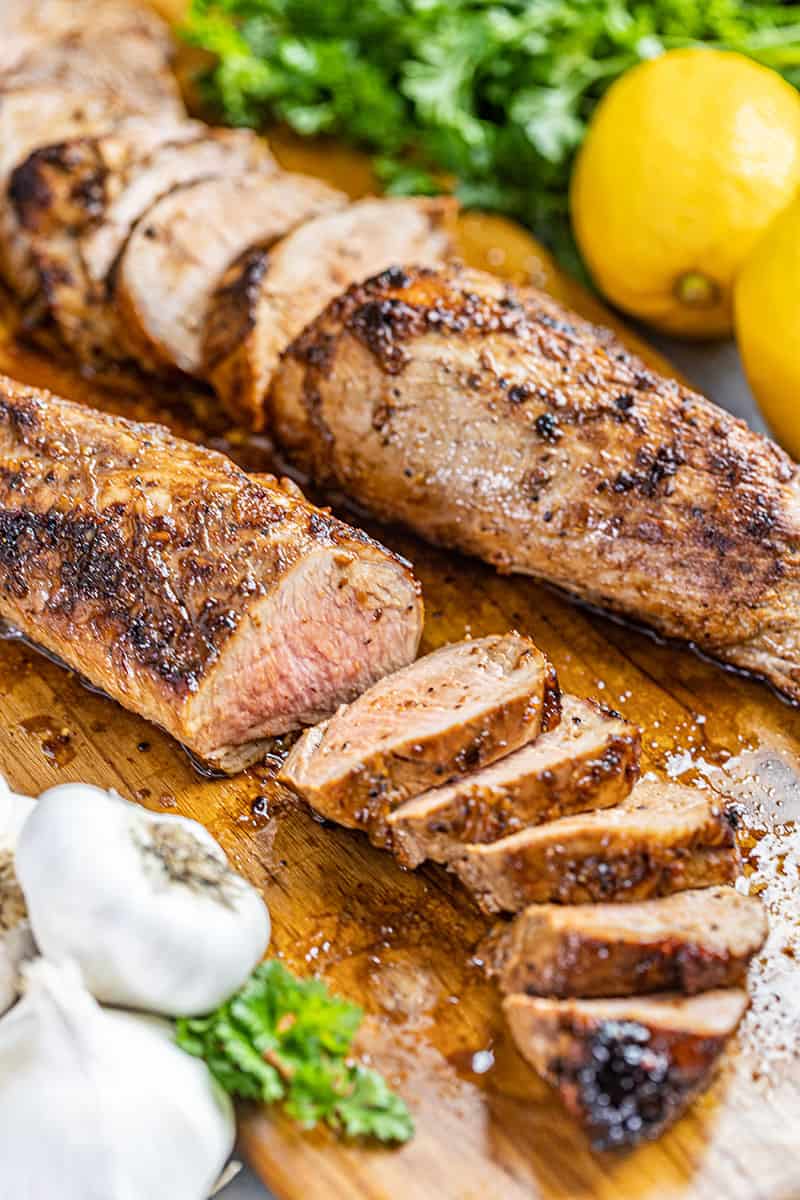 Grilling Instructions:
If you prefer to grill your tenderloin, you absolutely can! You will want to preheat your grill to high heat before placing your tenderloin directly over the heat to grill 15 minutes (with the lid closed), rotating every 2 to 3 minutes. If pork begins to blacken too much, remove to indirect heat to finish cooking.
Storage and Reheating Instructions:
Store any leftovers in an airtight container in the fridge for up to 5 days. Reheat in a skillet over medium-low heat with a scant amount of oil in the pan until warmed through, flipping sides every minute or two.
If you like this recipe, you may be interested in these other delicious pork recipes:
Watch the video below where Caytlin will walk you through every step of this recipe. Sometimes it helps to have a visual, and we've always got you covered with our cooking show. You can find the complete collection of recipes on YouTube, Facebook Watch, or our Facebook Page, or right here on our website with their corresponding recipes.