Baked Sweet potatoes are delicious, healthy, and versatile. Learn how to bake them perfectly every time with this simple and easy recipe that shows both a sweet and a savory option.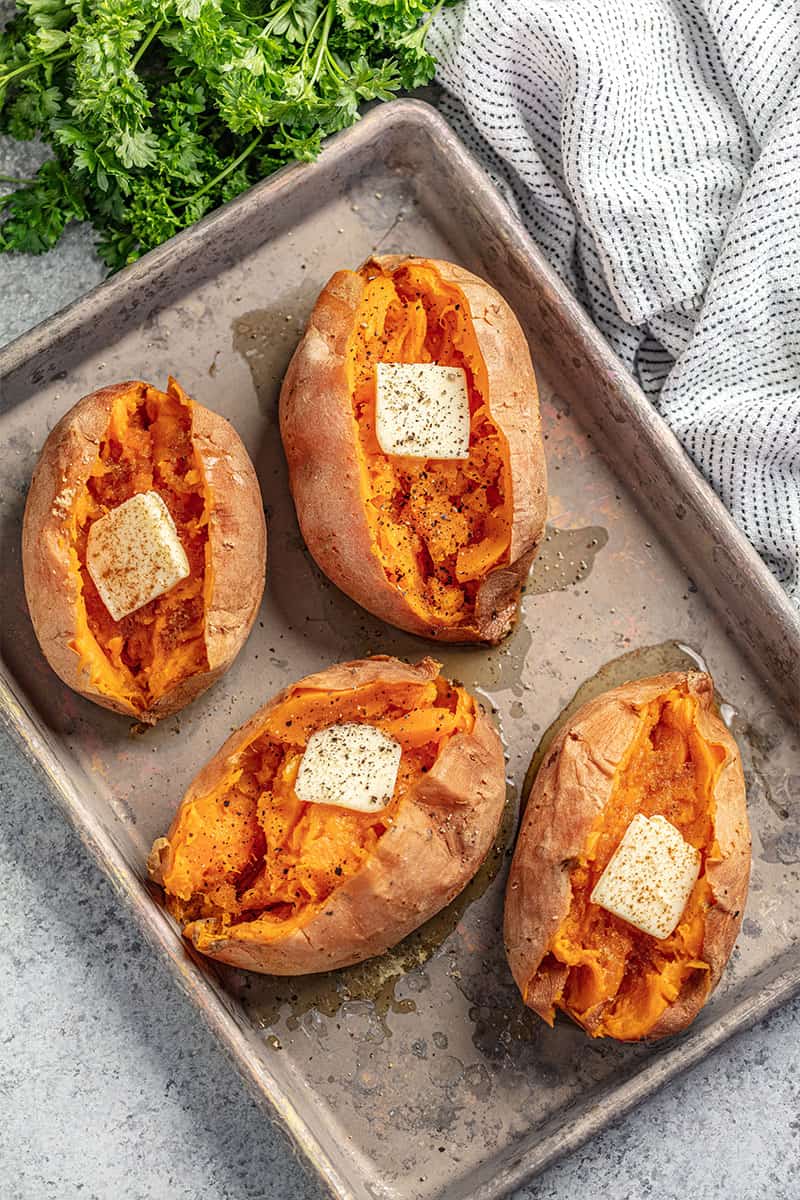 Sweet potatoes are such a versatile food. They can be boiled, baked, pureed, fried, mashed, and even grilled! Baked sweet potatoes are so easy and can be enjoyed sweet or savory. When they are baked right, they have a creamy consistency and are very aromatic. This recipe spells out the basic steps for how to bake a sweet potato but leaves the seasoning up to you. Sweet potatoes are so large, you can easily split them and have half with basic salt and pepper, and half with the sweet, buttery cinnamon and sugar. You get to choose!
Why do I have to poke holes in the sweet potato?
Poking holes in the sweet potato allows steam to escape from the potato, whose skin acts as a pressure cooker around it. Whereas it is unlikely that a potato or sweet potato will burst, it is possible and it makes a mess!
Are sweet potatoes better for you than white potatoes?
Sweet potatoes and white potatoes stack up pretty evenly. Both are full of good-for-you nutrients and have about the same about of fiber. Sweet potatoes are often opted for as a healthier choice because they are lower on the glycemic index than regular white potatoes. That means that they are digested at a slower rate and, therefore, have a smaller impact on insulin levels.
Can I microwave a sweet potato?
Yes. We prefer baked sweet potatoes, but if you are in a hurry, you can microwave them. Wash the sweet potato, poke it with a few holes, place it on a microwave-safe plate, and microwave for five minutes. If the potato isn't soft, microwave for additional time in 30-second increments until it is tender. The flesh should easily pull apart from the skin when it is cooked.
What's the difference between a sweet potato and a yam?
In the United States, the terms "Sweet Potato" and "Yam" are used interchangeably and refer to that potato-looking thing with pink skin and orange flesh. Yet, you have probably seen something else in the grocery store labeled sweet potato with light yellow skin, while your orange flesh variety is labeled yams. Guess what? Both of them are sweet potatoes! The kind of sweet potatoes you think of as yams are simply dark-skinned sweet potatoes.
You won't commonly come across true yams in an American grocery store. True yams have brown or black skin and the flesh is either red, purple, or off-white. Crazy, right? You thought you'd been eating yams all these years! Now you can impress your family at the dinner table when someone inevitably says, "pass me some more yams, please!"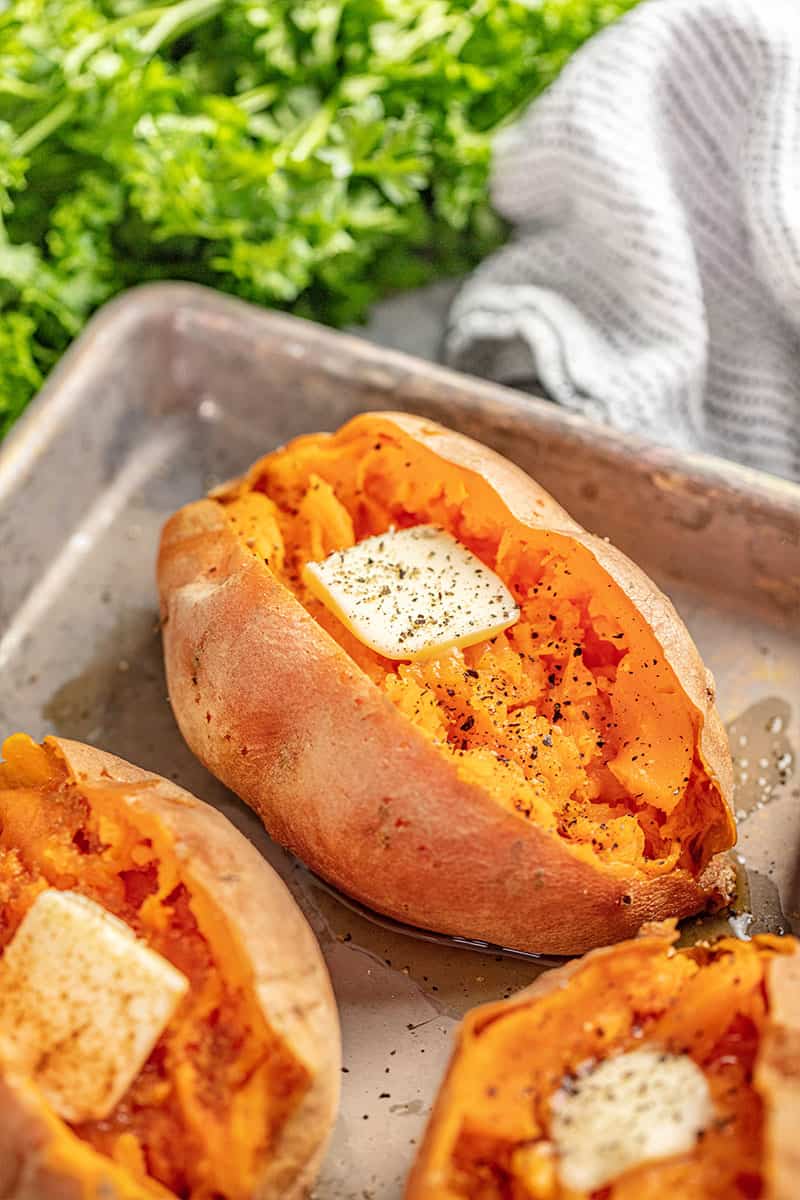 Storage and Reheating Instructions:
Store any leftovers in an airtight container in the fridge for up to 5 days. Reheat in the microwave in 30-second increments until warmed through.
If you like sweet potatoes, you might really enjoy some of these other delicious sweet potato recipes:
Watch the video below where Rachel will walk you through every step of this recipe. Sometimes it helps to have a visual, and we've always got you covered with our cooking show. You can find the complete collection of recipes on YouTube, Facebook Watch, or our Facebook Page, or right here on our website with their corresponding recipes.