This recipe for The Best Sweet Potato Casserole has a velvety sweet potato base and is topped off with a pecan streusel topping. It'll put candied yams to shame!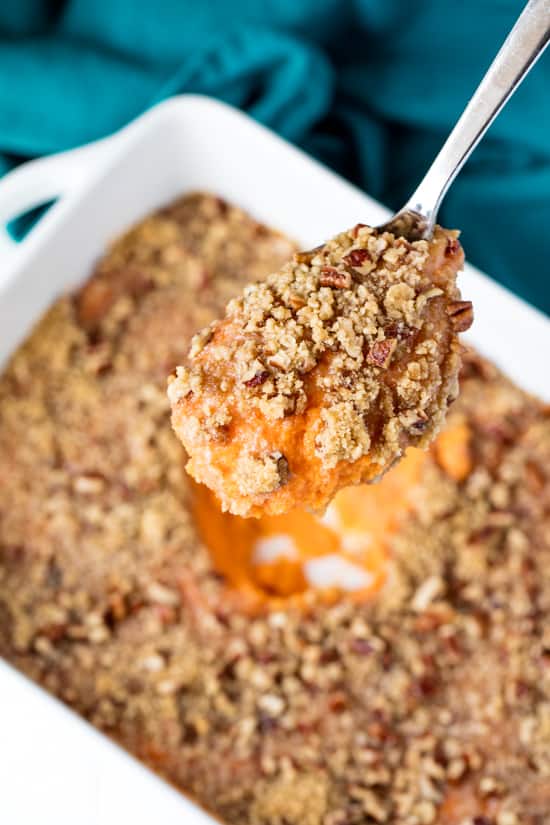 This dish is my one must-have dish on my Thanksgiving table. I'm pretty sure my husband would revolt if I didn't serve sweet potatoes. I mentioned leaving them out once and he gave me the look of death. They are THAT good!
These sweet potatoes are heavenly. They are sweet and delicious and feel more like a dessert with their German streusel flair. We eat them at Thanksgiving. We eat them at Christmas. We even eat them on other occasions throughout the year. They put "candied yams" to absolute shame. Give it a try this year, you won't regret it.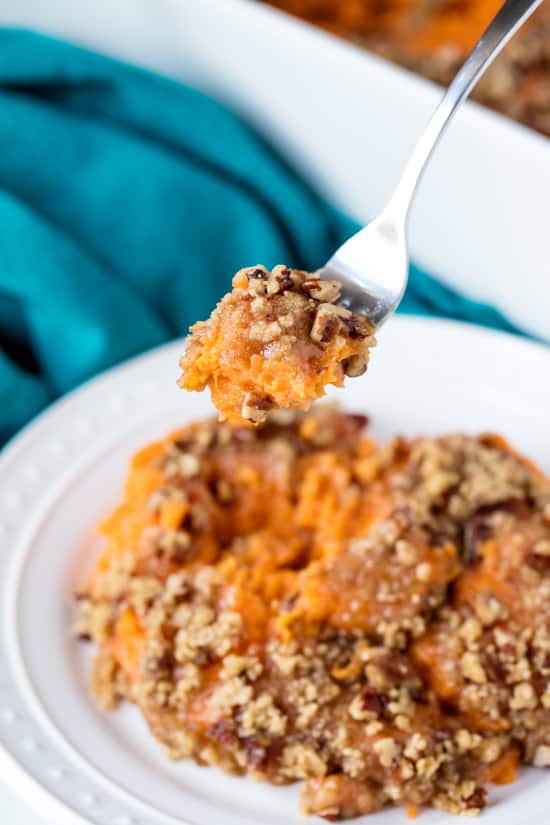 What is the difference between Sweet Potatoes and Yams?
In America the terms "Sweet Potato" and "Yam" are used interchangeably and refer to that potato looking thing with the red skin and orange flesh. Yet, you have probably seen something else in the grocery store labeled sweet potato with a light yellow skin, while your orange flesh variety is labeled yams. Guess what? Both of them are sweet potatoes!
The kind of sweet potatoes you think of as yams are simply dark skinned sweet potatoes. You won't commonly come across true yams in an American grocery store. True yams have brown or black skin and the flesh is either red, purple, or off white. Crazy, huh? You thought you've been eating yams all these years!
What are the benefits of eating sweet potatoes?
Sweet potatoes can be an excellent source of vitamin and minerals. Not only do they have a ton of Vitamin A, but it is also a good source of manganese, copper, pantothenic acid, vitamin C and Vitamin b6. They also have reasonable amounts of potassium, fiber, and niacin. Overall sweet potatoes can be apart of a well balanced and healthy diet.
Watch the video below where I walk you through every step of the recipe, including some great tips and tricks to help you along the way. If you love sweet potatoes you should check out my recipe for Braided Sweet Potato Bread. It's soft, heavenly, pillows of carbs with a sweet potato twist.