This Old Fashioned Green Bean Casserole is made completely from scratch. It's the best green bean casserole recipe you'll ever make and is sure to become an instant family favorite.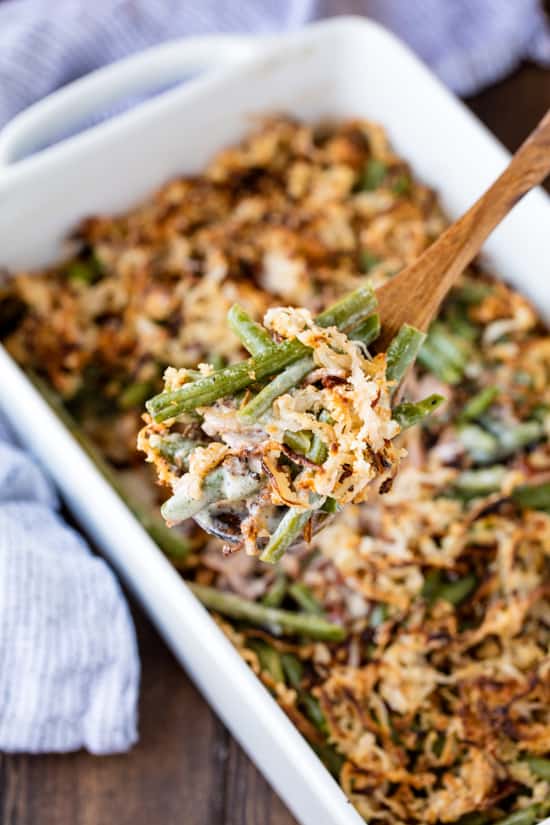 Green bean casserole is a classic American dish that can often be found on holiday dinner tables at Thanksgiving, Christmas, and Easter, as well as other times throughout the year. It's a beloved casserole favorite that has been diluted over the years to include cans cream of mushroom soup, canned green beans bacon bits, and canned fried onions. But not here!

MY OTHER RECIPES
This recipe is made the old fashioned way: completely from scratch. It starts off with homemade crispy ovens that are quickly coated in a seasoned flour and crumb mixture and baked until crispy. It's important to continue to toss the onions during their baking time in order to keep them from clumping together which will prevent them from crisping up.
The homemade sauce is the key to this recipe. Bacon provides the flavor base for the sauce and a simple roux is created with the fat in order to thicken up our creamy liquids. This is poured over fresh green beans and baked to perfection. If you are used to mushier green beans, read on for some tips.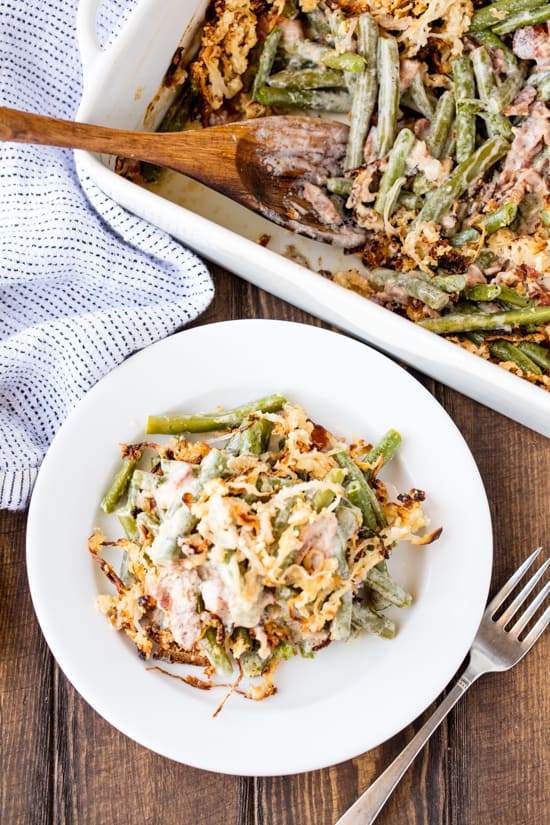 How do you make green bean casserole with fresh green beans?
When using fresh green beans in green bean casserole you must first trim the ends of each green bean. Oftentimes, based on size, it may also be necessary to snap the green bean in half. When green beans are baked, as in green bean casserole, they come out tender crisp. If you are used to and prefer a much softer green bean, you can par-boil or even par-steam your green beans before using them in the recipe. Simply steam or boil your green beans for 10 minutes prior to using in the recipe. If you plunge them into an ice bath immediately after cooking it will help them retain a more vibrant shade of green.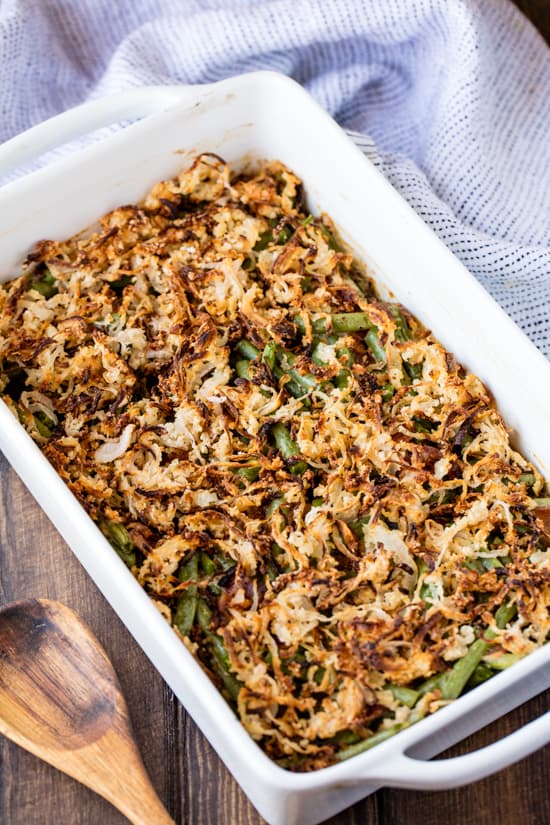 For more holiday side dish favorites, be sure to check out my Cheesy Scalloped Potatoes that are way easier to make than you might think. For a fun, modern twist on smashed potatoes be sure to check out my Garlic Bread Smashed Potatoes that take all the goodness of garlic bread and turn them into a starchy potato side dish that people go crazy for.
Watch the video below where I walk you through every step of this recipe to give you a visual guide. Sometimes it helps to have a visual and it should answer any questions you might have as you make this recipe. You can check out my entire library of cooking show videos on my YouTube channel. as well as my Facebook page.
How to Make Green Bean Casserole
Old Fashioned Green Bean Casserole
This Old Fashioned Green Bean Casserole is made completely from scratch. It's the best green bean casserole recipe you'll ever make and is sure to become an instant family favorite.
Author:
Rachel Farnsworth
Ingredients
Crispy Onion Topping
2 white onions, thinly sliced
¼ cup all-purpose flour
2 tablespoons panko bread crumbs
1 teaspoon salt
Green Bean Casserole
½ pound bacon, diced
2 cloves garlic, minced
2 tablespoon all-purpose flour
1 cup chicken broth
1 cup half and half
½ teaspoon black pepper
¼ teaspoon ground nutmeg
1½ pounds fresh green beans, trimmed and halved
Instructions
Preheat oven to 450 degrees F. Lightly grease a baking sheet. In a large mixing bowl, toss sliced onions together with ¼ cup flour, panko bread crumbs, and salt. Spread out in an even layer on the baking sheet. Bake in the preheated oven for 30 minutes, tossing every 10 minutes.
Meanwhile, cook the bacon in a skillet over medium heat until crispy. Do not drain the grease. Add in garlic and saute 30 seconds. Stir in flour until completely dissolved. Pour in chicken broth, half and half, black pepper, and nutmeg. Bring to a boil and let simmer until thickened, about 3 minutes.
Place green beans into a lightly greased 9x13 pan. Pour bacon mixture over the green beans and toss to coat. Sprinkle the cooked, crisp onions on top. Bake in the 450 degree oven for 15 minutes. Serve hot.

Get New Recipes Sent To Your Inbox 😃
Join my newsletter and get new mouth watering recipes sent directly to you weekly!