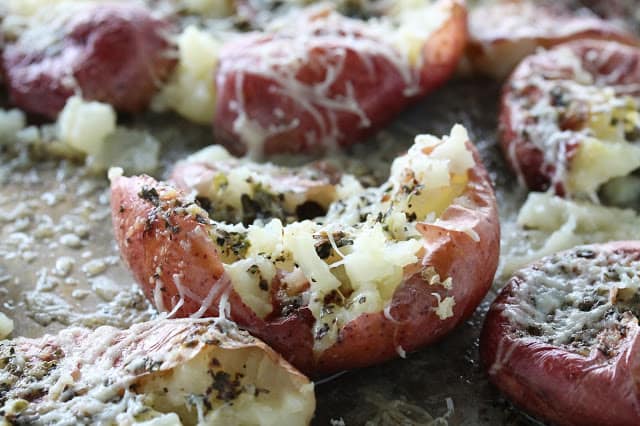 I've taken my Garlic Bread Roasted Potatoes and stepped it up a notch with this smashed potato version. There's something about those smashed potatoes that my family absolutely loves. I love it too because it is super easy to make with minimal prep time and no cutting potatoes. All of the flavors of garlic bread are meshed together with smashed potatoes for a plate-licking good side dish that you can easily feed your family or a crowd.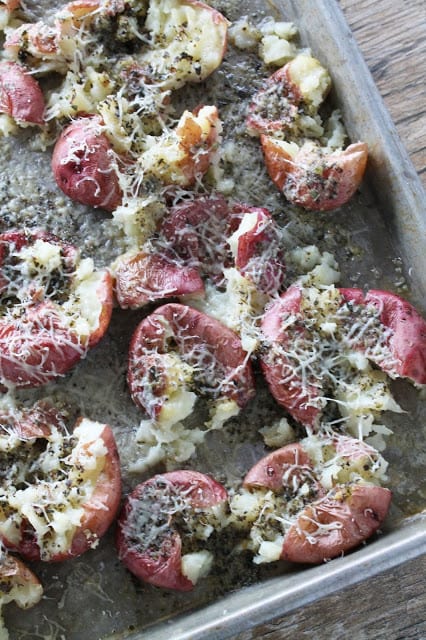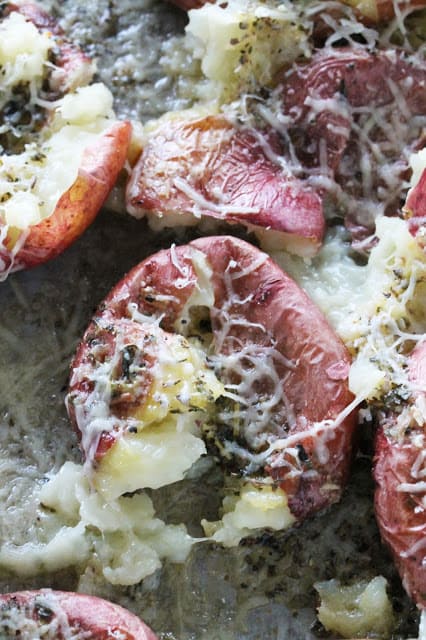 Prep Time: 5 minutes
Ready In: 1 hour
Yield: Serves about 6
Ingredients
15 small red or yukon gold potatoes
1/2 cup butter melted
5 cloves garlic, crushed
1 teaspoon dried basil
1 teaspoon dried oregano
1/2 teaspoon salt
1/4 teaspoon pepper
1/2 cup shredded parmesan cheese
Instructions
1. Preheat oven to 400 degrees. Lightly grease a baking sheet.
2. Clean the potatoes and place them on the prepared baking sheet. Bake for 30 to 40 minutes until potatoes can be smashed with a fork. Actual baking time will depend on the size of the potatoes. Larger potatoes take longer.
3. In a small bowl, whisk together melted butter with garlic, basil, oregano, salt, and pepper.
4. Remove the baking sheet from the oven. Use a fork to smash each potato, as pictured. Pour the butter mixture over the potatoes. Sprinkle parmesan cheese on top. Return to the oven and bake 5 to 10 minutes more, until butter has soaked in and cheese is melted and browning.
5. Serve hot with juices.