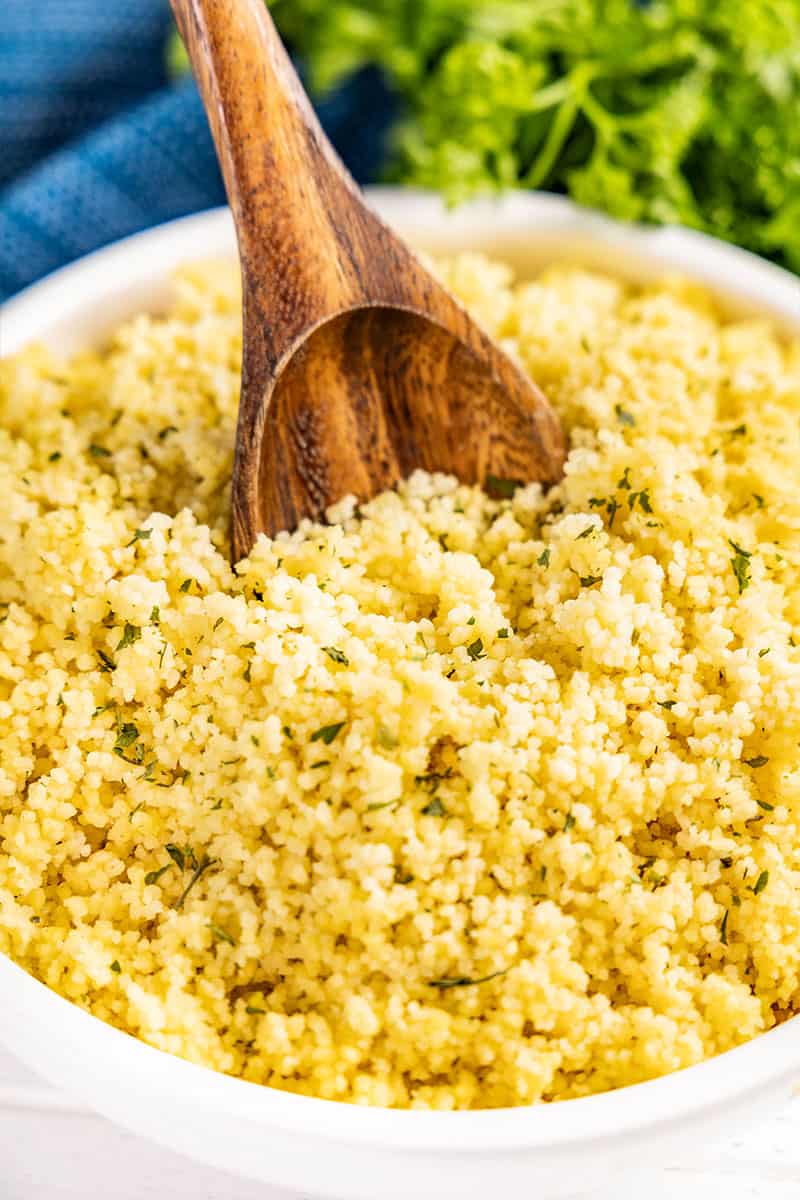 Couscous is super easy to make and an excellent base for so many different recipes. We have basic instructions as well as 4 popular flavoring options for both traditional couscous and Israeli couscous. Once you learn how to make it, you'll want to serve it up weekly – at least!
Couscous is a grain made from wheat semolina. It's often seen in Mediterranean and North African cuisine and is one of the most popular foods in countries like Morocco, Tunisia, and Algeria. It's a wonderful substitute for pasta, quinoa, or rice, and we've come to adore it here in the Stay at Home Chef household! It features a fairly neutral flavor profile, which means you can serve it with almost anything. We love using it as a simple side dish or as a yummy addition to salads. It's filling, good for you, and can be prepared in under 10 minutes. Win!
How is Couscous Traditionally Prepared?
Before you jump into cooking couscous, we wanted to take a moment to share how this dish is traditionally prepared! We love getting inspired by recipes from all over the world, and we think it's important to give credit where credit is due.
This dish is traditionally prepared by steaming the grains. You can (of course) prepare it by pouring boiling water over it as outlined below, but if you want to get back to basics, you may be interested in learning how to cook couscous traditionally!
Moroccan varieties are prepared in a special dish called a couscoussière, which is very similar to a steamer pot. The steamer basket is lined with cheesecloth so none of the grains slip through the cracks. The base of the pan is then filled with plain water or a type of broth. As it boils, the steam cooks up the grains really nicely. The next step is the big couscous cooking secret: the grains are fluffed up by hand not once, not twice, but three times. This type of couscous cooking tends to get a little messy!
Moroccan Couscous vs. Israeli (Pearl) Couscous:
The most common type of couscous that you'll find in the supermarket is Moroccan varieties. It's a small grain, comes in whole wheat options, and it cooks up very quickly. This is because store-bought options come pre-steamed. In this case, the only thing left to do to complete your couscous recipe is to rehydrate the grains with boiling water.
Israeli, or pearl, couscous is larger than its Moroccan counterpart. It gets its nickname because the grains are pearl-shaped. You can also find whole wheat varieties, but this kind of grain typically takes a bit longer to cook due to its size. You cook it by letting it simmer on the stovetop instead of simply pouring boiling water over it. Its texture is closer to pasta than Moroccan varieties.
Serving Suggestions:
Cooking couscous – no matter what kind – is simple and easy! Since you're interested in learning how to cook couscous, you may also be wondering what to serve it with. Here are our suggestions:
Variations:
You can cook couscous in several different ways. Here are a few different variations that you can try:
Basic: A base for any sort of couscous recipe
Garlic and olive oil: Best with garlic roasted veggies
Parmesan: For added cheesiness
Herbed chicken: To serve alongside chicken dishes
Mediterranean: Ideal with kabobs or in salads
All of these couscous recipe options (plus instructions) can be found in the recipe card below. They require a bit more time than the basic couscous recipe, but it's worth the extra effort!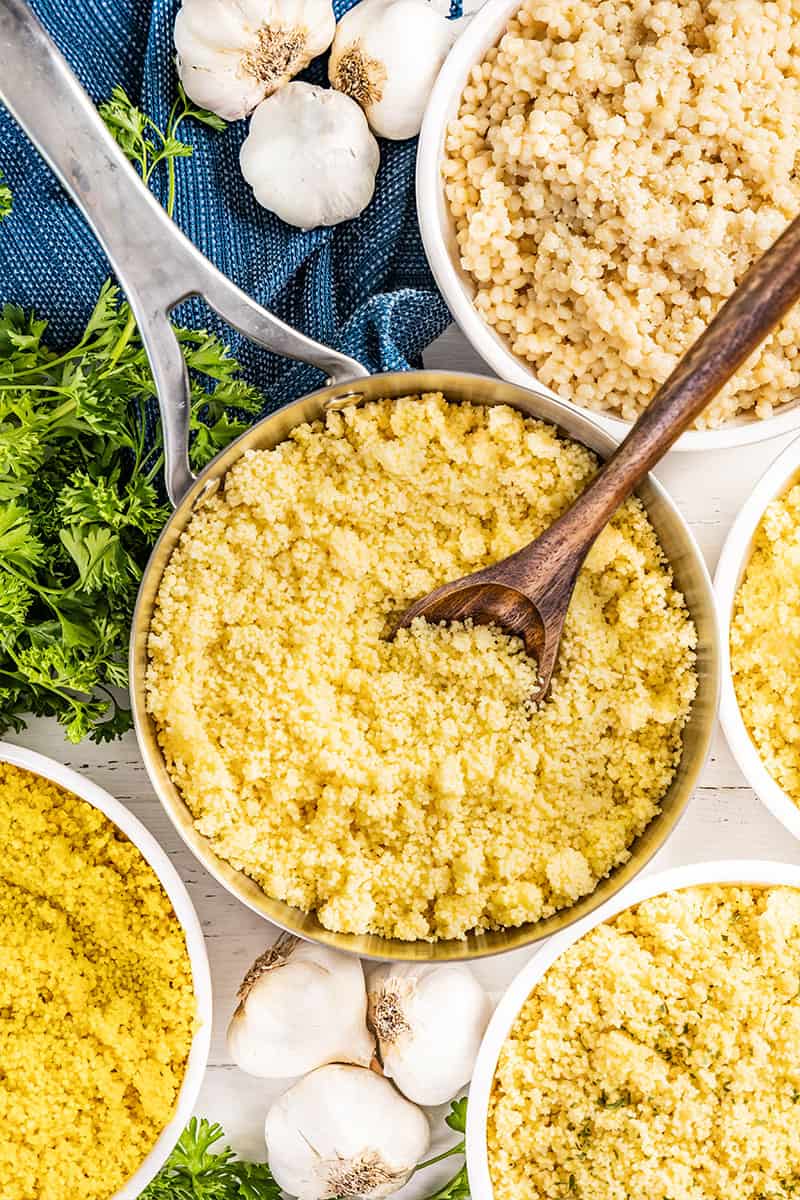 Storage and Reheating Instructions:
Cooking couscous ahead of time is a great way to stay on top of your weekly menu. This is definitely a dish that you can make ahead in large quantities so that you have some on hand whenever you need it! Simply place the cooked grains in an airtight container and place them in the fridge. They will keep for up to 3 days. Reheat in the microwave or on the stovetop. One trick to keep them from drying out is to reheat with a bit of added olive oil or butter.
You can freeze cooked couscous for up to 4 months. Let it thaw in the fridge overnight before reheating for the best results!
Related Recipes
If you like this recipe, you may be interested in these other delicious quick and easy recipes:
Watch the Video
Watch the video below where Rachel will walk you through every step of this recipe. Sometimes it helps to have a visual, and we've always got you covered with our cooking show. You can find the complete collection of recipes on YouTube, Facebook Watch, or our Facebook Page, or right here on our website with their corresponding recipes.