Roasted broccoli is one of the most delicious side dishes ever! A few extra ingredients like garlic and parmesan make this green veggie shine. You'll be surprised at just how simple to prepare (and scarf down) broccoli in the oven can be.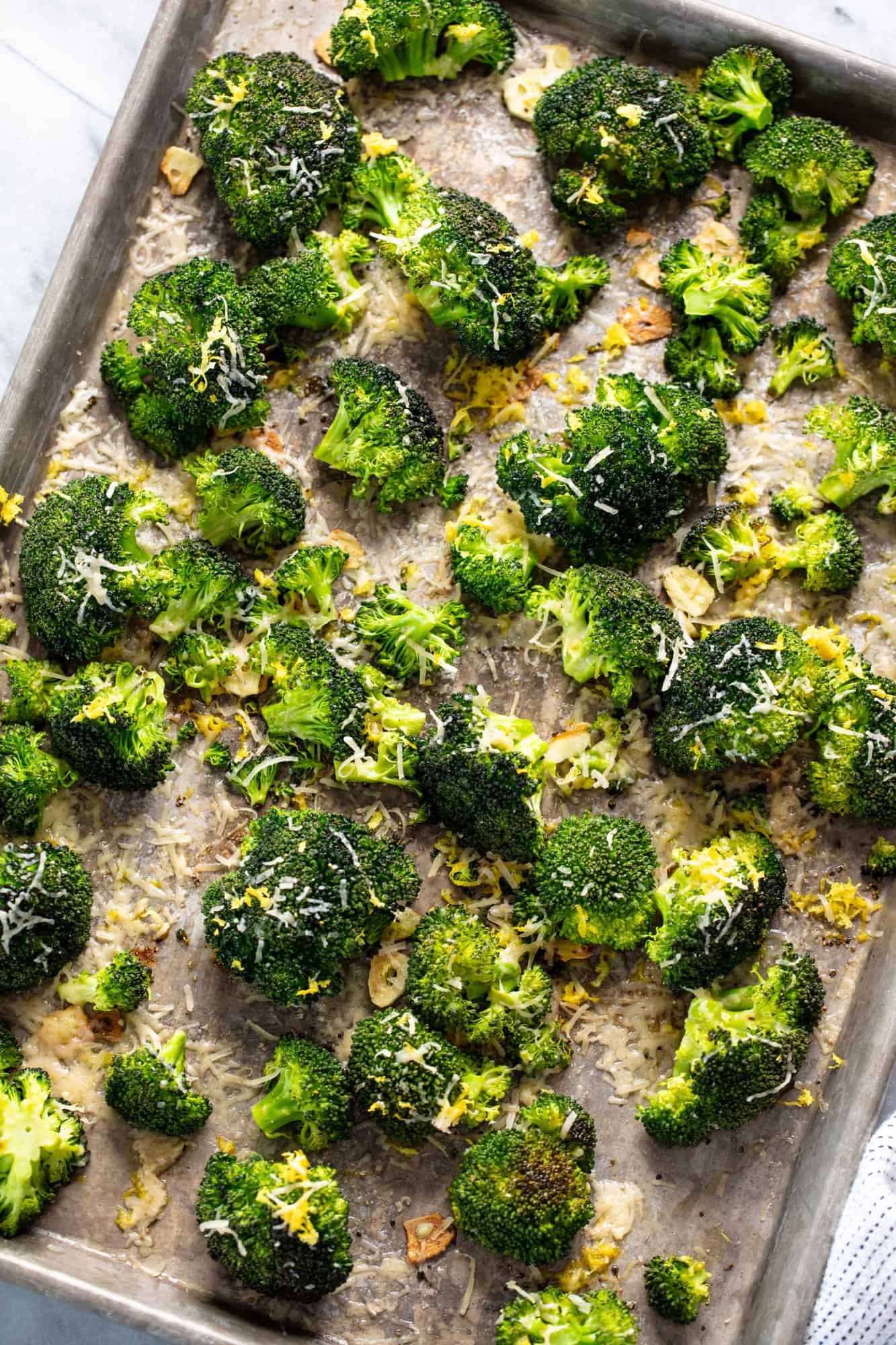 Roasted vegetables have become one of our go-to side dish options in the Stay at Home Chef household. Whenever we're stuck on what to serve, we simply take a look in our crisper drawer. We usually have broccoli on hand, and through some trial and error, have come up with the yummiest way to serve it. All it takes is a few simple ingredients to make the best roasted broccoli ever. Roasting is a great cooking option because it brings out the natural sweetness of vegetables. Lemon juice, garlic, and a little salt and pepper especially highlight the flavors in broccoli wonderfully. Oven roasted vegetables are an easy side dish for any meal. This recipe just may turn the broccoli haters in your life into fanatics!
How to Choose the Best Broccoli:
Opt for heads that are bright green in color. The stem should be firm and the florets should have a springy texture. Brown or yellow spots and soft stems are signs of older vegetables, which you can still roast, but fresher options are always better.
How to Cut Broccoli:
Broccoli can be an intimidating vegetable to chop up. It doesn't have to be! Simply follow these instructions for this broccoli in the oven recipe:
Hold the broccoli by the stem and place it upside down on a cutting board.
Use a sharp knife to trim around the edges of the stem and leaves and cut off all of the florets.
Discard the center stem and green leaves.
Break up any large chunks of florets by hand, or use a knife to cut them into smaller pieces.
Can I Use Frozen Broccoli?
Yes, you can use frozen veggies to make roasted broccoli using this recipe. In fact, your broccoli in the oven will be even more tender when using frozen instead of fresh. No need to thaw — simply place it on the pan frozen and add approximately 5 minutes to the roasting time.
Do You Have to Boil Broccoli Before Cooking It?
Some roast broccoli recipes require you to blanch the vegetable before roasting. Blanching is a great cooking method for broccoli — and one that will give your florets a tender yet crispy texture. That said, you don't need to add that extra step for this recipe.
How Do You Keep Vegetables From Burning in the Oven?
You can keep your vegetables from burning in the oven by being careful with the cooking temperature. Our broccoli in the oven recipe requires you to roast your veggies at 425 degrees F. The high heat will cook up your roasted broccoli in about 20 minutes. Any longer and you risk ending up with charred results.
What's the Best Oil to Use When Roasting Broccoli?
Our roast broccoli recipe calls for olive oil, as it's one of our favorites and we always have it on hand! Any oil with a high smoke point will do. Here are some other good options:
Avocado oil
Ghee
Vegetable oil
Can You Roast Wilted Broccoli?
Roasting is a great way to use up any vegetables in your fridge that may have seen brighter days. If you have vegetables that have started to discolor just slightly, are wilted, or are just a little bit limp, feel free to use them in this recipe. However you should never try to cook with foods that are slimy, wet, or extremely discolored. You can get sick if you try to eat veggies in this state!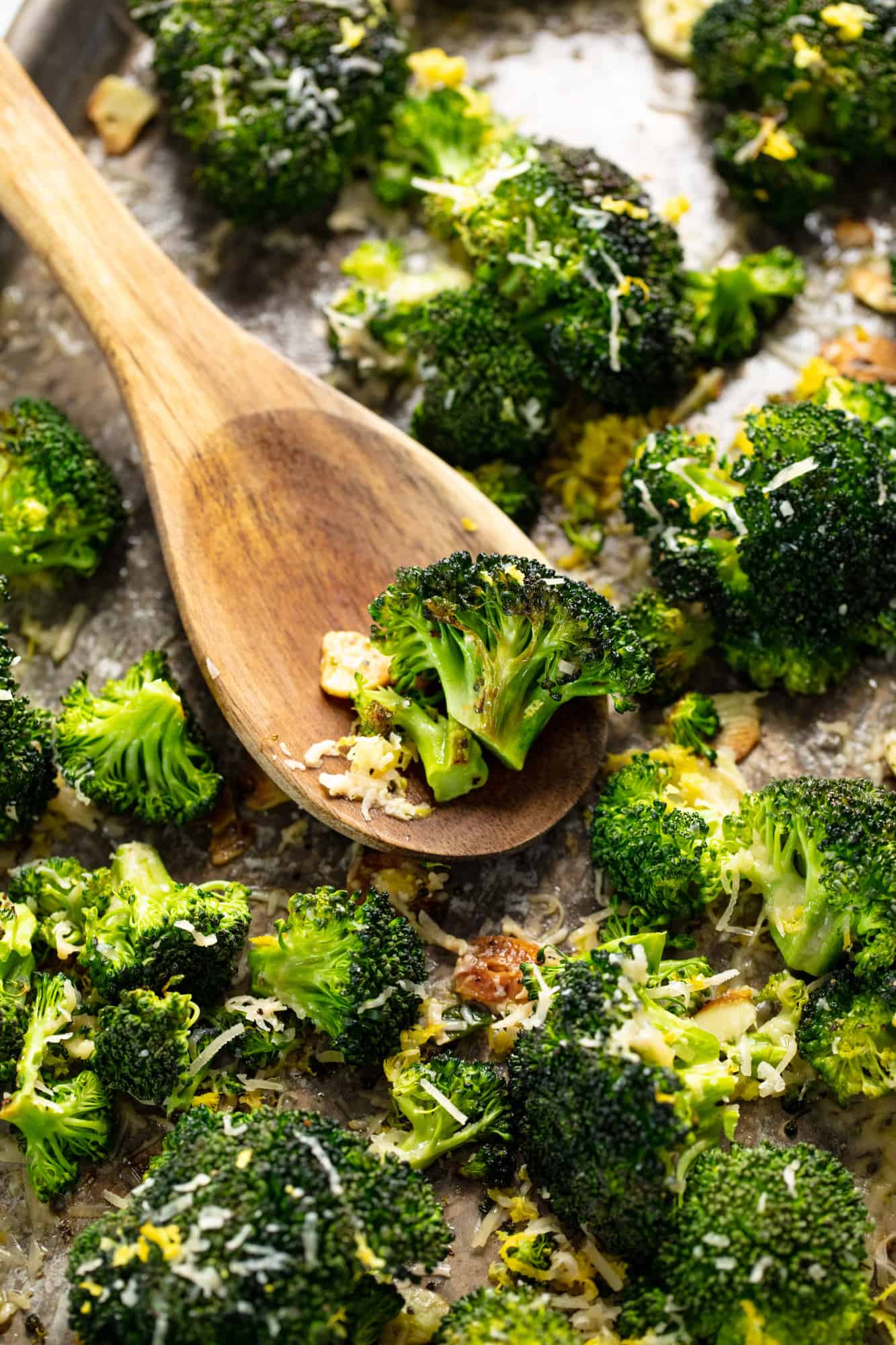 Storage and Reheating Instructions:
You can also use this recipe for meal prepping! Roasted broccoli will keep in the fridge for 3-4 days if you store it in an airtight container. When you're ready to eat, reheat it in the microwave at 30-second increments or until warmed through.
You can also freeze your roast broccoli. Place in a freezer-safe bag or airtight container before placing inside your freezer. It will keep for up to 10-12 months. Make sure to let it thaw in the fridge overnight the day before you want to eat it. Then, reheat in the microwave as instructed above!
If you like this recipe, you may be interested in these other delicious vegetable side dish recipes:
Watch the video below where Rachel will walk you through every step of this recipe. Sometimes it helps to have a visual, and we've always got you covered with our cooking show. You can find the complete collection of recipes on YouTube, Facebook Watch, or our Facebook Page, or right here on our website with their corresponding recipes.