This quinoa salad is filled with fresh ingredients and has tons of flavor and served cold, making it great for parties – it's one of our favorite quinoa salad recipes!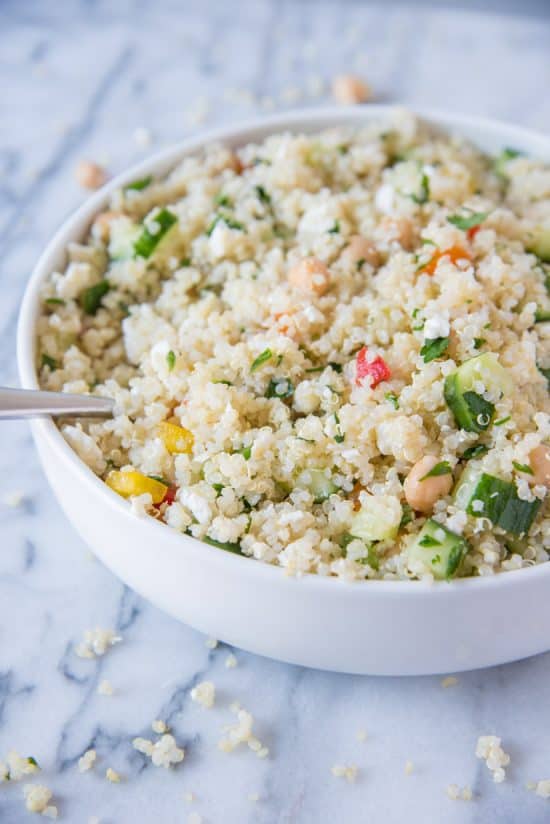 Courtney here, from Know Your Produce! Today we're sharing this healthy and fresh salad that we hope you'll love! This recipe is so easy to make and you may even have all the ingredients at home already! It's a toss between a Mediterranean Quinoa Salad and Greek Quinoa Salad. You could absolutely add some fresh olives to this salad, our daughter is picky with olives so we don't add them. You can omit the chickpeas and add black beans to make it a black bean quinoa salad if you're not a fan of chickpeas.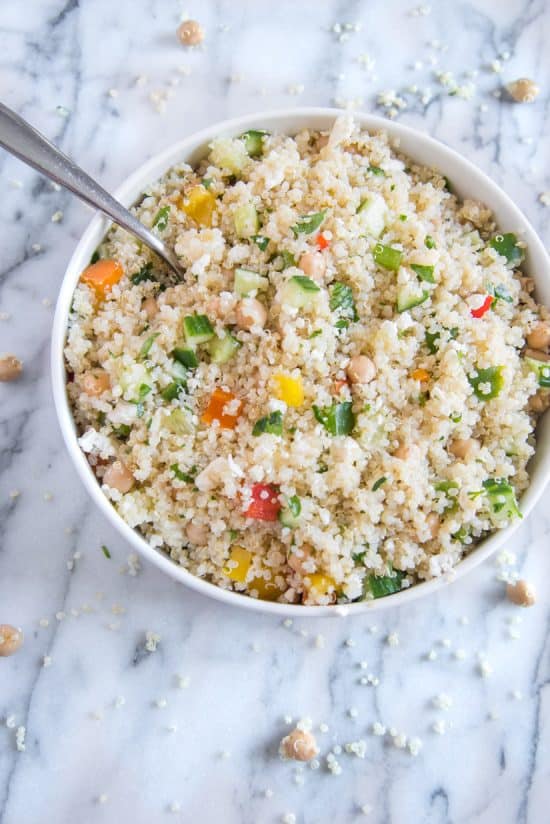 How to Cook Quinoa
Typically you can follow the instructions right on the package of your favorite quinoa. Start off by measuring the desired amount of quinoa. 1 cup of dry quinoa will result in 3 cups of cooked quinoa. Place your desired amount of quinoa into a mesh strainer and rinse under cool water. Once your quinoa is fully rinsed you can place it into the saucepan you'll be using. Sprinkle the quinoa with a little salt and pour in the water. For every 1 dry cup of quinoa, you'll add in 2 cups of water. Once the water is added place a lid on the quinoa and bring the quinoa to a boil. Once the water is boiling you'll want to reduce the heat to low and cook covered for 15 minutes.
How long does cooked Quinoa last
We typically use up all of our cooked quinoa within 2-3 days. If you're going to cook a large batch you can't finish you can freeze quinoa for later use.
What to serve with Quinoa Salad
Here are a few complimenting recipes:
How to make Quinoa Salad
For this recipe, you'll want to use cold, already cooked quinoa. That's what makes this recipe so easy, great for leftovers! Then you'll chop up some peppers. We like to use a variety of peppers and chop up a colorful mix each week so we can easily add to recipes like this. Cucumber is also something we chop up for the week. It makes it some much easier to snack and prepare recipes when you prep ahead. Some fresh lemon juice, olive oil, feta cheese, and salt complete this Quinoa Salad.