Steak and Potato Foil Packets contain the most tender and deliciously seasoned beef and potatoes. This simple recipe includes instructions for oven, grill, and campfire!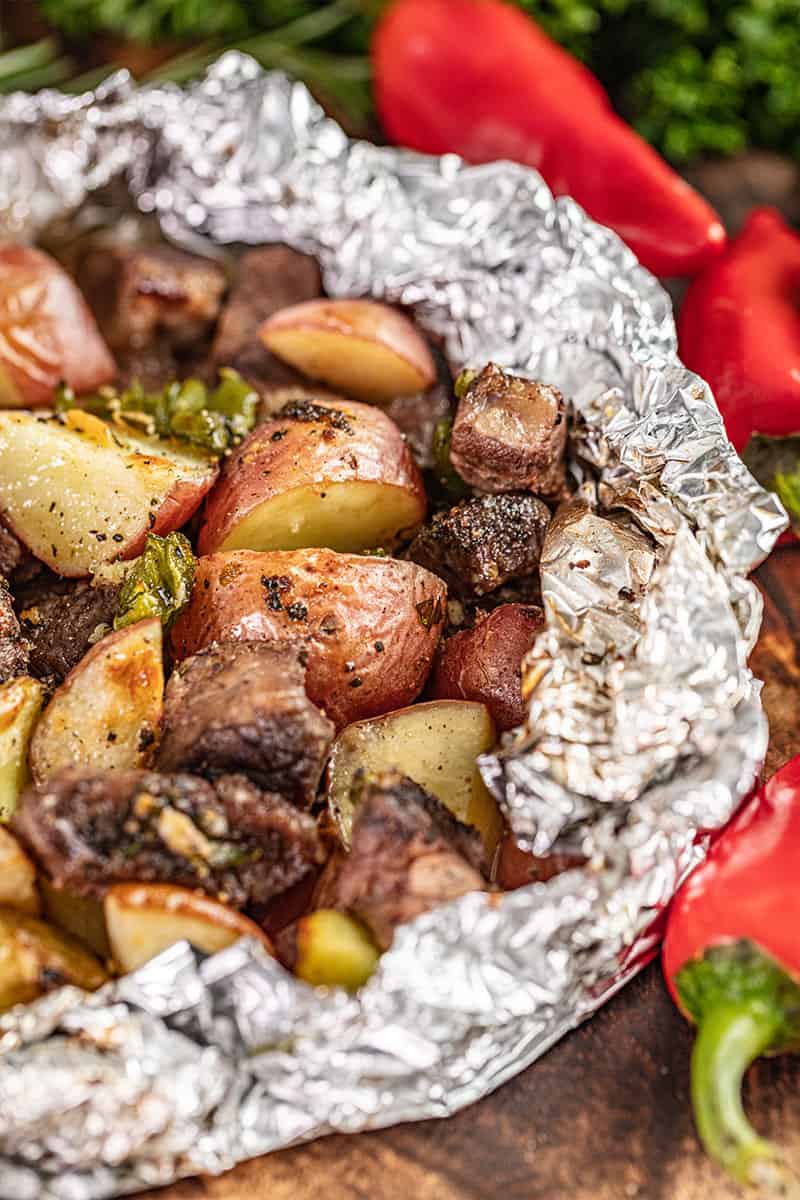 Summer is here, and it smells like campfire dinners! Whether you are camping, want a fun fire pit meal at home, or even just a change of pace cooking in the oven, beef and potato foil packets are here to save the day! This meal is so versatile depending on what cut of meat you prefer, if you're adding extra veggies, or have a garden full of fresh herbs to throw in. Make it your own and change it up each time you make it for a completely different foil packet dinner every time!
What kind of steak works best?
You have so many options! You really can use any kind of steak that you prefer. Some of our favorites are sirloin, ribeye, and tri-tip.
Can I add cheese?
Yes! There's nothing better than cheesy potatoes. Use your favorite shredded cheese and add to your packets immediately after they've finished cooking. The packets will be steamy and hot, so be careful adding your cheese.
Beef and Potato Tips:
The secret to the most juicy, tender meat and potatoes is to not overcook the meat. Not an easy task when you're trying to get your potatoes to cook all the way through! Make sure to cut your potatoes small enough and parboil before adding to your packets to make sure both beef and potatoes are finished cooking at the same time.
Veggie Options:
You can really add any of your favorite vegetables to your foil packet dinner. If you are adding root vegetables, make sure to parboil first before adding to the packet. Some of our favorite veggie additions are sliced mushrooms, bell pepper strips, and onion rings.
Spice Level:
The jalapeños add a delightful heat to this dinner, but you can always remove ribs and seeds from your jalapeños to reduce the heat.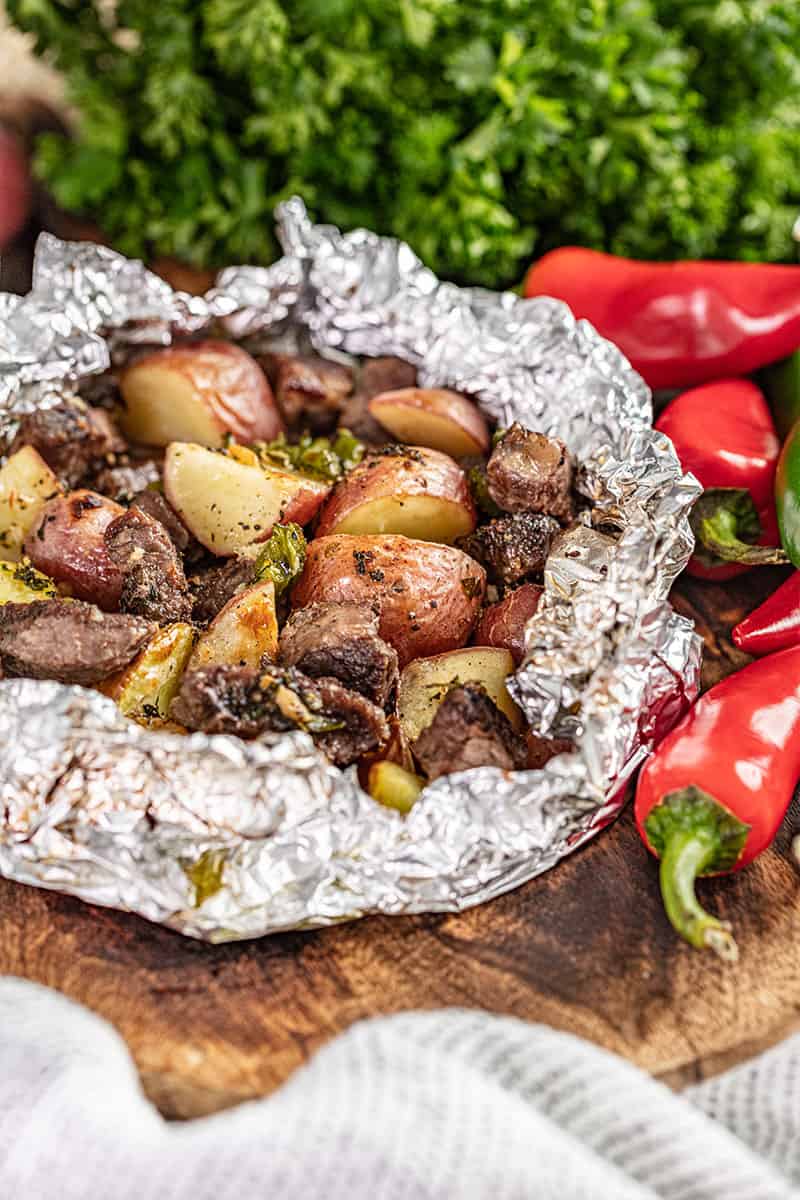 How do I know when the beef is done?
There is a wide range of donenesss, depending on how you prefer your meat cooked. Cooked rare begins at 120 degrees Fahrenheit, up to 170 degrees for well done. Most of us like our meat somewhere between those two extremes. Cook to your desired level of doneness.
Camp Fire Instructions:
If you are planning on cooking your packets over a campfire, make sure to cut your potatoes small. Whether over wood or coals, check your packets after 15 minutes. Continue to cook until the potatoes are tender and beef has reached your desired level of doneness.
Make Ahead Instructions:
You can get your packets ready up to 24 hours in advance, and store in the fridge until ready to cook. If you are planning to camp and cook over a fire, simply prepare your packets before leaving and transport in a cooler with ice.
If you like this recipe, you may be interested in these other delicious grilled recipes: