10 must-know tips for a successful Thanksgiving dinner, plus a whole menu of traditional recipes with video tutorials.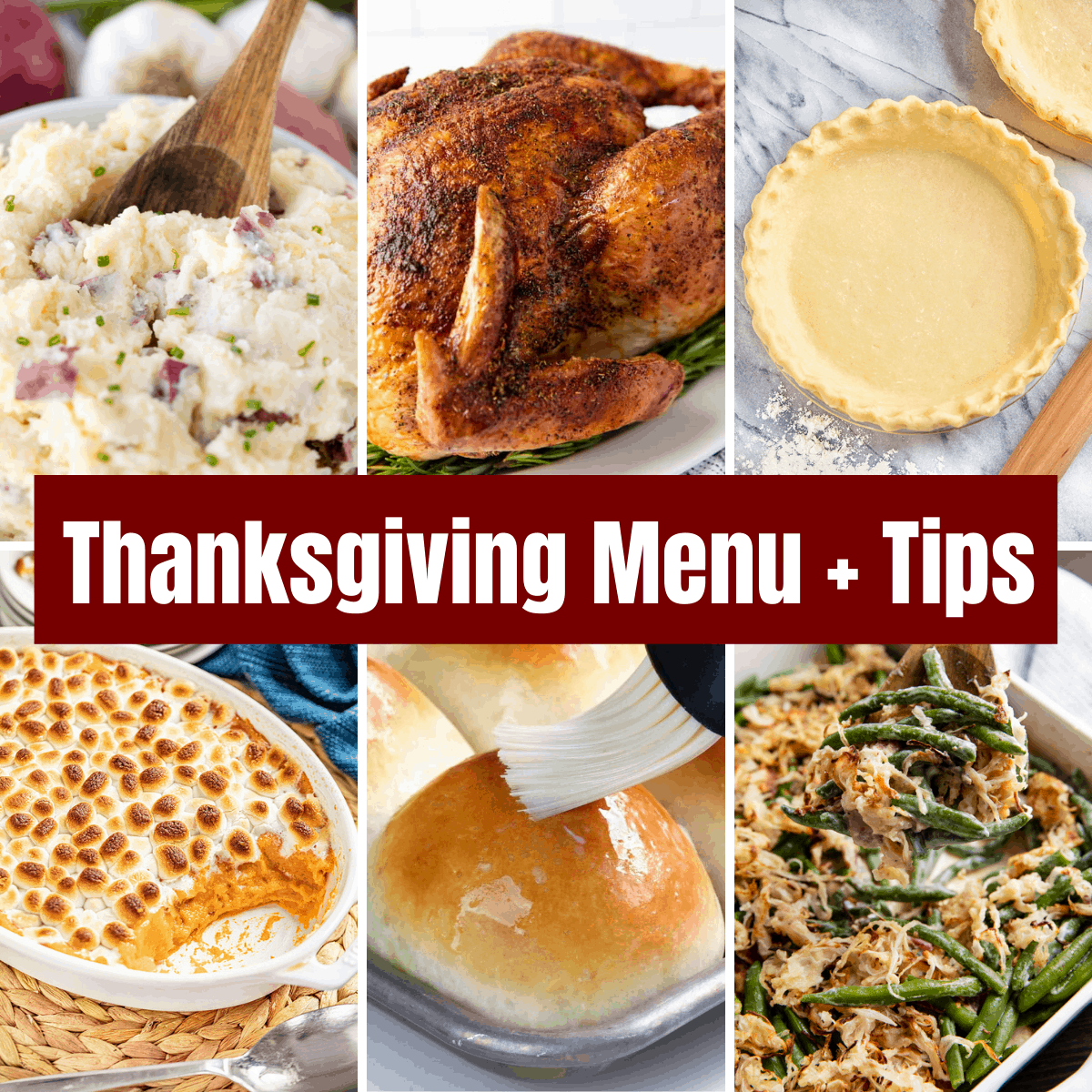 It's almost the biggest cooking day of the year! As someone who loves spending time in the kitchen, this is an exciting countdown. Perhaps it isn't the same for you, but either way I've got you covered with some of my tips to make your Thanksgiving meal a success.
Buy the turkey a few days in advance so that it has time to thaw. Even the free-range fresh birds are flash cooled and need some time to defrost before cooking.

Did you know? For a frozen turkey to be considered "fresh" it can have been frozen up to a year in advance. Purchasing a never frozen turkey guarantees that your meat really is fresh and will produce not only a more juicy turkey, but will also require less cooking time.

Don't overcook your bird! I use a roaster oven to free up my regular oven for other cooking.

Regardless of what kind of turkey you buy, always use a meat thermometer to determine when the meat is done. If you only do it by time you will almost certainly dry out your turkey from overcooking it. Tasty Tips: Put butter under the skin. This will help the skin crisp up and provide extra moisture for the meat. Start at a high roasting temperature (450 degrees) for the first 30 minutes, and lower to 325 for the remainder of the cooking until your bird reaches the desired doneness (165 degrees measured in the thigh)

Bake your pies and rolls the day before. This will free up oven space the day of the big meal.
Make a plan. I use a spreadsheet (yes, I'm that nerdy!). That way I know what needs to be in the oven at what time, what I need to be doing and when for everything to be ready to serve at the same time. I do breakfast, appetizers, and then the big meal, but you shouldn't feel pressured to do it all. Remember, I LOVE being in the kitchen!
Keep it clean! Notice that I schedule in time for doing dishes and running the dishwasher. Put dirty dishes straight into the dishwasher. When it is full (or you reach your scheduled time), run the dishwasher. When it is done, immediately empty it so you can continue to put dirty dishes straight in. This will keep your kitchen clean which will be much easier to work in.
Use your crockpot! Seriously, slow cookers make large meals so much easier. I always use mine for mashed potatoes. You can keep those suckers piping hot for hours. There's plenty of slow cooker side dish recipes to choose from. Food stays good in a slow cooker for up to 4 hours on the warm setting so even if your dish gets done either, just pop that sucker on warm and finish things up.
On a similar note, invest in a roaster. They go on sale everywhere this time of year and they are perfect for roasting those big birds.
Don't be afraid to branch out! Try some new recipes. And definitely throw away the boxed stuffing and canned cranberry sauce.
Don't be afraid to make things from scratch and add a little love into the mix. Make it a family affair! My kids help me in the kitchen every single day. Kids love snapping green beans, stirring, measuring, and even just plain old watching.
On a day full of gratitude make sure you remember the magic power that food has to unite people across cultures, break down barriers, and give us all something in common. Food brings people together!
Thanksgiving Recipes
Pie Recipes