The perfect peach pie is within your grasp. A vibrant, sweet peach filling surrounded by a perfect fail-proof crust. It's all about the secret ingredient.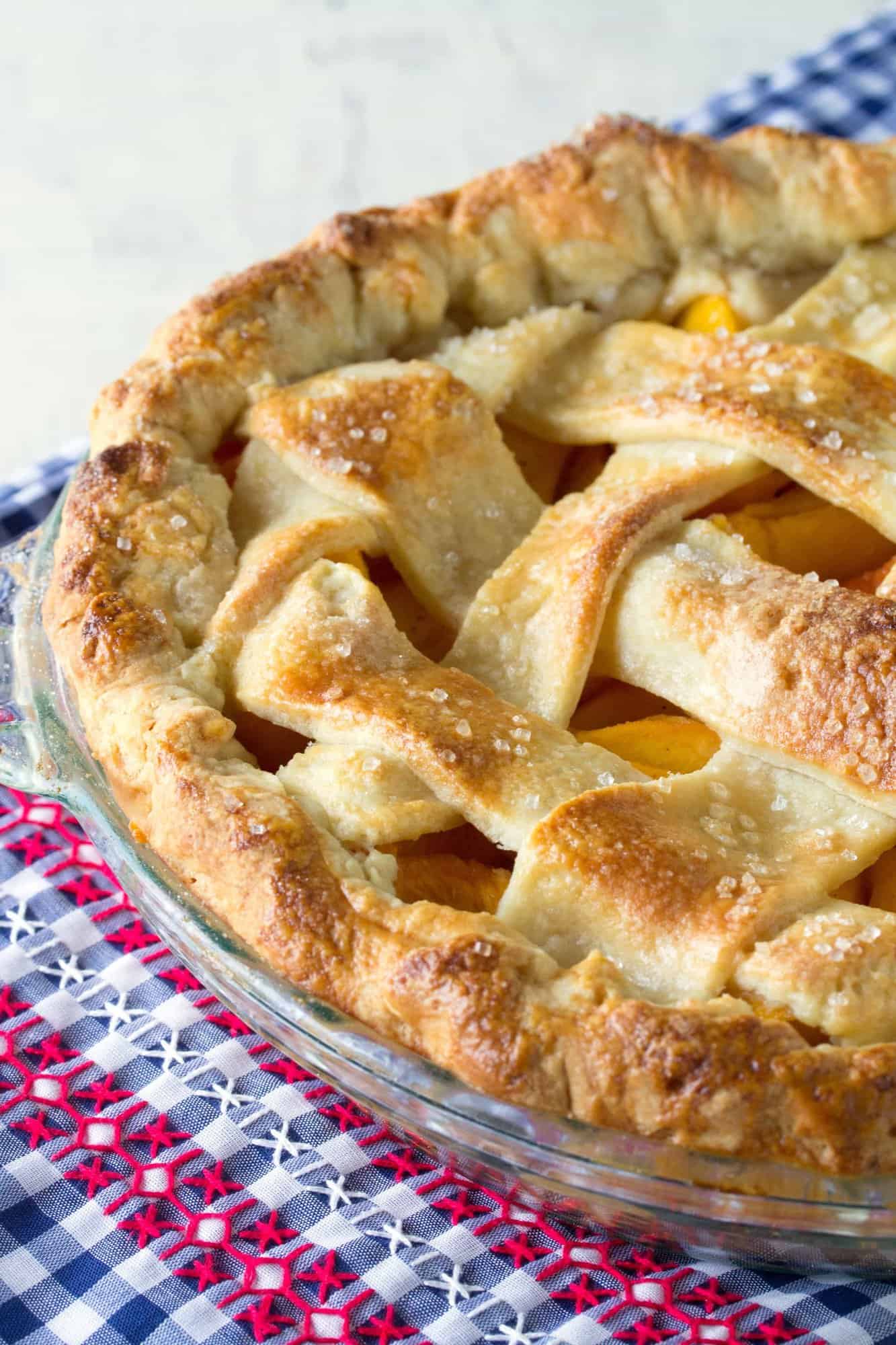 Peaches are one of my favorite fruits of summer. The peach tree in my backyard is absolutely full of growing peaches and I couldn't be more happy with that. I love having a bowl of peaches with fresh mozzarella cheese or a nice ball of burrata. I could eat that every day! My second favorite way to enjoy peaches is to eat them in a classic peach pie.
I read an interesting technique for pie crusts from America's Test Kitchen about using vodka in the crust. Apparently the vodka prevents the gluten from getting all tough as you roll (and sometimes re-roll) your dough. That is exactly the kind of pie crust recipe I need in my life. I'm always having to re-roll for one reason or another which makes me hate pie making. I finally got the chance to show off my perfect peach pie at a potluck a couple of weeks ago and it was a smashing success. It was so perfectly not perfect, I drooled and posted it to instagram. I've had way too many requests for the recipe so I'm finally getting around to posting it. Thank you America's Test Kitchen for helping me perfect my pie skills!
Why the lattice top?
It isn't just pretty people. It's functional. Peaches have A LOT of liquid in them. The lattice top allows for evaporation to occur so those liquids aren't just trapped inside your pie. It requires some extra steps, but it is vital for a perfectly peachy pie.
Be sure to watch the video where I show you everything you need to know about making the perfect peach pie.

MY OTHER RECIPES
Perfect Peach Pie
Perfect Peach Pie
Author:
Rachel Farnsworth
Ingredients
Double Crust
2½ cups (12.5oz) all-purpose-flour
2 tablespoons sugar
1 teaspoon salt
12 tablespoons cold butter, sliced
8 tablespoons vegetable shortening, chilled and sliced
¼ cup ice water
¼ cup vodka, chilled
Filling
3 lbs peaches, peeled, pitted, and sliced (1/4-inch)
1 cup sugar
1 tablespoon cornstarch
1 tablespoon lemon juice
¼ teaspoon ground cinnamon
pinch ground nutmeg
pinch salt
Finish
1 egg white, lightly beaten
1 tablespoon sugar
Instructions
Make the dough in a food processor by combining half of the flour, sugar, and salt together and pulsing until combined. Add in the butter and shortening pieces and process for about 15 to 20 seconds until combined. Add in the remaining half of the flour and pulse until all the flour is incorporated. Sprinkle in cold water and vodka and pulse 5 or 6 times until combined into a dough. Divide into two even pieces and wrap in plastic wrap. Refrigerate 1 hour.
In a large mixing bowl, toss together peaches and 1 cup sugar. Let sit 1 hour. Scoop out ¼ cup of the juices and set aside. Drain the rest of the excess liquid from the peaches using a colander. Return the peaches to the mixing bowl , add in reserved juices, and toss with cornstarch, lemon juice, cinnamon, nutmeg and salt.
Roll out your bottom crust into a 12-inch circle. Make sure you use a well floured surface and rolling pin to prevent sticking. Roll the circular dough loosely around the rolling pin to transfer to a 9-inch pie dish (deep dish). Be gentle and press it carefully into the plate letting the edges hang over. Refrigerate until ready to use.
Prepare your lattice crust by rolling the remaining dough half into a 13 by 10 inch rectangle. Transfer to a baking sheet lined with parchment paper. Cut into 8 even strips. Freeze on the baking sheet while oven preheats.
Preheat oven to 425 degrees.
Place the prepared pie plate on a baking sheet (in case of spillage). Scoop the peach filling into the pie shell. Lay 4 of the lattice strips on top of the peaches, giving even spacing between. Weave the remaining lattice pieces perpendicular, lifting every other piece to create a lattice. Trim the excess dough that is hanging around the pie plate with kitchen scissors or a sharp knife. Pinch the lattice and crust edges together and then crimp the dough evenly around the pie using your fingers.
Brush the crust with the beaten egg and sprinkle with 1 TB sugar. Bake in the preheated oven for 25 minutes. Reduce the temperature to 375 degrees and cook 30 to 35 minutes more until crust is golden brown and juices are bubbling and set. Transfer pie dish to a wire rack to cool.