The perfect peach pie is within your grasp. A vibrant, sweet peach filling surrounded by a perfect fail-proof crust. It really is the perfect peach pie!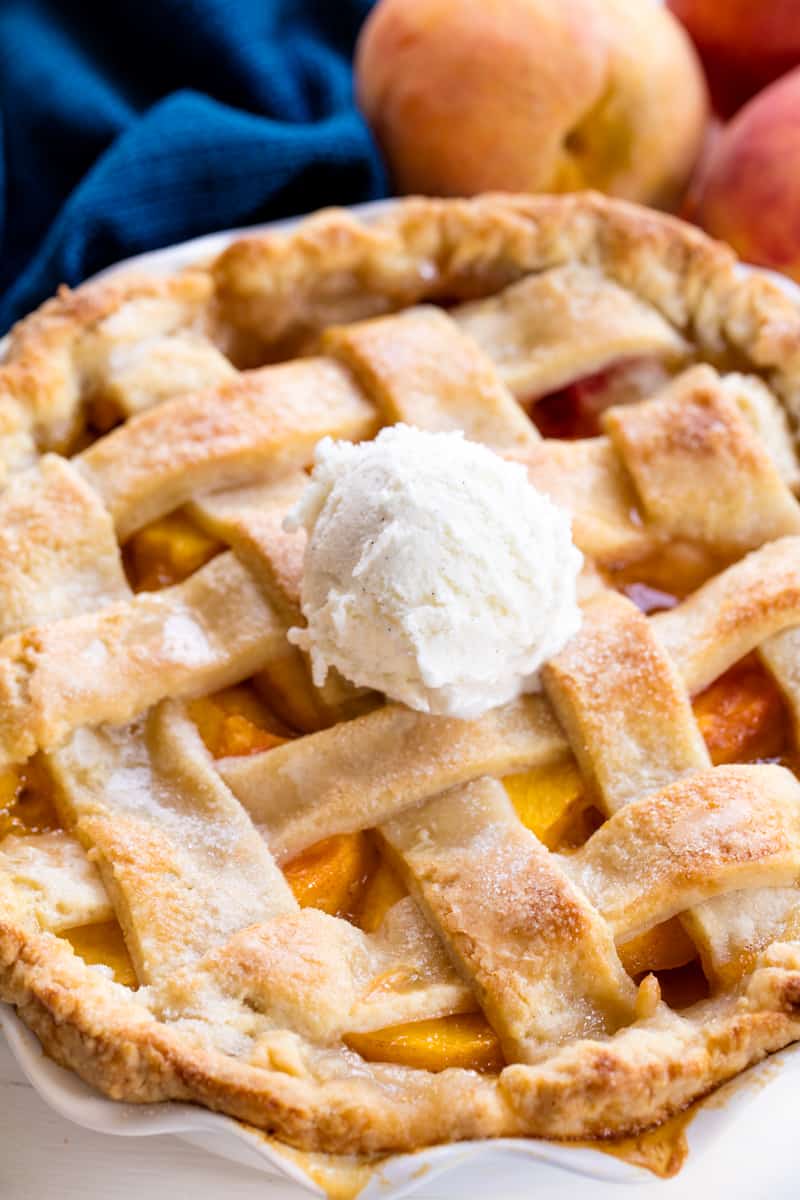 We know a lot of you believe that apple pie is the golden standard for fruit pies in the summer, but we are simply head over heels for peach pie. Don't you worry, we are still huge fans of apple pie, cherry pie, any and all pies really! Peaches simply have our hearts. We wait (not so patiently) all summer long for perfectly ripe peaches to hit grocery stores and farmers markets, and when they do we just can't get enough. Trust us, you're going to absolutely love peach pie.
When should you use a lattice top for pie?
It isn't just pretty people! It's functional. Lattice pie crusts should be used for any pie that contains a lot of liquid. A lattice top allows for evaporation to occur so those liquids aren't just trapped inside your pie. Peaches have A LOT of liquid in them so a lattice top is important. It requires some extra steps, but it is vital for a perfectly peachy pie.
Should I blanch peaches before peeling?
Peaches can be blanched to help in the peeling process, but it is not necessary. Fresh, ripe peaches should peel quite easily on their own. If you are using imported, or peaches that are not quite ripe, it may be helpful to blanch your peaches in boiling water for 60 seconds to help the peeling process along. Or, just simply use a vegetable peeler and peel away.
How much does a peach weigh? How many peaches will I need?
A medium-sized peach weighs about 5.5 ounces. You will need between 8 and 9 medium-sized peaches to make a peach pie.
What kind of peaches should I use to make peach pie?
You can purchase white flesh peaches or yellow flesh peaches to make a peach pie. Either will work, but yellow flesh peaches are more traditional. Be sure to pick peaches that are ripe. How do you know if a peach is ripe? When gently pressed, the peach should give slightly. Different varieties of peaches will be available throughout the summer depending on where you live. Each variety has its own distinct flavor characteristics. One of the benefits of purchasing from local orchards, farm stands, or farmers markets is that you can learn about the variety you are purchasing and what it is best used for.
Can I use frozen or canned peaches instead of fresh?
You can use frozen peaches in place of fresh, but the end result may a bit runnier since the peaches end up having extra moisture once thawed. To compensate for this, double the amount of cornstarch in the recipe. Let the peaches thaw at room temperature for about 30 minutes prior to using them in the recipe.

You can also use canned peaches. Purchase peaches that are canned in a light syrup or no syrup at all for best results. The syrup will provide additional sugar content to the recipe. You can rinse off canned peaches that have been canned in syrup for better results. If you would like to use home canned peaches, the same rules apply: if you canned peaches in syrup, simply rinse off the syrup for best results and continue on with the recipe.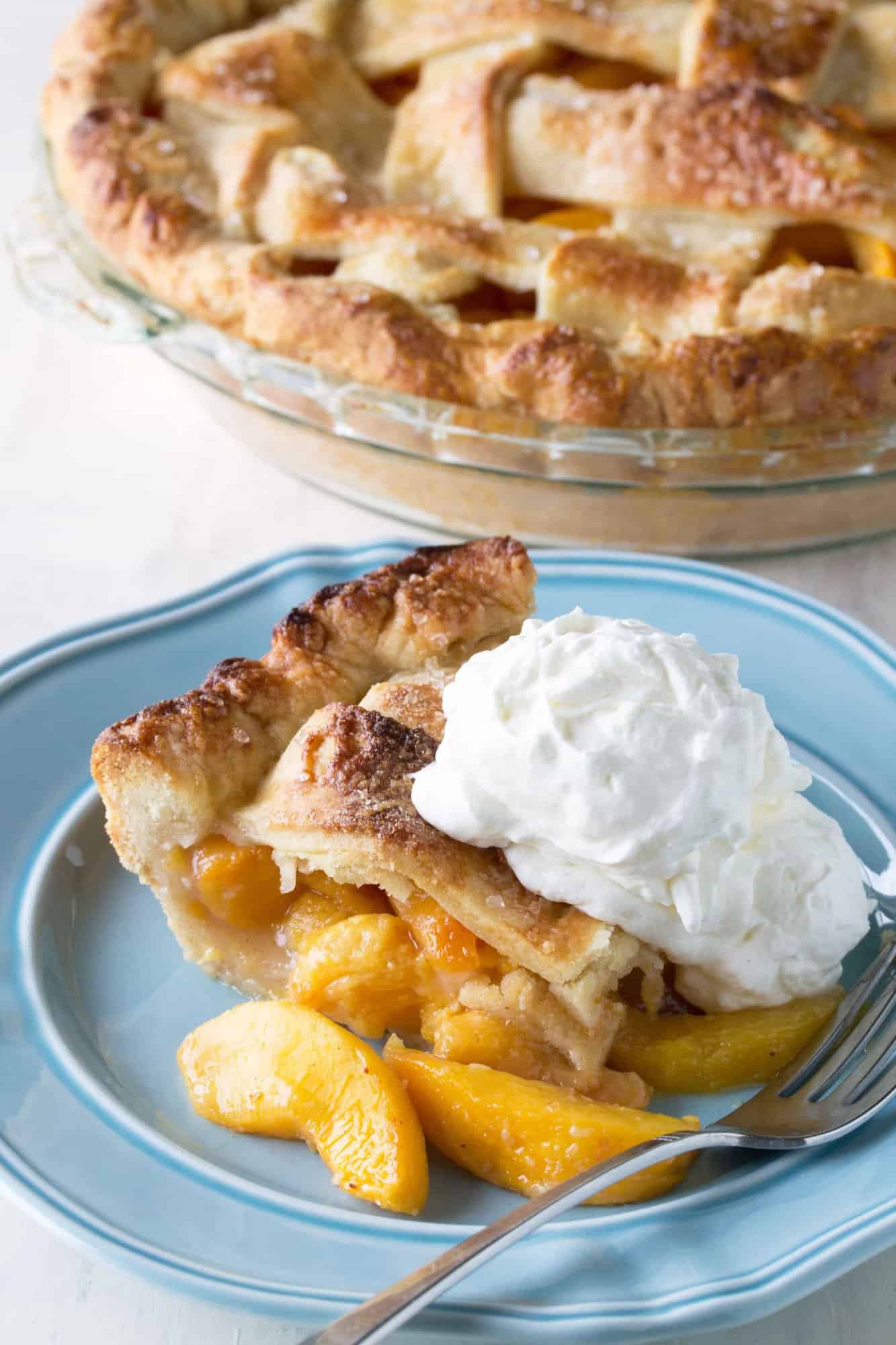 Storage and Reheating Instructions:
Store any leftover pie in an airtight container in the fridge for up to 5 days. If you prefer your pie warm, simply microwave a slice in 30-second increments until warmed through.
If you like this recipe, you may be interested in these other delicious pie recipes:
Watch the video below where Rachel will walk you through every step of this recipe. Sometimes it helps to have a visual, and we've always got you covered with our cooking show. You can find the complete collection of recipes on YouTube, Facebook Watch, or our Facebook Page, or right here on our website with their corresponding recipes.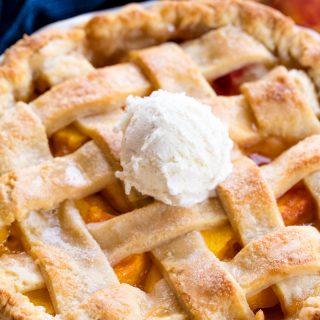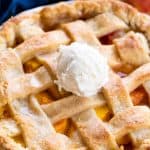 The perfect peach pie is within your grasp. A vibrant, sweet peach filling surrounded by a perfect fail-proof crust. It really is the perfect peach pie!
Ingredients
Double Crust
2 1/2

cups

all-purpose-flour

2

tablespoons

sugar

1

teaspoon

salt

12

tablespoons

cold butter

sliced

8

tablespoons

vegetable shortening

chilled and sliced

1/4

cup

ice water

1/4

cup

vodka

chilled
Filling
3

lbs

peaches

peeled, pitted, and sliced (1/4-inch)

1

cup

brown sugar

2

tablespoons

cornstarch

1

tablespoon

lemon juice

1/2

teaspoon

ground cinnamon

1/4

teaspoon

ground nutmeg

pinch

salt
Finish
1

egg white

lightly beaten

1

tablespoon

sugar
Instructions
Make the dough in a food processor by combining half of the flour, sugar, and salt together and pulsing until combined. Add in the butter and shortening pieces and process for about 15 to 20 seconds until combined. Add in the remaining half of the flour and pulse until all the flour is incorporated. Sprinkle in cold water and vodka and pulse 5 or 6 times until combined into a dough. Divide into two even pieces and wrap in plastic wrap. Refrigerate 1 hour.

In a large mixing bowl, toss peaches together with brown sugar, cornstarch, lemon juice, cinnamon, nutmeg and salt. Let sit 1 hour. Drain the excess liquid from the peaches using a colander.

Roll out your bottom crust into a 12-inch circle. Make sure you use a well floured surface and rolling pin to prevent sticking. Roll the circular dough loosely around the rolling pin to transfer to a 9-inch deep dish pie plate. Be gentle and press it carefully into the plate letting the edges hang over. Refrigerate until ready to use.

Prepare your lattice crust by rolling the remaining dough half into a 13 by 10 inch rectangle. Transfer to a baking sheet lined with parchment paper. Cut into 8 even strips. Freeze on the baking sheet while oven preheats.

Preheat oven to 425 degrees.

Place the prepared pie plate on a baking sheet (in case of spillage). Scoop the peach filling into the pie shell. Lay 4 of the lattice strips on top of the peaches, giving even spacing between. Weave the remaining lattice pieces perpendicular, lifting every other piece to create a lattice. Trim the excess dough that is hanging around the pie plate with kitchen scissors or a sharp knife. Pinch the lattice and crust edges together and then crimp the dough evenly around the pie using your fingers.

Brush the crust with the beaten egg white and sprinkle with 1 TB sugar. Bake in the preheated oven for 25 minutes. Reduce the temperature to 375 degrees and cook 30 to 35 minutes more until crust is golden brown and juices are bubbling and set. Transfer pie dish to a wire rack to cool.
Nutrition
Calories:
488
kcal
|
Carbohydrates:
61
g
|
Protein:
4
g
|
Fat:
24
g
|
Saturated Fat:
11
g
|
Cholesterol:
36
mg
|
Sodium:
359
mg
|
Potassium:
300
mg
|
Fiber:
2
g
|
Sugar:
35
g
|
Vitamin A:
865
IU
|
Vitamin C:
9.6
mg
|
Calcium:
17
mg
|
Iron:
1.8
mg