Cherry pie tastes like the holidays AND warm weather! Made with a flaky crust and perfectly sweet cherries that have been baked and softened, this homemade cherry pie is so pretty (and tasty) it could be in a magazine!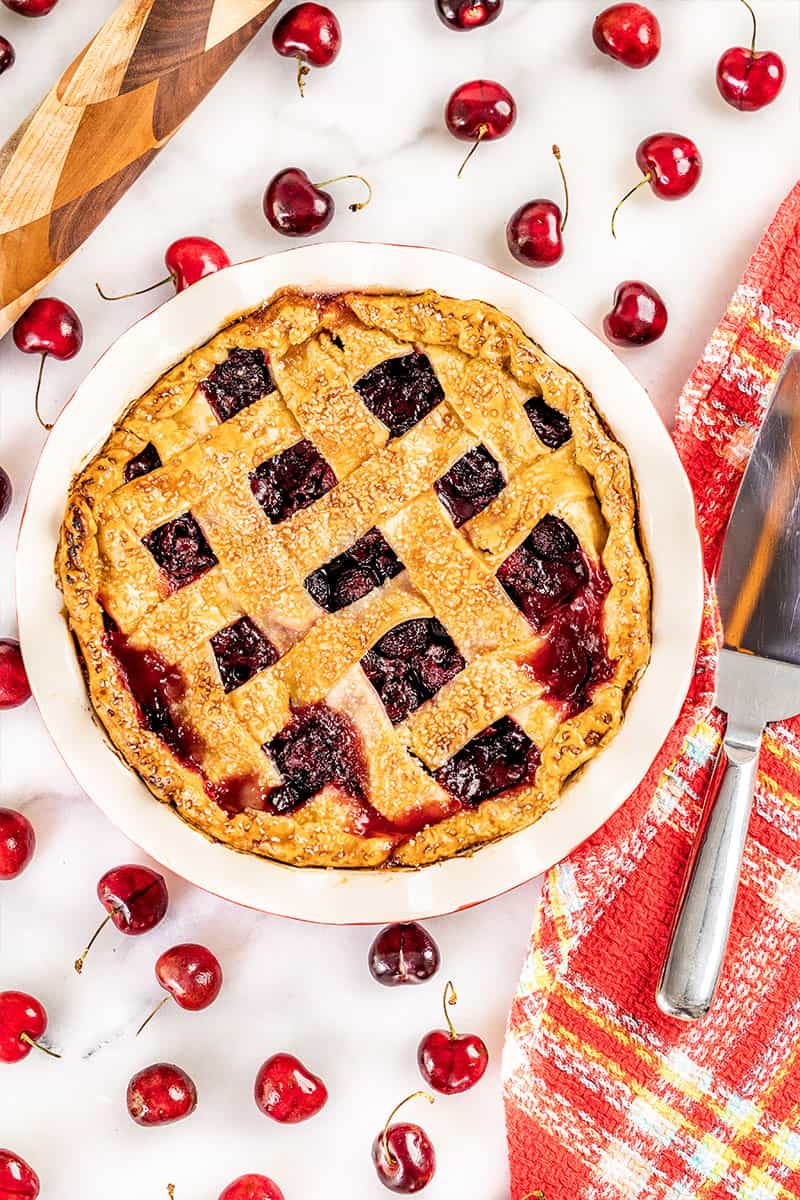 Does anyone else have specific foods that bring back certain memories? Turkey at Thanksgiving, hot chocolate in the winter, burgers and hotdogs in the summer…our list could go on and on. Cherry pie is one of those desserts that makes us think of holiday gatherings as well as summertime barbecues. It's so fresh, sweet, and satisfying, that it's no wonder we love to eat it all year round! Our homemade cherry pie filling takes this recipe to the next level and is the absolute best part about it. Plus, you don't even have to make your pie crust yourself if you don't want to. That said, you know how much we love preparing recipes from scratch — from start to finish. If you're interested, we definitely recommend that you pair our fool proof pie crust recipe with this one! Next time you're stuck on what to bring to your next gathering, picnic, or family party, our easy cherry pie is the ultimate crowd pleaser!
Cherry Options:
There are tart and sour cherries, and then there are sweet cherries. Our easy cherry pie filling recipe calls for the sweet stuff! If you can't find fresh, you can also use frozen. If you do opt for frozen, make sure that they are completely thawed before using. You also want to make sure to drain off any excess liquid before baking too!
Some of our favorite sweet cherry varieties are:
Bing cherries
Chelan cherries
Lapins cherries
Ranier cherries
Sugar Options:
If you find that your cherries are too tart, you can add in a little bit more sugar. Stick with white varieties, or you can also sub in brown sugar instead. If you want some extra sweetness without the extra sugar, you can give honey or agave syrup a try! Sweetened condensed milk is another (more decadent) option. Keep in mind that cherry pie should be slightly tart. Don't go too crazy with a lot of added sweetener. You still want to be able to taste the complex flavor of the cherries!
Baking Dish Options:
We recommend that you place your pie dish on top of a baking sheet before you put it in the oven. Our homemade cherry pie filling recipe is so fresh and juicy that you may end up with a bit of overflow as it bakes!
Top Crust Options:
Typically, there are two styles of pie crust that you can use for our easy cherry pie recipe. You can opt for a fully covered top — just make sure that you cut vents for that! The other is called lattice style because it's shaped like, well, a lattice! Be sure to check out the video below to find specific instructions for making a lattice top. In either case, be sure to trim off the excess dough before baking.
What Spices Go With Cherries?
Our homemade cherry pie recipe calls for cinnamon and nutmeg. If you want to add even more spiced goodness to your dessert, try these:
Basil
Thyme
Mint
Sage
Ginger
Allspice
You can create some really unique flavor combinations!
Troubleshooting: Why Is My Cherry Pie Filling Recipe Watery?
Some homemade cherry pie filling recipes end up thin, watery, and runny. It makes sense — as the cherries cook down, they tend to release water. This is why we've made it a point to include corn starch in our recipe. Corn starch is one of the most common thickeners in baking. It's crucial for creating a thick consistency for your pie!
Serving Suggestions:
Serve your cherry pie with your favorite ice cream or a dash of whipped cream. For a special treat, sprinkle a bit of extra cinnamon on top! As far as main dishes to serve before you taste your pie, the choice is yours. This dessert is so versatile that you can pair it with almost anything.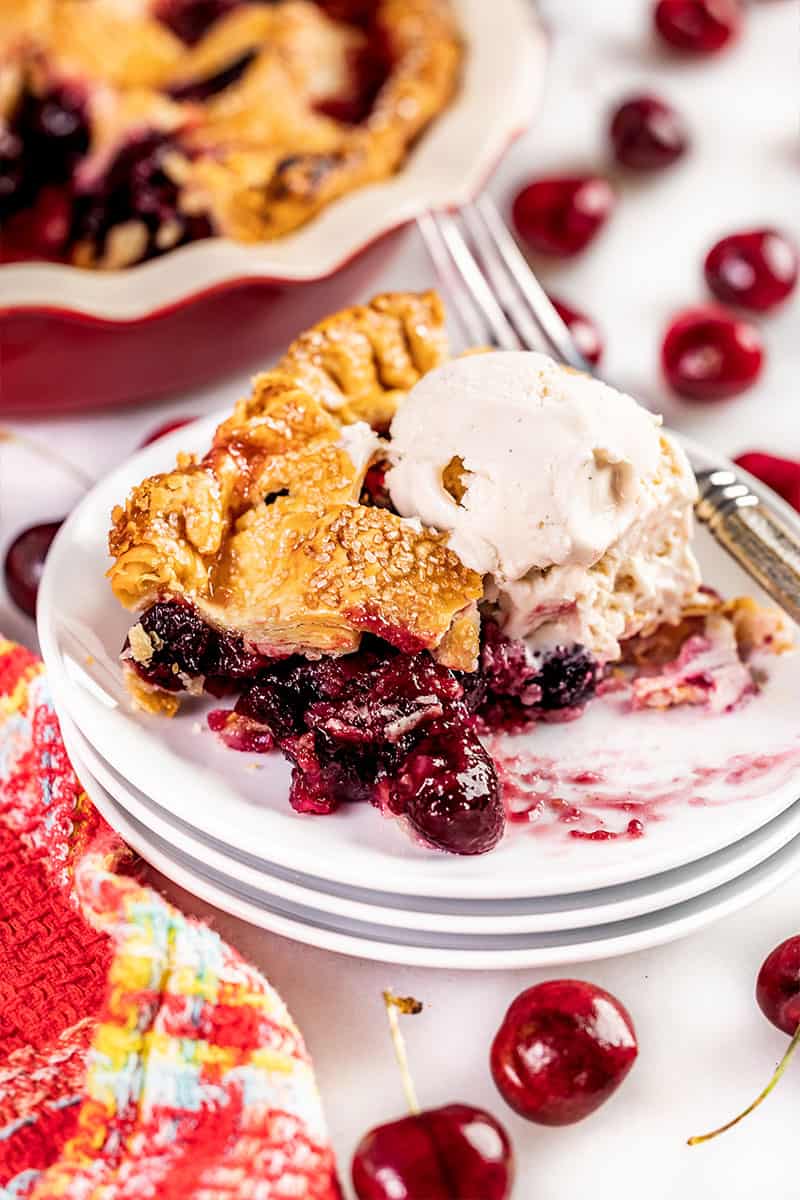 Storage and Reheating Instructions
You can store any homemade cherry pie leftovers in an airtight container in the fridge where they will keep for up to 4 days. You can also store it at room temperature for up to 2 days. You can even reheat your easy cherry pie leftovers in the microwave in 30-second increments until warmed through for a comforting after-dinner treat.
If you like this recipe, you may be interested in these other delicious pie recipes: