Peanut butter lovers rejoice! Creamy, rich, and filled to the brim with peanut butter, this perfect peanut butter pie is a decadent and delicious dessert. The Oreo crust takes things to the next level!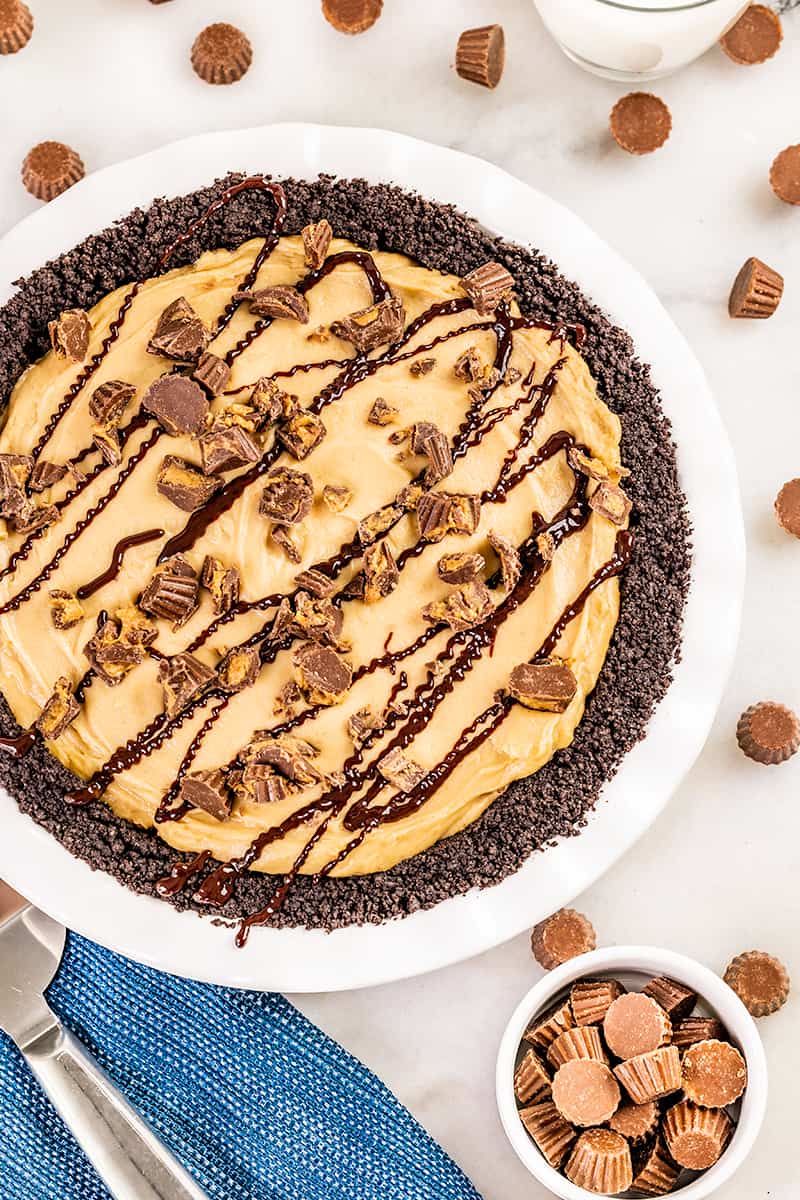 Peanut butter paired with chocolate is a classic flavor combination that is simply delicious every single time. We can't get enough of it here in The Stay at Home Chef household, so we just had to share it with all of you! It combines creamy peanut butter, luxurious whipping cream, and a crunchy and crumbly homemade Oreo crust. If you're on the hunt for a unique and yummy dessert idea for your next party, you've found it. Peanut butter lovers will rejoice! We definitely encourage you to cover the entire thing with crushed-up peanut butter cups before you serve it. Because, why wouldn't you want to add in some extra PB goodness?! It's indulgent, no-bake (aside from the crust), and a real crowd-pleaser. Seriously, people go crazy over this stuff! It's also super easy to put together. If you end up with any leftovers, we salute you! This easy peanut butter pie only lasts for about a day in our house.
Is This Recipe No Bake?
Yes and no. You'll have to bake your Oreo crust, but you don't have to bake again once you've added the filling. This is a pie best served cold — in fact, you won't be able to serve it unless it has cooled completely and set for at least 6 hours. That said, once you bake your crust, feel free to shut that oven off because you won't need it!
Crust Variations For Perfect Peanut Butter Pie:
We swear by our Oreo crust, but that doesn't mean that there aren't other variations that you can try at home! Here are some of our favorite ideas:
Graham crackers
Chocolate wafer cookies
Standard all-butter pie crust
Do I Need to Use Cool Whip or Cream Cheese?
Some peanut butter pie recipes call for additional ingredients like Cool Whip and cream cheese for the filling. Our homemade version is made with heavy whipping cream instead. The results are a thick and creamy pie filling without any Cool Whip or added cream cheese!
What Kind of Peanut Butter Should I Use?
While we love spreading all-natural PB on our morning toast, you're going to want to go for a classic creamy or chunky PB like Jif or Skippy for this easy peanut butter pie recipe. The all-natural varieties don't have enough added oil in them to get the consistency you're after for the filling.
Whipped Cream Stabilizers:
No one likes a sad, liquidy peanut butter pie, which is why we've included dry milk powder with the whipping cream to help it solidify for the perfect texture. Other stabilizers you could use:
Xantham Gum: Use 1/4 teaspoon per cup of whipping cream.
Gelatin: You must prepare your gelatin before adding to cream. Add 1 teaspoon of gelatin to 1 tablespoon of cold water. Let stand for 5 minutes to thicken before melting in the microwave for just a few seconds until it becomes liquid.
Guar Gum: Use up to 1 teaspoon per cup of cold whipping cream
King Arthur Flour's Whipped Cream Stabilizer: Use 1-2 tablespoons per cup of whipping cream
Topping Options:
We suggest that you drizzle the top of your peanut butter cream pie with chocolate syrup and chopped peanut butter cups. You can also add:
Chocolate chips
Melted peanut butter
Peanut butter candies (like Reese's Pieces or Peanut Butter M&Ms)
Peanut butter chips
Whipped cream
How Long Does This Dessert Take to Set?
Patience is a virtue and you'll need it for our easy peanut butter pie recipe. After you've baked your crust and added your filling, it's important to let the pie set completely before serving. Place it in your fridge for at least 6 hours. If you can let it set overnight, even better!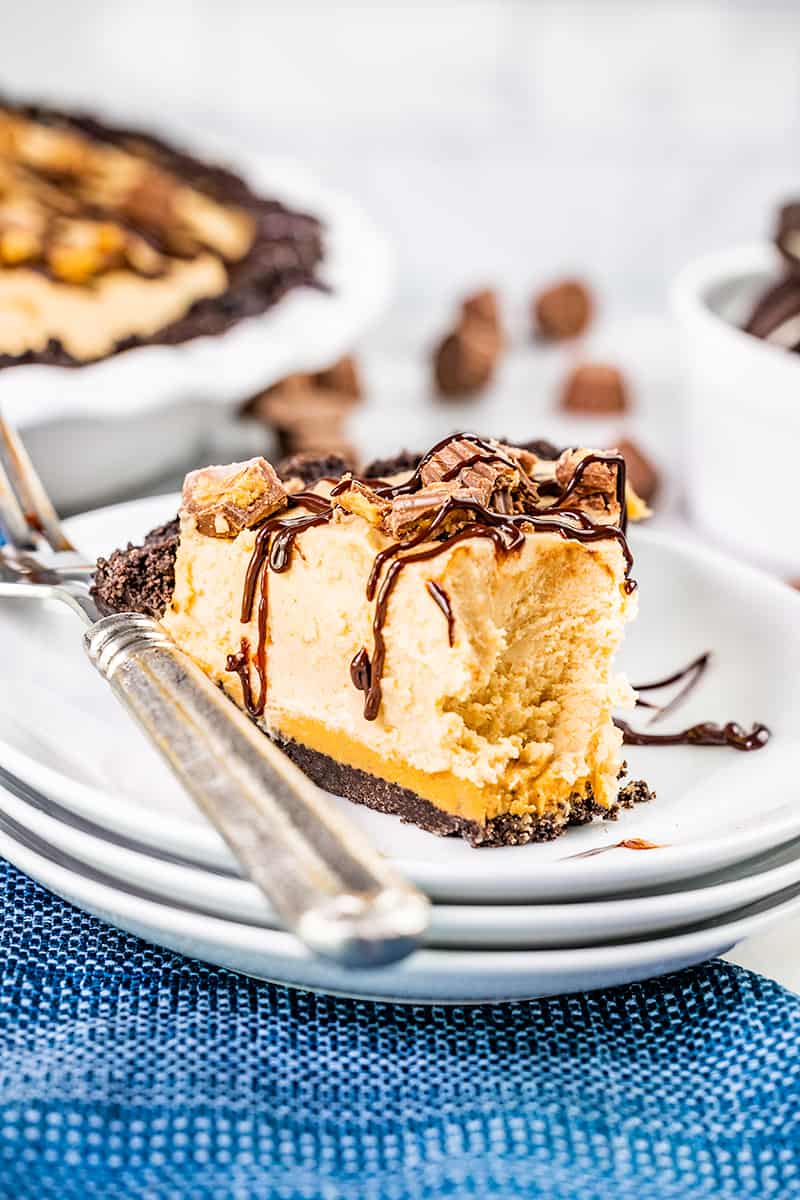 Freezing Instructions:
If you decide to make your easy peanut butter pie recipe ahead of time for an upcoming party, you can freeze it to keep it fresh. Make sure to wrap it very tightly with plastic wrap before placing it inside your freezer. It will keep for up to 1 month. Let it thaw in the fridge overnight before serving!
Storage Instructions:
For those of you who end up with leftovers (it wouldn't happen in our house!), you can store them in the fridge in an airtight container, or you can simply wrap the pie dish tightly with plastic wrap. The leftovers will keep for about 3 days in the refrigerator.
If you like this recipe, you may be interested in these other delicious pie recipes:
Watch the video below where Caytlin will walk you through every step of this recipe. Sometimes it helps to have a visual, and we've always got you covered with our cooking show. You can find the complete collection of recipes on YouTube, Facebook Watch, or our Facebook Page, or right here on our website with their corresponding recipes.
Perfect Peanut Butter Pie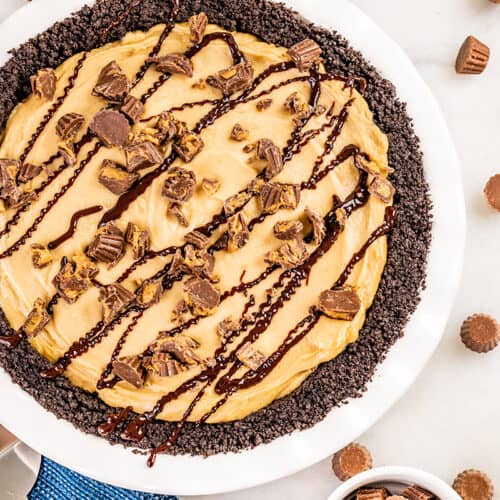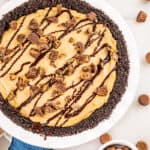 Peanut butter lovers rejoice! Creamy, rich, and filled to the brim with peanut butter, this perfect peanut butter pie is a decadent and delicious dessert. The Oreo crust takes things to the next level!
Ingredients
Oreo Crust
24

Oreos

1/4

cup

melted butter
Peanut Butter Pie Filling
2

cups

heavy whipping cream

1

cup

powdered sugar

divided

2

tablespoons

dry milk powder

1 1/2

cups

peanut butter

creamy or chunky, divided

1/4

cup

melted butter
Instructions
Preheat oven to 350 degrees Fahrenheit. Grease the sides and bottom of a 9-inch pie plate.

Crush the Oreos in a food processor or blender until finely ground. Transfer to a mixing bowl. Stir in melted butter until the crumbs are all moistened and press into the bottom of the prepared pie pan. Bake for 8-10 minutes.

In a bowl add in 1/2 cup peanut butter, 1/4 cup butter and melt in microwave for about 30 seconds until the combination is more liquidy. Add in 1/4 cup of powdered sugar. Mix the ingredients until well combined and pour onto the cooked, warm crust. Let crust cool completely.

In a large mixing bowl, add in heavy cream, 1/2 cup of powdered sugar and dry milk powder. Mix on high until stiff peaks for using a hand mixer or stand mixer.

In a separate bowl, combine the remaining 1 cup peanut butter and remaining 1/4 cup of powdered sugar together and mix until well combined.

Fold the peanut butter mixture into the whipped cream until well blended.

Spread the mixture into the cooled pie crust. Refrigerate until ready to serve. Drizzle with chocolate syrup and and sprinkle with chopped up peanut butter candies.
Nutrition
Serving:
1
slice
|
Calories:
550
kcal
|
Carbohydrates:
36
g
|
Protein:
10
g
|
Fat:
43
g
|
Saturated Fat:
19
g
|
Polyunsaturated Fat:
6
g
|
Monounsaturated Fat:
16
g
|
Trans Fat:
1
g
|
Cholesterol:
65
mg
|
Sodium:
310
mg
|
Potassium:
301
mg
|
Fiber:
2
g
|
Sugar:
25
g
|
Vitamin A:
847
IU
|
Vitamin C:
1
mg
|
Calcium:
65
mg
|
Iron:
4
mg