Chocolate cream pie is one of my favorites. I'll choose a chocolate pie over a fruit pie any day of the week. My philosophy is that fruit is healthy so a fruit pie isn't really a dessert, it is more of a side dish or breakfast or something. Chocolate pie? There's no doubt about it. It is dessert. This chocolate pie is dark and decadent and delicious. It is thick. No chocolate spillage here. And then you take that bite and it just melts in your mouth! Yummy! Your taste buds squeal with ecstasy and before you know it half the pie is gone and you have to explain why there isn't enough for everyone else to get their own piece. You try and direct people towards a fruit pie, but you realize that everyone else knows that chocolate is the real dessert here.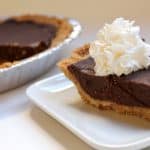 Real Chocolate Cream Pie
This chocolate pie is dark and decadent and delicious. It is thick. No chocolate spillage here. And then you take that bite and it just melts in your mouth!
Print
Pin
Rate
Ingredients
Graham Cracker Crust
1 1/2

cups

crushed graham cracker

1/3

cup

sugar

6

tablespoons

melted butter
Chocolate Filling
3/4

cup

sugar

1/3

cup

cornstarch

1

cup

milk

1

cup

heavy cream

3

ounces

unsweetened baker's chocolate

roughly chopped

3

tablespoons

milk chocolate chips

3

egg yolks

2

tablespoons

butter

1

tsp

vanilla
Stabilized Whipped Cream
3

tablespoons

cold water

1

teaspoon

unflavored gelatin

1

cup

heavy cream

2

tablespoons

powdered sugar

1

teaspoon

vanilla extract
Instructions
Graham Cracker Crust
Preheat oven to 375 degrees Fahrenheit. In a medium-sized mixing bowl, stir together crushed graham crackers and sugar. Slowly add in melted butter and toss to combine.

Press graham cracker mixture into the bottom and sides of a standard 9-inch pie plate.

Bake in the 375 degree oven for 7 minutes. Let cool completely on a wire rack before filling.
Chocolate Pie Filling
In a medium saucepan, stir together sugar and cornstarch. Add in milk, cream, chopped baking chocolate, and chocolate chips, Cook over medium heat, stirring constantly until it begins to thicken.

Remove from heat and quickly mix 1/3 cup of the mixture into the egg yolks in a small mixing bowl to temper the yolks. Whisk it rapidly and return it to the rest of the chocolate. Cook for an additional 90 seconds over medium heat.

Remove from heat again and stir in butter and vanilla until butter is melted.. Pour into pie shell. Let cool for about 15 minutes and then refrigerate until completely cooled and set.
Stabilized Whipped Cream
Make the whipped cream topping by sprinkling gelatin over cold water in a small bowl. Let stand 5 minutes. Then, microwave on high for 5-10 seconds, until gelatin melts and liquid is clear.

Meanwhile, in a large mixing bowl use a hand mixer or stand mixer to whip heavy cream until soft peaks form. Sprinkle in powdered sugar and pour in vanilla extract and continue whipping until combined. Slowly pour in gelatin mixture and whip until stiff peaks form.

Spread onto cooled chocolate pie. Garnish with shaved chocolate or dust with cocoa powder.
Notes
Instead of crushed graham cracker, you could also make a chocolate crust by using crushed Oreos or chocolate graham crackers. 
Nutrition
Serving:
1
slice
|
Calories:
637
kcal
|
Carbohydrates:
57
g
|
Protein:
7
g
|
Fat:
45
g
|
Saturated Fat:
27
g
|
Cholesterol:
189
mg
|
Sodium:
259
mg
|
Potassium:
210
mg
|
Fiber:
3
g
|
Sugar:
38
g
|
Vitamin A:
1385
IU
|
Vitamin C:
0.3
mg
|
Calcium:
115
mg
|
Iron:
2.8
mg
Welcome to the world of custards! A custard is a cooked mixture of milk or cream and egg yolks. There is a wide variety of custards out there. They can be thick or thin or somewhere in between and they come in all sorts of flavors. This particular recipe would be considered a pastry cream or a confectioner's custard becomes it involves a starch (cornstarch). The starch in the recipe acts as thickener, but also helps prevent the mixture from curdling when it boils. A custard ends up being a different texture than puddings and makes for a more dense pie filling. Pudding is a bit too light weight to hold up well in pie form.
Now you know a bit about custards. Next thing you know you'll be making a creme brulee!
My Other Recipes
Get New Recipes Sent To Your Inbox ?
Join my newsletter and get new mouth watering recipes sent directly to you weekly!