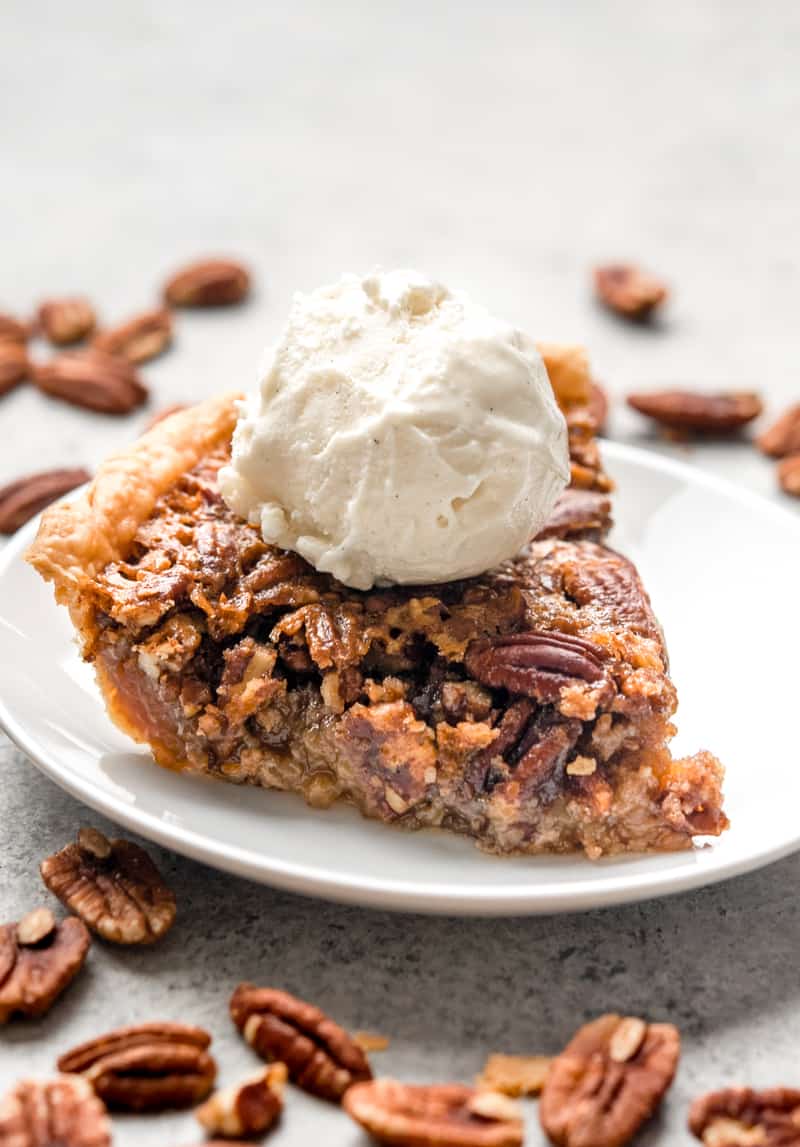 Experience the classic allure of pecan pie: a delightful blend of crunchy pecans, caramel-like filling, and flaky crust.
The pecan pie we know and love today encapsulates the essence of comfort and familiarity. Rooted deeply in tradition, this dessert has been a favorite across generations. Its perfect balance of crunchy pecans and velvety filling, encased in a flaky pie crust, makes it a beloved staple at family gatherings and festive occasions. And while there might be numerous dessert options out there, there's something genuinely heartwarming about a slice of this classic pie.
Frequently Asked Questions
What type of pecans should I use?
We prefer to use crushed pecans ourselves, as they give this pie a nice crust at the top. However, both halves or chopped pecans work. It's more about personal preference regarding texture and appearance.
Can I use unsalted butter?
Yes, but we recommend adding an extra 1/4 teaspoon of salt.
How do I know when the pie is done?
When a knife inserted in the center comes out clean, your pie is ready.
Should I serve pecan pie cold or warm?
You can definitely eat your pecan pie warm, and a lot of people love it that way! We prefer to let it cool to room temperature to allow it to completely set before diving in. 
What does pecan pie taste like?
The natural sweetness of the pecans, amplified by the corn syrup and brown sugar, create a caramel-like depth. The butter adds richness, while the vanilla extract provides a hint of aromatic sweetness. This combination results in a harmonious play between nutty, sweet, and slightly savory notes.
Crust Options
Homemade is always preferred. If you need to cut corners, you can always use a store-bought, unbaked pie crust. Our favorite crusts for pecan pie include:
Substitutions
Corn syrup: You can substitute with maple syrup or golden syrup.
Brown sugar: White sugar combined with a touch of molasses can be used.
Salted butter: Use unsalted butter and adjust the salt amount as needed.
Troubleshooting
Filling Not Setting: Ensure you bake the pie until a knife inserted comes out clean. Underbaking might leave it too runny.
Crust Overbrowning: Consider using a pie shield or some aluminum foil around the edges of the pie to prevent overbrowning.
Pie Surface Cracking: Avoid overbaking. Once the pie is set but still has a slight jiggle in the center, it's done.
Tips From the Chef
For an evenly baked crust, use pie weights or dried beans during the initial baking.
Toast the pecans slightly before adding them to elevate their flavor.
To avoid the pie surface from cracking, avoid overbaking.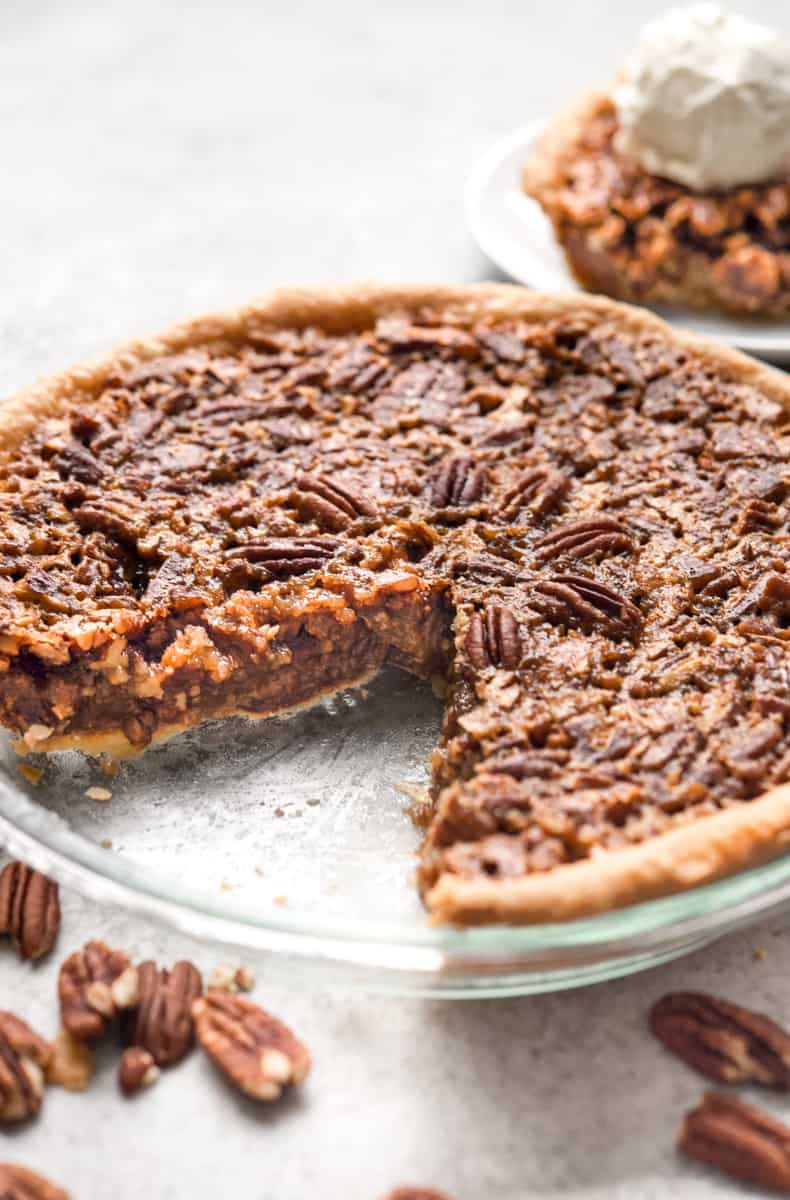 Storage & Freezing Instructions:
Store pecan pie in an airtight container in the refrigerator for up to 4 days. If you're looking to freeze your pie, wrap it tightly in plastic wrap and then aluminum foil. It can be frozen for up to 2 months. When you're ready to enjoy, let it thaw in the refrigerator overnight.
More Favorite Pie Recipes!
Watch the video below where Caytlin will walk you through every step of this recipe. Sometimes it helps to have a visual, and we've always got you covered with our cooking show. You can find the complete collection of recipes on YouTube, Facebook Watch, or our Facebook Page, or right here on our website with their corresponding recipes.