Old Fashioned Strawberry Pie is made completely from scratch with an almost creamy strawberry sauce smothering fresh strawberries. Top it all off with a cream cheese whipped topping for the perfect strawberry pie!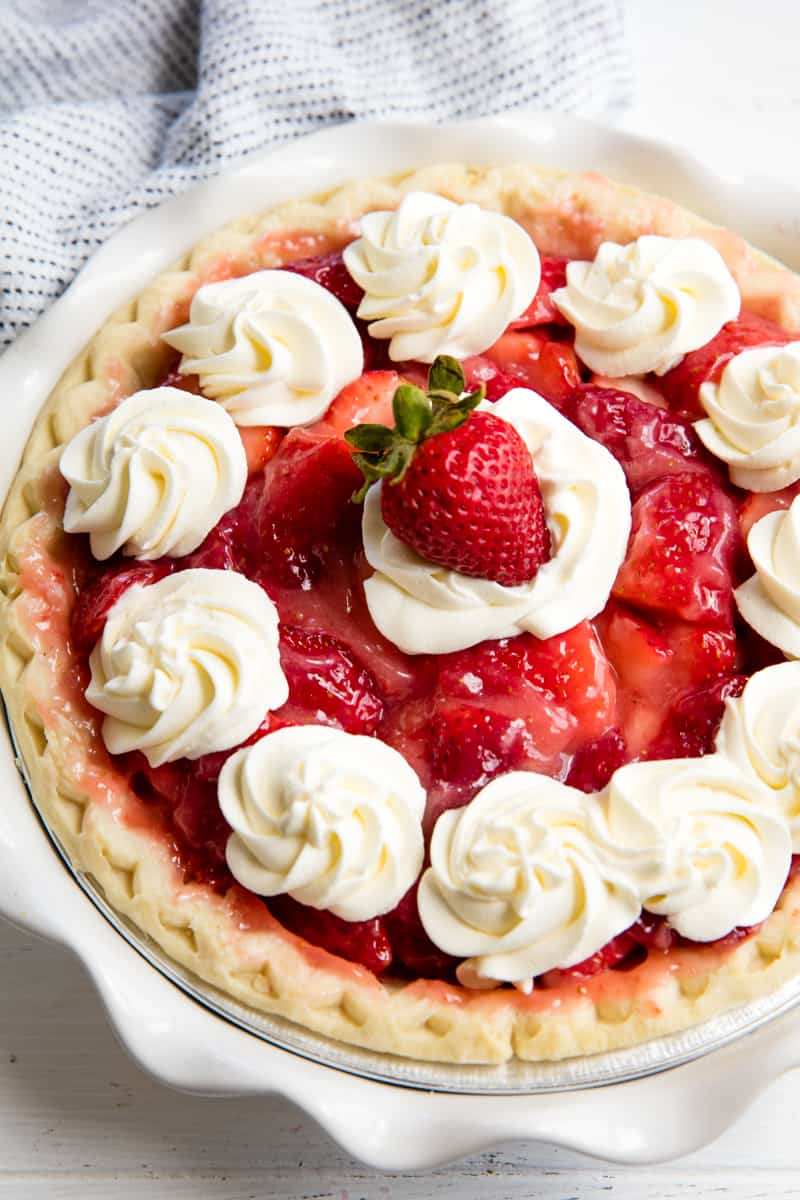 Strawberry pie is everything you've ever wanted out of a summer dessert. While this is an amazing dessert any time of year, we prefer to make it when local strawberries are ripe and plentiful. Pair those deliciously ripe strawberries with a homemade sauce and cream cheese whipped topping, and all manners and sense of sharing go out the window. Well, maybe not completely out the window. We do love our family and friends, and certainly want them to experience the joys of this dessert – perhaps we should all share the love and bring this to our next party. Or perhaps we should make two pies and save one for ourselves. Trust us, this really is that good. 
What can be used to thicken pie filling?
There are a handful of common agents used to thicken pie fillings. Flour, cornstarch, tapioca, and gelatin are the most common ones. Each of them has their advantages and disadvantages and are used for different purposes.
Strawberry pie is now commonly made with a gelatin based filling to make things easier. While you certainly can add a package of strawberry jello in as your pie thickener, we like to use from scratch cooking and find that a cornstarch based filling produces a more enjoyable result. Rather than a pie filling that tastes like jello, instead we ended up with an almost creamy filling with whole, fresh strawberries inside.
Can you freeze a fresh strawberry pie?
Yes you can, but be warned that the juices may be a bit runnier once thawed again. Fresh strawberry pies are best enjoyed fresh, but can still be quite tasty after being frozen and thawed.
Can you make strawberry pie with a store bought pie crust?
Yes you can! Store bought pie crusts can be purchased in both the freezer section (near the other desserts) and the refrigerated section (near Pillsbury crescent type products). Frozen pie crusts will already be in their own tin and are ready to bake per package instructions. Refrigerated pie crusts need to be be rolled out and placed in a pie plate and baked.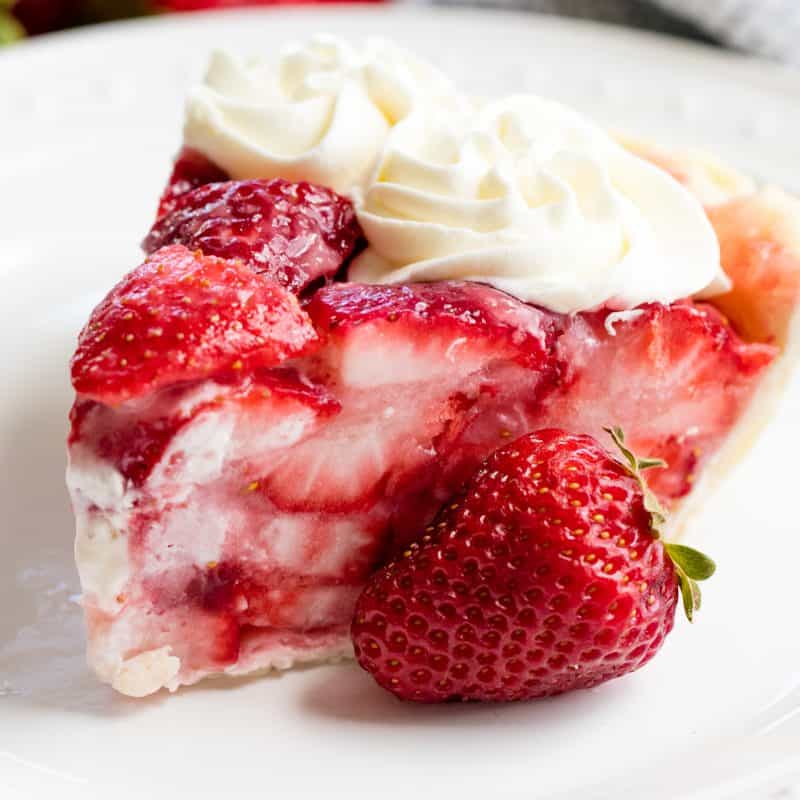 Storage and Reheating Instructions:
Store your strawberry pie in an airtight container in the refrigerator for up to 5 days.
If you like this recipe, you may enjoy these other fantastic pie recipes: