This easy ham glaze recipe has the flavorful zing of balsamic vinegar, mixed with the sweetness of orange and brown sugar to bring you one of the tastiest hams you will ever eat!
A holiday ham is such a treat. They're salty, meaty, and sweet—we love them! This recipe brings so much flavor to your ham. You will love the fruity tang of the balsamic vinegar with the sweetness of the orange juice and the saltiness of the ham itself. Altogether, it's a work of art, and requires only five ingredients and five minutes to prepare! But before you start this simple and impressive glaze, you need to choose your ham. You should know what you're looking for when you purchase a ham.
4 Basic Questions To Find the Right Ham for You:
Do you want a fresh, cured or smoked ham? 
A fresh ham is raw. They are harder to find and usually have to be specially ordered at a butcher shop. A cured ham is fully cooked, and a smoked ham is cured and then smoked. A smoked ham will have a smoky flavor, so if you're not a fan, best to stick to a cured ham. This recipe is for a cured or smoked ham, but could be used on a raw ham—just be sure to follow the cooking instructions for a raw ham, as they will differ from cured ones.
Do you want a bone-in or boneless ham? 
A bone-in ham typically cooks through more evenly, has more moisture and also more flavor. These are pretty common in the grocery store. The one advantage a boneless ham will have over a bone-in one, is ease of serving. It's sometimes a little tricky to work around a bone in a ham. However, it does add to the flavor, and you can always save that bone for a good stock or broth, or to throw in a yummy Split Pea Soup. Waste not, want not.
Do you want a spiral cut ham or an unsliced one? 
We prefer a spiraled ham, as it takes so much of the work out of the serving. Also, you can really work the glaze into the individual layers of the ham, so the flavor gets better distribution. They do dry out easier, but by tenting the ham with tin foil, that can be minimized.
Do you want the shank end or the butt end? 
A whole ham includes the butt and the shank and will weigh about 20 pounds. Most hams are really half hams, and weigh 9 to 10 pounds. A ham is either the shank, or lower part of the ham, toward the leg, or the butt, which is up by the hip. The butt end is usually more tender, fatty and flavorful, but also has a bone that is a little more awkward, as it includes part of the hip. The shank has a straight bone and is often leaner, but a little more chewy.
Now that you know how to choose your ham, you are ready to hit the store. This recipe is so simple, buying the ham is literally the hardest part—get ready to impress with very little work. We recommend buying a nice balsamic vinegar, as the older and nicer they are, the sweeter as well. You will be whisking the balsamic vinegar, orange juice, salt and brown sugar together and simply basting it on the ham before you bake it, once in the middle of the bake time, and once more before it is done baking. Voila! Get ready for incredible flavor!
Which side should lie down when I bake the ham?
The flat or exposed cut side should face down when cooking the ham.
What should I use to baste the ham?
We prefer a basting brush, but you can also use a traditional baster if you have one. Use whatever you prefer that helps you best to really coat the ham well.
How to Cook Ham in the Slow Cooker:
If you opt to cook your ham in a slow cooker, you will want to assess whether you are able to fit the ham into the basin. Most hams are slightly too large. If that is the case, you have a couple of options: you can cut some of the ham away, so that the slow cooker lid can fit down snugly, or you can cook your ham in a roasting pan. If you are going to cook the ham in a slow cooker, you should add the whole glaze when you start cooking, and you should calculate your time at 30 minutes per pound of ham.
How much ham should I make per person?
A good estimate is to count on 3/4 pound of per person for a bone-in ham and 1/2 pound for boneless.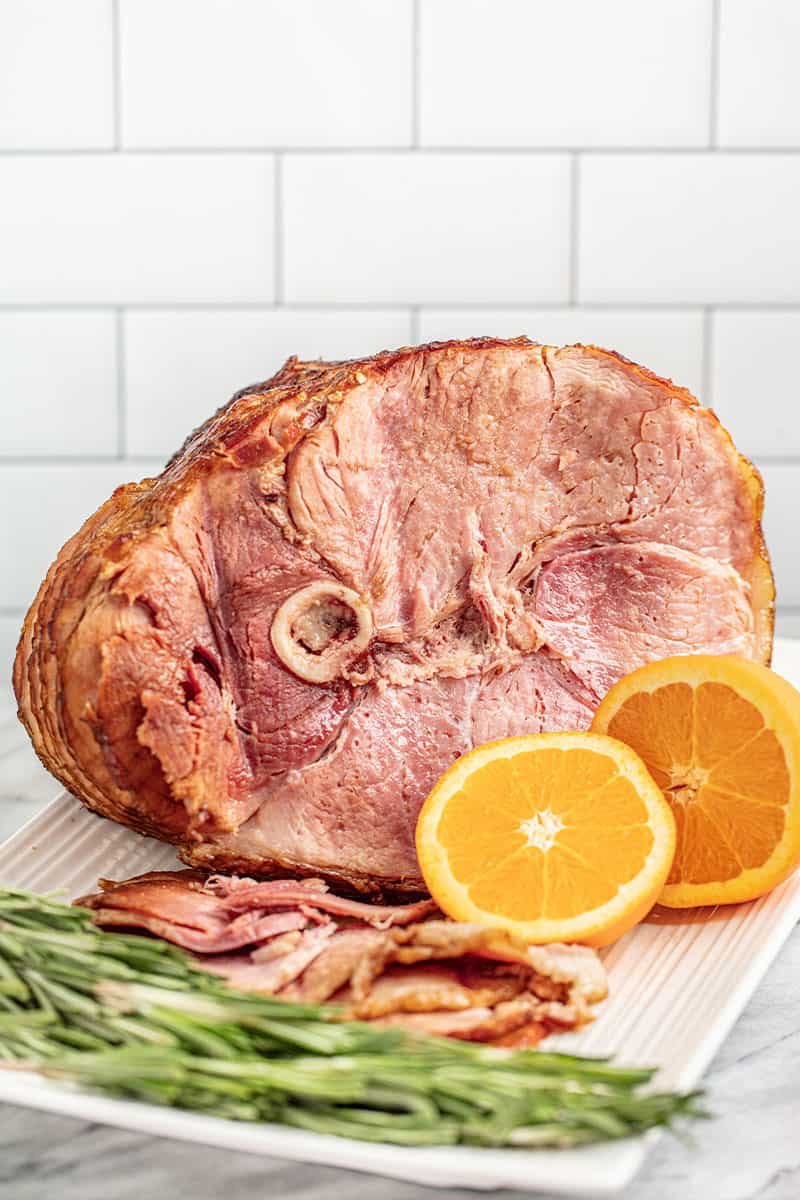 Storage and Reheating Instructions:
Store any leftovers in an airtight container in the refrigerator for up to 5 days. Reheat either in an oven preheated to 350 degrees Fahrenheit, or in single serving portions in the microwave in 30-second increments until warmed through.
If you are making a ham, be sure to check out these amazing side dishes that will go great with your meal:
Watch the video below where Rachel will walk you through every step of this recipe. Sometimes it helps to have a visual, and we've always got you covered with our cooking show. You can find the complete collection of recipes on YouTube, Facebook Watch, or our Facebook Page, or right here on our website with their corresponding recipes.