Ditch the canned cranberry this year – spice up your holiday with our Jalapeno Cranberry Sauce, a sweet and spicy treat for the whole family!
Cranberry Sauce is a staple at holiday meals, often served as a sweet, tangy sauce (or straight out of the can), but have you ever thought about jazzing it up with a little heat? Our Jalapeno Cranberry Sauce does just that, combining the classic tartness of cranberries with the subtle, spicy bite of jalapeno peppers. It's a simple twist that transforms traditional fare into something exciting and new. This sauce is an easy-to-make addition that brings a homemade touch to your holiday table, promising a burst of flavor that's both familiar and thrillingly unexpected.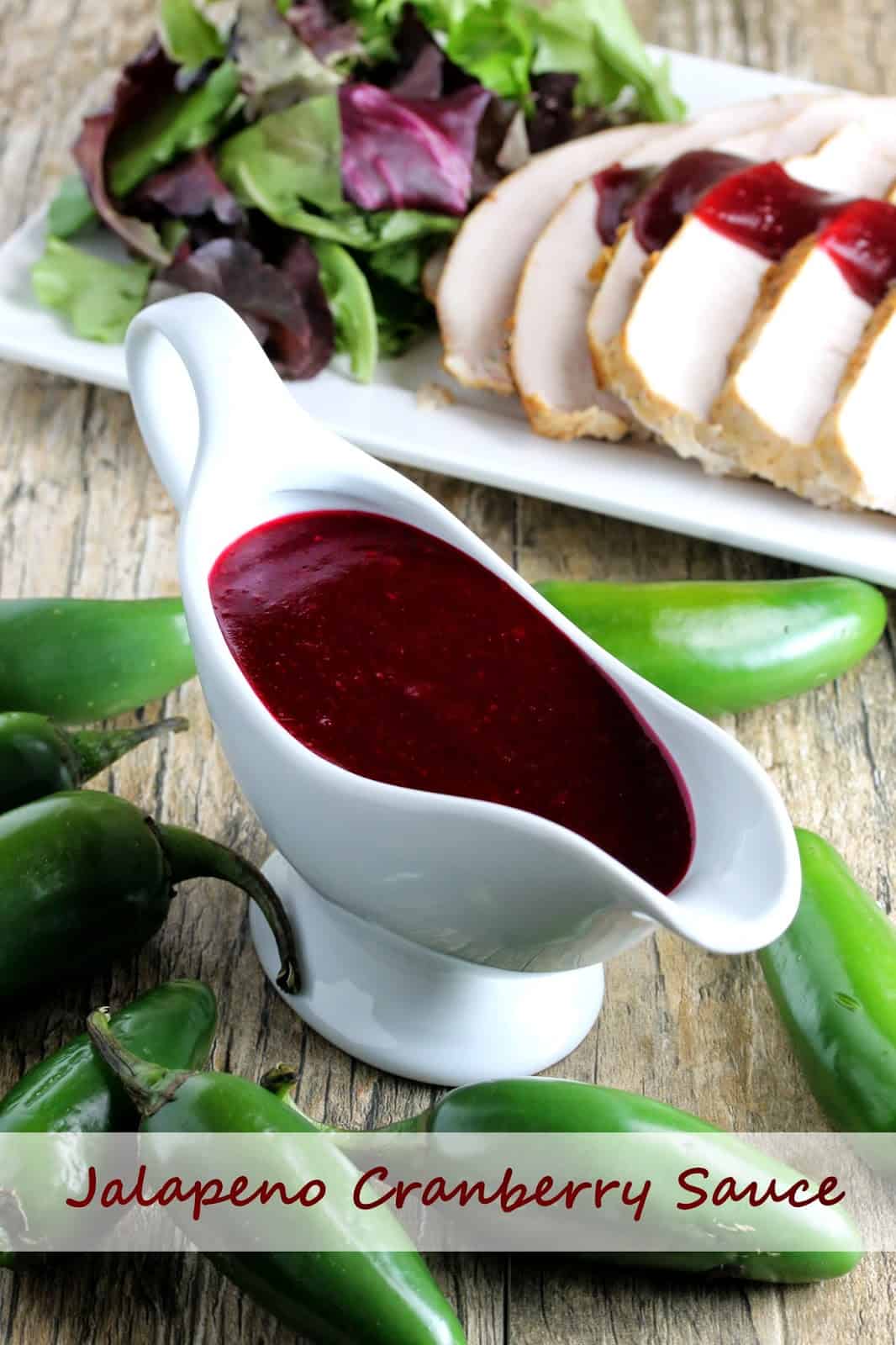 Ingredients and Substitutes
Cranberries: These tart berries are the star. If fresh aren't available, thawed frozen cranberries can substitute nicely.
Orange Juice: Adds a citrusy sweetness. Apple or lemon juice can be substitutes if you're looking to experiment.
Brown Sugar: It provides a deep, molasses-like sweetness. Maple syrup can be used for a different twist.
Sugar: Regular white sugar balances the tartness. Honey could be an alternative.
Jalapeno: This adds a spicy kick. For less heat, remove the seeds or use green bell pepper for no heat.
Frequently Asked Questions
Is there a way to make this sauce less spicy?
Absolutely, just remove the seeds from the jalapeno for less heat or use fewer slices.
Can I make this sauce ahead of time?
Certainly, it can be made a few days in advance and stored in the refrigerator.
How do I prepare fresh cranberries for cooking?
Fresh cranberries should be rinsed in cold water and sorted through to remove any stems or spoiled berries. Look for berries that are firm, plump, and have a deep red color.

Spoiled cranberries can be soft, mushy, or shriveled, and they may have discoloration or mold. They should be discarded.

While firm cranberries are best for cooking, slightly soft cranberries can still be used, as long as they are not spoiled. However, the firmer the better for texture and flavor.
Serving Suggestions
This vibrant sauce is a delightful companion to roasted turkey, pork, or even as a spread on sandwiches. Serve it at Thanksgiving, Christmas, or any festive occasion that calls for a little extra flair on the dinner table. For a complete meal, pair it with savory stuffing, mashed potatoes, and green beans.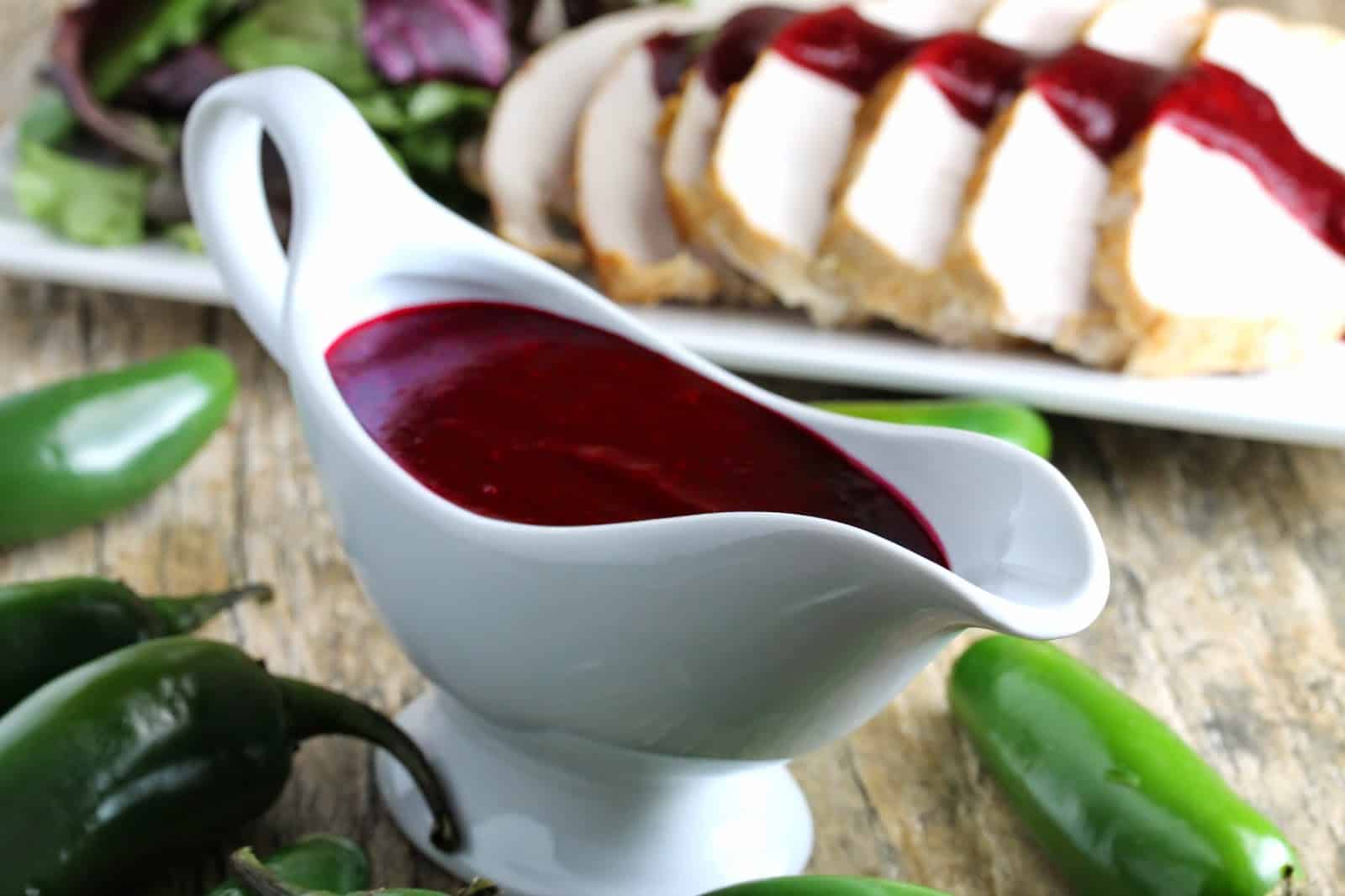 Storage and Reheating Instructions
The sauce can be stored in an airtight container in the refrigerator for up to one week. It can also be frozen for longer storage; just thaw in the fridge overnight before using. To reheat, simply warm it on the stove over low heat until it reaches the desired temperature.
Chef's Tips
Rinse and sort your cranberries, discarding any that are squishy.
Gradually add the jalapeno to control the heat level to your liking.
Stir occasionally while cooking to prevent sticking and ensure even heating.
Use a blender or food processor to get a smooth consistency.
Let the sauce cool before serving to allow it to thicken and flavors to meld.