These Crab rangoons are packed full of their usual deliciousness with Asian spicing and cream cheese, and that sauce, oh that sauce! Sweet and Sour Sauce gets a makeover with the addition of cranberries. This is a must-make for all your holiday parties while cranberries are in season and readily available.
WONTON WRAPPERS:
If you're having a hard time finding these, try the refrigerated section in the produce department of your local grocery store. 
CAN I BAKE CRAB RANGOONS?
We know that not everyone is as big of a fan of fried food like we are! If you would rather bake than fry, you definitely can! Simply bake in an oven preheated to 350 degrees for approximately 5 minutes, until heated through.
AIR FRYER INSTRUCTIONS:
Generously spritz your assembled rangoons with oil and air fry at 375 degrees until golden, about 3 to 4 minutes.
MAKE AHEAD INSTRUCTIONS:
Crab Rangoons are best served immediately after frying, so we do not recommend frying ahead of time. You can, however, pre-cook your filling and store in an airtight container in the refrigerator up to 24 hours in advance.
Tips for Frying:
Watch your oil temperature. Use an instant read thermometer for best results. Letting the oil overheat is dangerous so be careful to watch the temperature and check it again in between batches of frying. 
Put the oil in the bottom of a saucepan or pot with tall sides. This will let the oil pop and splash onto the sides of the pan, not on you or near any flames.
Carefully lower your items to be fried into the oil. Never drop them because they will splash and you could end up with burns.
With rangoons, be sure to seal each one completely so that the filling cannot escape. Make sure there are no air pockets. If the filling escapes through a poor seal or when an air pocket bursts you'll get an annoying splattery mess when the filling hits the oil.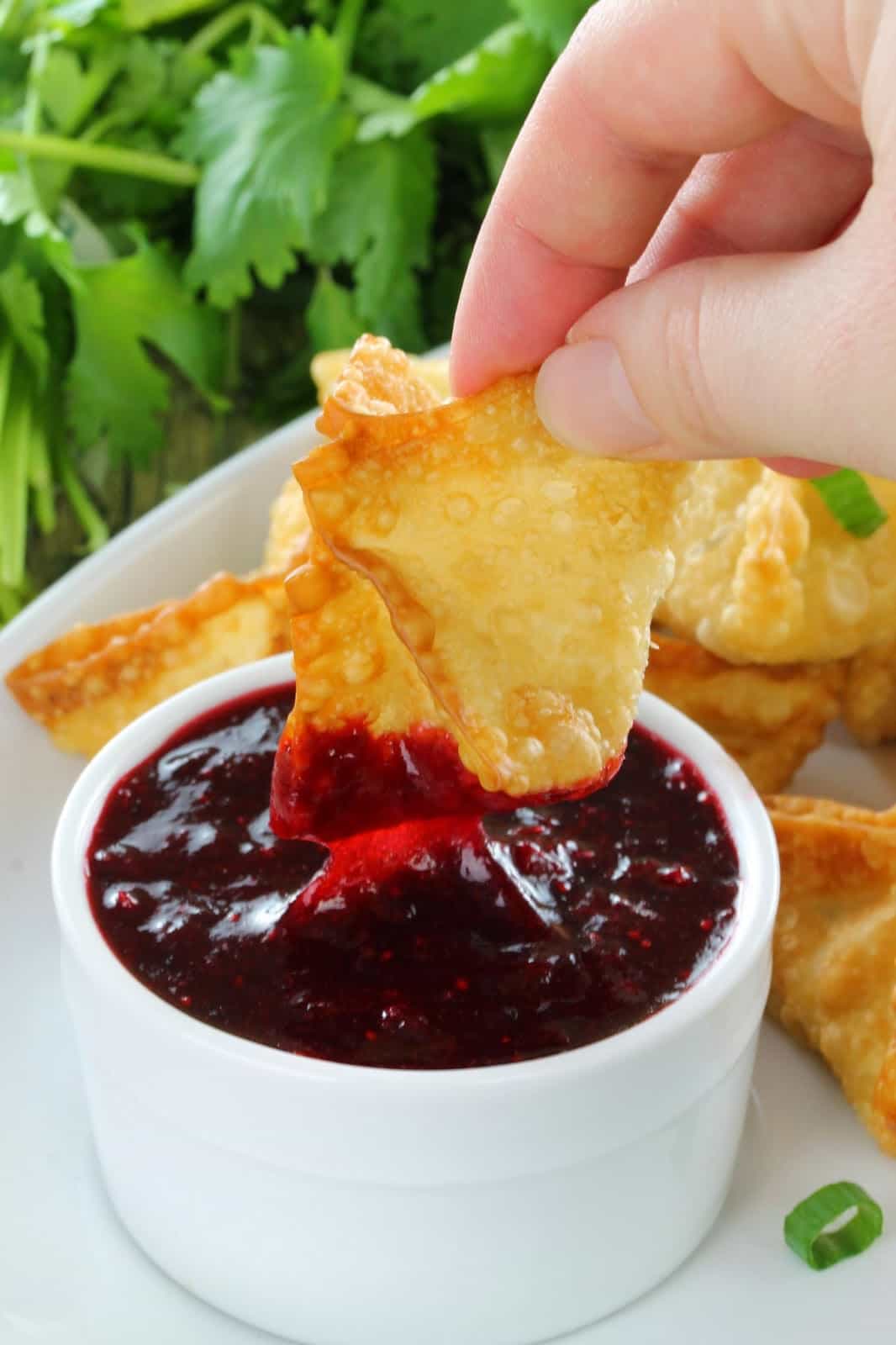 If you like this recipe, you may be interested in these other delicious fried appetizers: