This Quick and Easy Cranberry Relish is full of fresh and zippy flavors and will easily become a favorite for your holiday meals, potlucks, parties, and more!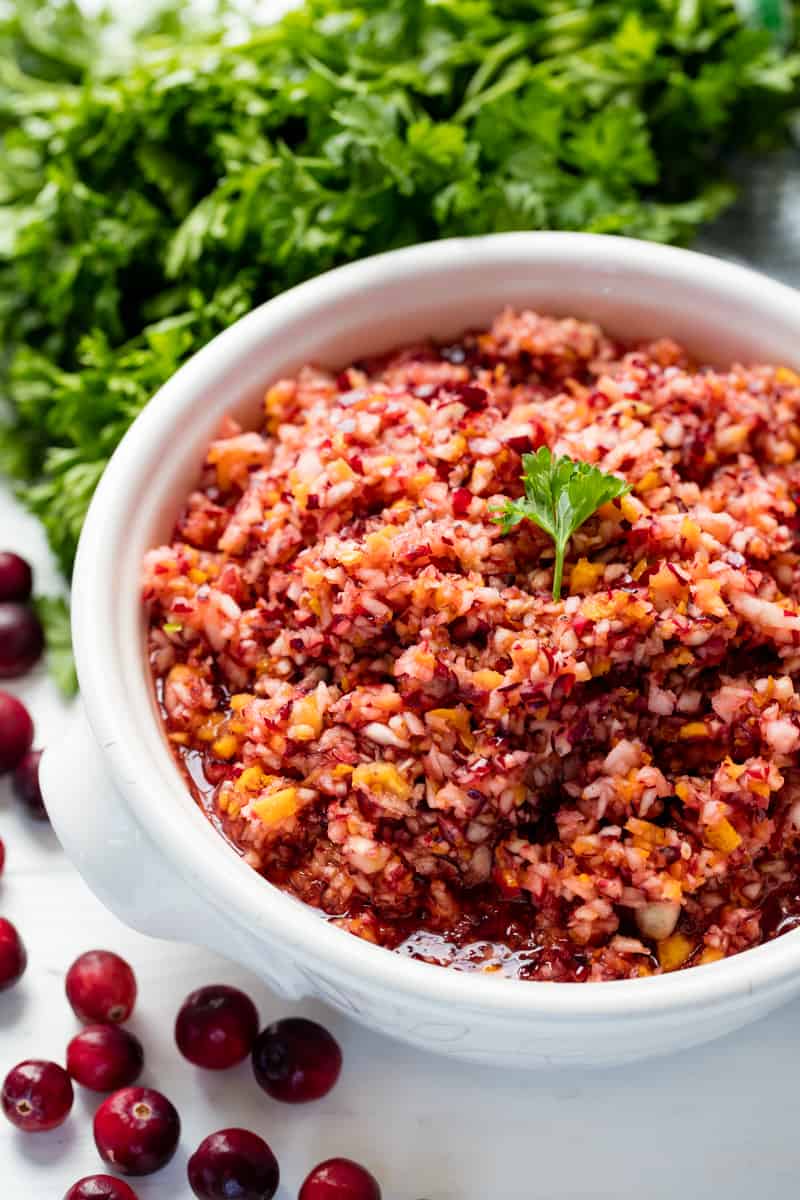 Cranberry relish is an easy side dish or appetizer that can be used in a variety of ways. It is different than cranberry sauce, which is cooked. Cranberry relish is fresh and uncooked, giving the cranberry an entirely different flavor. It's very easy to make in a food processor and only uses a handful of ingredients. You need to add this to your Thanksgiving table this holiday season!
How do rinse and pick out the bad cranberries?
Fresh cranberries are often sold in 12 ounce bags. They need to be rinsed and picked through before using in a recipe. Place the cranberries in a colander and rinse them thoroughly.Cranberries should be firm. Pick through them to find any cranberries that are squishy and discard those. Another method is to place all of your cranberries in a bowl and fill it with water. The good cranberries will float to the top and you can skim them off and discard any cranberries that sink, as bad cranberries do not float and will sink.
How do you serve cranberry relish?
Cranberry relish can be served in a variety of different ways. It makes a great appetizer and can be served with chips or crackers as a dip. Another idea is to serve it over some baked brie. Cranberry relish is a very popular side dish item to serve along side turkey, but you can also serve it with other meats as well like chicken. Feel free to share your serving suggestions in the comments section below.
Sugar:
Cranberries are naturally very bitter. Sweetness is added to cranberry relish through the orange and apple which contain natural sugars, but you will still want to macerate the cranberries by adding sugar.
Do I need a food processor?
A food processor is the ideal kitchen tool to make cranberry relish as all of the ingredients need to be finely chopped. Other tools like a NutriBullet or a good blender may also be used to make a cranberry relish. Making this without the aid of a kitchen tool could prove difficult, but you certainly can finely chop everything with a good chef's knife.
If you like this recipe, you may be interested in these other delicious holiday side dish recipes:
Watch the video below where Rachel will walk you through every step of this recipe. Sometimes it helps to have a visual, and we've always got you covered with our cooking show. You can find the complete collection of recipes on YouTube, Facebook Watch, or our Facebook Page, or right here on our website with their corresponding recipes.