This savory pulled ham is not your typical sliced spiral ham. It's so much better! We pair a mustard and brown sugar rub with tender meat to bring you a mouth-watering shredded ham recipe that you'll keep coming back to.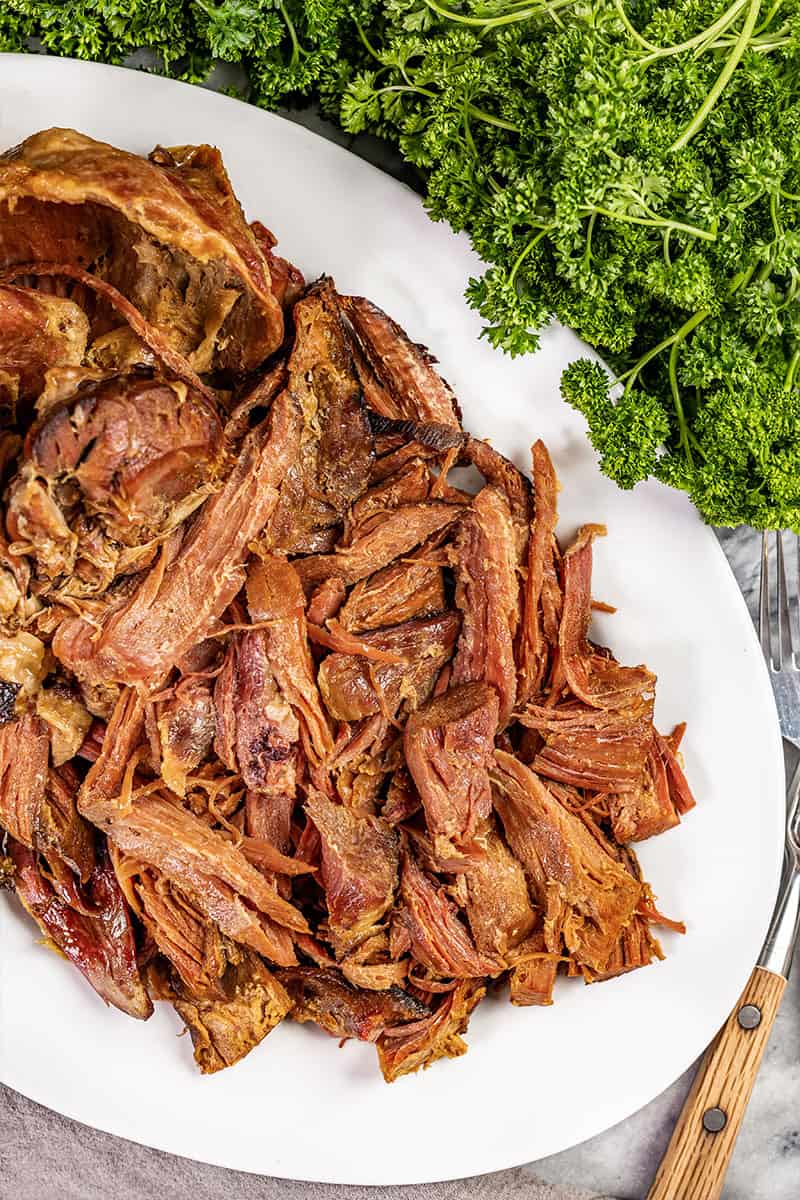 You're probably already familiar with pulled pork, but what about pulled ham?! You may be shaking your head and thinking that you can't make shredded ham out of an already cured piece of meat. You can – and we're here to show you! This pulled ham recipe is baked low and slow, just like pork butt, to give you the most delicious results. Our secret? The simple stone ground mustard and brown sugar mixture that we place on top before popping it in the oven. It adds a bit of sweetness and tanginess, which compliments the already savory piece of meat. The flavors balance each other out perfectly! Add a bit of pineapple on top and you'll end up with some seriously tasty results. This savory ham recipe will melt in your mouth – in the best way possible.
Ham Options:
Not all ham is created equal, especially for this recipe. You want to opt for the butt or shank portions, bone-in and unsliced. Be aware that this recipe will not work with a spiral-sliced ham! Sliced varieties won't shred as nicely. If you do use a shank, make sure to trim off any of the hard skin.
We have used boneless varieties when in a crunch, and it also works! You should also keep in mind that larger pieces of meat will take more time to bake.
Baking Dish Tips:
You can use a dip dish or roasting pan for this recipe, and you'll need to cover it during baking. You can tightly cover with aluminum foil, or if you have a cover that will fit nicely, you can use that as well. Make sure that whatever you use to cover the meat closes as tightly as possible so that none of those yummy juices escape as it cooks.
Flavor Add-on Ideas:
You can add in additional flavorings of your choice to the mustard and brown sugar combination in this pulled ham recipe:
Chili flakes
Orange zest
Maple syrup
Green chiles
…feel free to get creative!
Make sure that when adding in more flavorings you stay away from anything salty. The ham is already a brined piece of meat, so you don't want to add any more salt into the mix. Overly salted meat is one thing you want to avoid!
Troubleshooting: How Do I Know My Ham is Cooked Through?
Use a meat thermometer to determine the internal temperature. It should read between 200-205 degrees F. You'll also be able to tell that it's ready when your shredded ham becomes, well, shreddable!
Slow Cooker Instructions:
You can definitely turn this dish into a slow cooker meal. Simply place the meat in the slow cooker, cover it with the mustard mixture, and place the pineapple rings on top. Cook on low for 6-8 hours, or on high for 4-5 hours.
Smoker Instructions:
If you're interested in using a smoker to cook your dish, we love this recipe from Hey Grill, Hey.
Make-Ahead Instructions:
If needed, you can make this recipe a few days ahead of time. Simply prepare and cook your ham, shred it, and place it in the fridge in an airtight container. It will keep for 3-4 days max. Then, when you're ready to enjoy, reheat it in the oven at 350 degrees F until warmed through. You can also heat in your microwave in 30-second increments, until fully heated.
Serving Suggestions:
Serve your savory pulled ham as the main dish along with these yummy side dishes: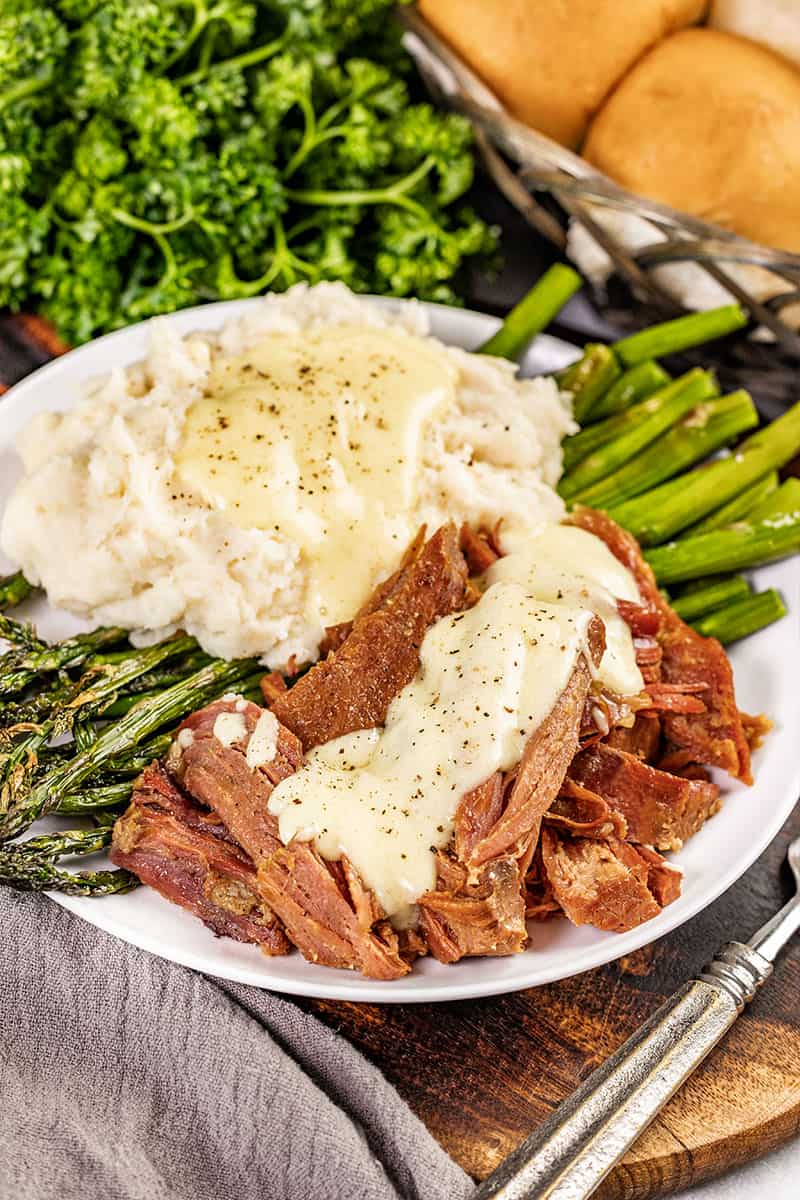 Storage and Reheating Instructions:
Store any leftover shredded ham in an airtight container in the fridge. It will keep for about 3-4 days. When you're ready to eat, you can reheat it in the microwave in 30-second increments until it's heated through.
You can also place any leftovers in the freezer. Again, place them inside an airtight container. Let your pulled ham thaw in the fridge overnight before reheating in the microwave or in the oven. If you reheat in the oven, heat it at 350 degrees F until it's warmed through. Or, you can follow the same microwave instructions above.
If you like this recipe, you may be interested in these other delicious ham creations: