Delicious Homemade Rye Bread doesn't get much simpler than this bakery style artisan bread. Caraway and rye flour gives the bread its distinct flavor. And guess what? No machines required! You can make this bread by hand!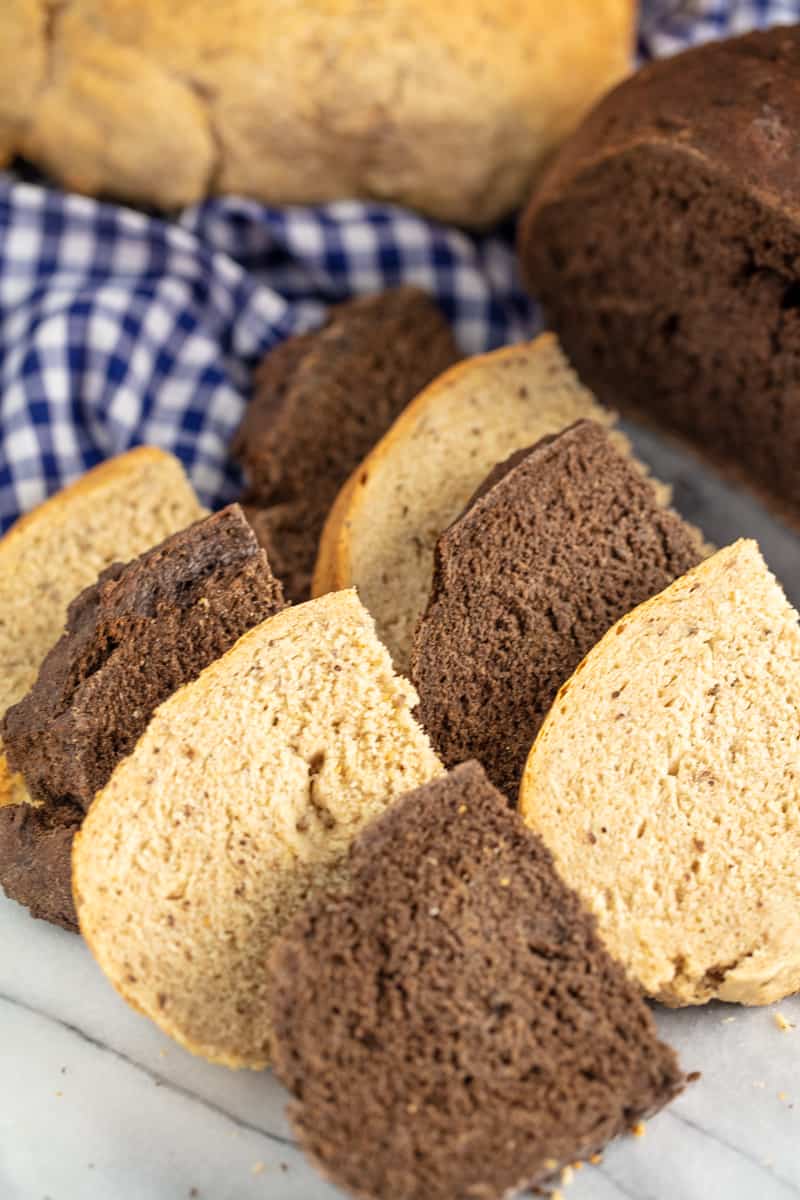 Rye is one of our family favorites, but we can never find it in our local bakeries. It is a bread that is full of flavor and brings an interesting twist to sandwiches. Classic sandwiches using rye bread are pastrami on rye, tuna on rye, and corned beef on rye, but you could use rye in a variety of different sandwiches to bring out a new flavor. Or you can go the route of my children who just devour it plain. Seriously, who would have thought little kids would love rye bread so much?
This recipe is super simple to put together, gives some great bread making techniques, and makes a lovely light rye. I've also included instructions for a dark rye that has cocoa powder and molasses in it if you'd like to try your hand at that.
My Other Recipes
How to make Bakery Style Rye Bread:
The key to making great bakery-style bread at home is all in the method. Bakeries use steam ovens to get that wonderful chewy crust. You can create your own steam oven by placing a shallow pan of water in the oven with your bread. The water will evaporate in the heat, filling your oven with steam.
Using a baking stone or pizza stone is vital to creating both the perfect crust and the perfect crumb. Bakeries use fancy ovens of the masonry variety. See, the oven in your house cooks using radiated (the flame or the electrical elements) and convected heat (the air moving around the oven. A convection oven has fans to assist in the circulation of the air). A masonry oven is able to use conduction on top of convection and radiated heat. Masonry ovens utilize stone, just as their name suggests. Stone retain heat really well. When you put a loaf of bread directly on a hot stone, the stone transfers its heat to the bread through conduction. So when you use a pizza/baking stone, you are literally adding a third heating method into your oven. Isn't that awesome? There's your science lesson for the day!
Don't have a mixer? No problem! Watch the video below where I show you how to make this bread by hand! No machines required. It's THAT simple!
Homemade Rye Bread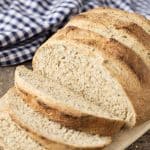 Rye Bread
Delicious Homemade Rye Bread doesn't get much simpler than this bakery style artisan bread. Caraway and rye flour gives the bread its distinct flavor. And guess what? No machines required! You can make this bread by hand!
Print
Pin
Rate
Ingredients
1 1/2

tablespoons

instant dry yeast

2

cups

warm water

1 1/2

teaspoons

salt

1 1/2

tablespoons

caraway seeds

1 1/2

cup

rye flour

3

cups

all-purpose flour

2

tablespoons

cornmeal for dusting
Cornstarch Wash
1/4

tsp

cornstarch

1/4

cup

water
Instructions
In the bowl of a stand mixer, combine the yeast, water, salt, caraway, and rye flour. Add in all-purpose flour 1 cup at a time, adding more if necessary to form a dough ball that doesn't stick to the sides of the bowl. Dough should be soft, not stiff, but should hold together on its own without being overly sticky.

Transfer to a lightly greased large bowl. Cover with a dish towel and let rise until double, about 1 hour.

Shape it into a loaf by stretching the dough from the top center of the dough ball over the edges, and then underneath. It should look and feel like you are holding the loaf with two hands and are pulling the dough inside out with your thumbs. Give several of those pulls with your thumbs until you have a nice looking little loaf.

Dust a pizza peel or wooden cutting board with cornmeal. Put the loaf on the prepared board and let it rise for another 40 minutes.

Preheat a pizza/baking stone in the oven to 450 degrees. Place a shallow pan on the rack below the baking stone.

Dissolve the cornstarch in the 1/4 cup water. Microwave for 45 seconds. Brush the cornstarch liquid on top of the loaf and cut several parallel lines on the top.

Bake the loaf directly on the stone. When you put the loaf in, pour a tall glass of water into the shallow pan below. It'll pop and sizzle and steam, so watch your hands. Close the oven door and bake for 30 minutes.
Notes
For a dark rye add the following ingredients to the dough:
1/4 cup unsweetened cocoa powder
3 tablespoon dark bootstrap molasses
All other ingredients and instructions remain the same. 
Nutrition
Calories:
1950
kcal
|
Carbohydrates:
408
g
|
Protein:
59
g
|
Fat:
7
g
|
Sodium:
3528
mg
|
Potassium:
1152
mg
|
Fiber:
33
g
|
Sugar:
2
g
|
Vitamin C:
1.9
mg
|
Calcium:
170
mg
|
Iron:
22.8
mg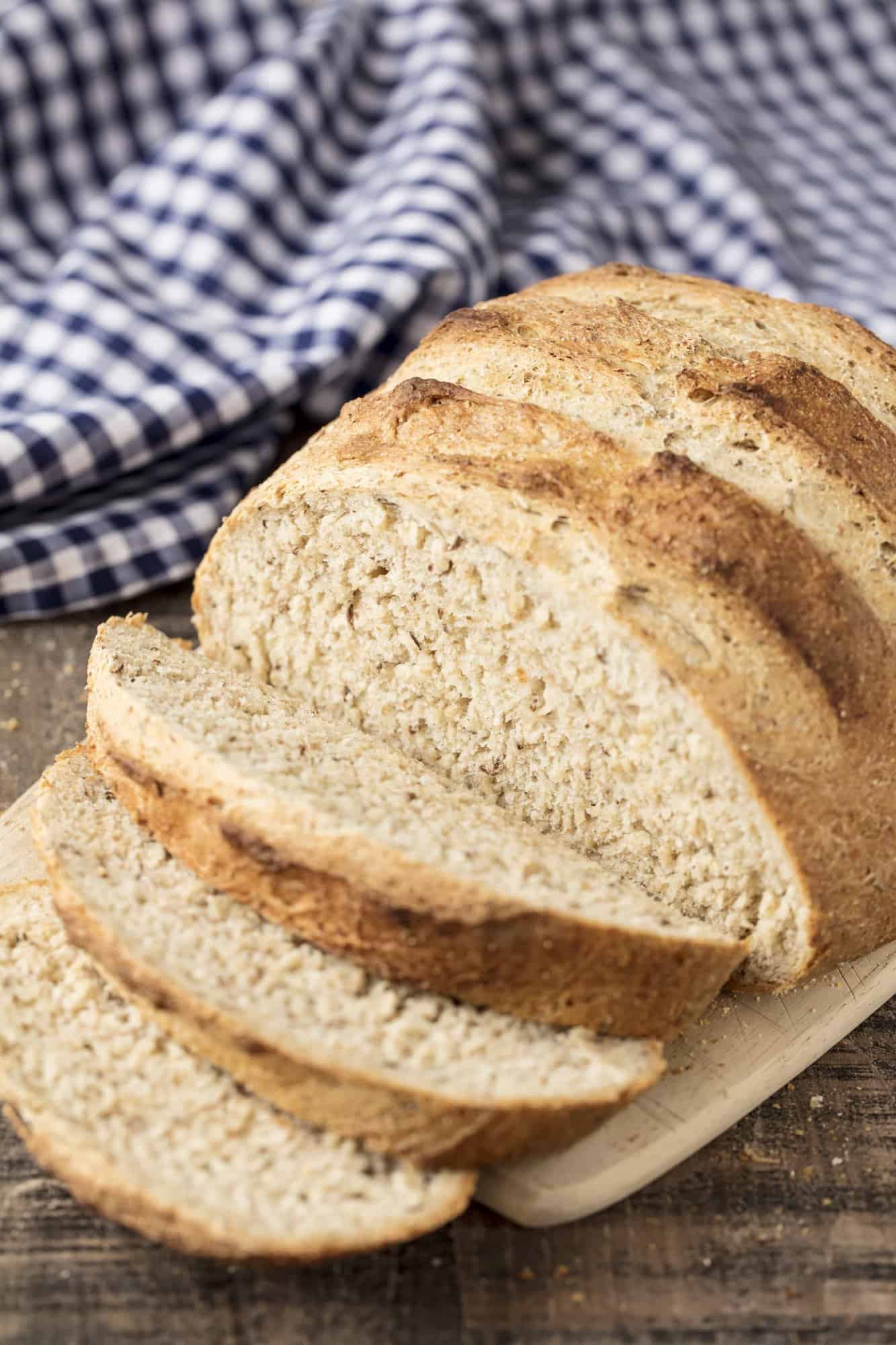 This recipe first appeared on The Stay At Home Chef on January 30, 2013
Get New Recipes Sent To Your Inbox!
Join my newsletter and get new mouth watering recipes sent directly to you weekly!