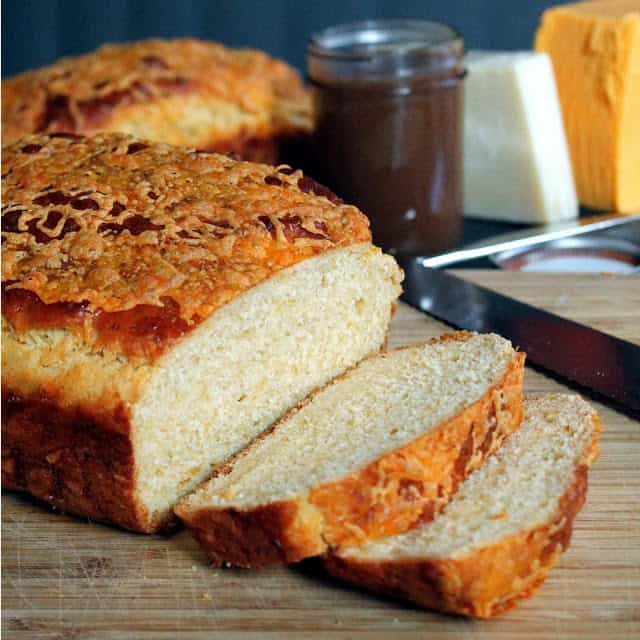 Now that it is cooling off it is time to get back to baking in the kitchen. Hallelujiah! I mean, I totally bake anyway despite the heat, but it is so much better to do it when it is actually cool outside. This Cheddar Batter bread satisfies that fall baking craving. It's cheesey, soft, and delicious warm out of the oven. I spread a little apple butter on it and the combination of cheddar and apple was just so homey and inviting…as in I was invited to devour the whole loaf.  Since it is a batter bread, the dough is quite wet so don't let that throw you. It's simple to make and really, is there anything better than homemade bread?
Ingredients


4 tablespoons butter
3/4 cup buttermilk
3/4 cup water
2 1/2 tsp yeast
3 eggs
2 tsp Frank's hot sauce
2 tablespoons sugar
1 tablespoon baking powder
1 tsp baking soda
1 tsp salt
4 cups flour
1/4 cup grated parmesan
1 cup cheddar cheese, shredded
1 egg + 1 tablespoon water
Instructions
1. Melt the butter over low heat in a small saucepan. Add in buttermilk and water and heat until it is just warm to the touch.
2. Transfer the liquids into the bowl of a stand mixer. Add in the yeast. Whisk in the 3 eggs and hot sauce.
3. Add in the sugar, baking powder, baking soda, and salt on a low setting to combine.
4. Add in the 4 cups of flour and knead on a medium setting until well combined.
5. Stir in the paremsan cheese and 3/4 cup of the cheddar cheese.
6. Divide the dough in two and place each half into a greased bread pan.
7. Let rise 45 minutes. After the dough rises, whisk together 1 egg + 1 tablespoon water in a small bowl. Brush over the tops of each loaf.
8. Bake at 375 degrees for 25 minutes. Remove from the oven and sprinkle with the remaining 1/4 cup cheddar cheese. Bake an additional 10 minutes.