Cheddar Batter Bread is cheesy, soft, and satisfies all of those savory bread cravings. Not only that, it's easy to boot and ready in just 90 minutes!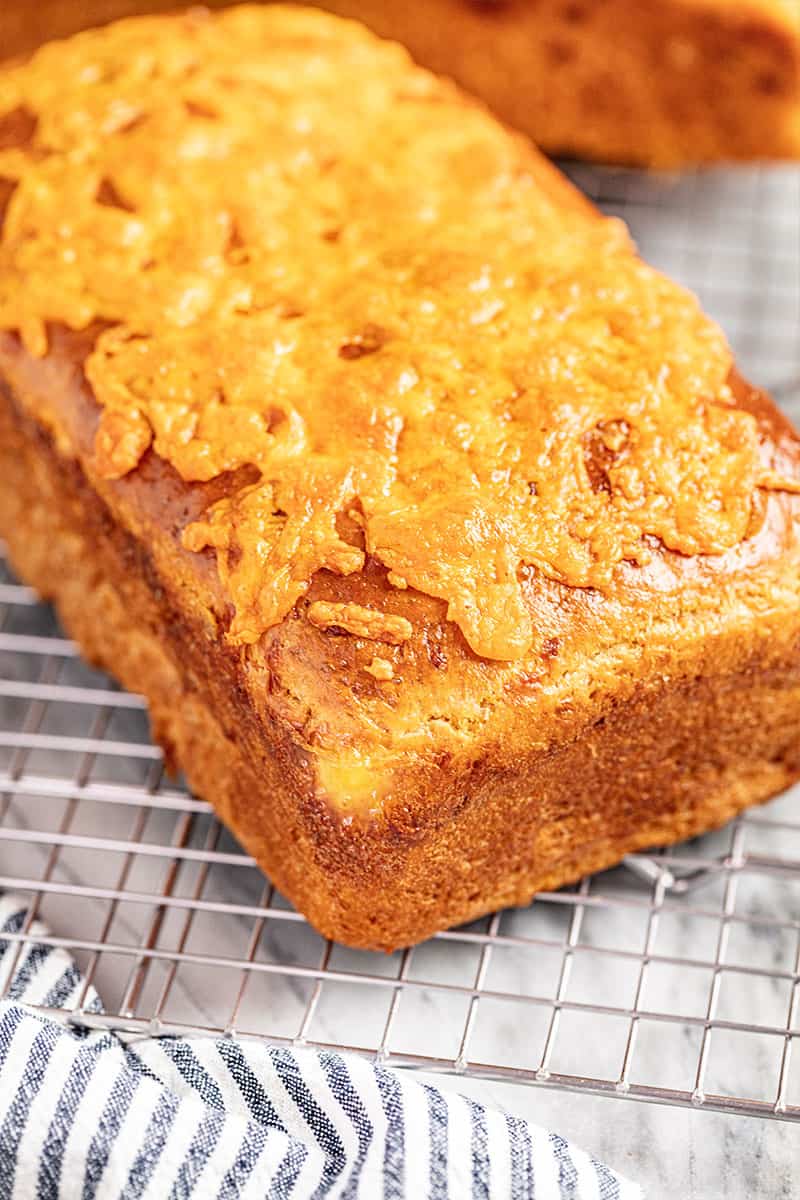 Baking is one of our favorite things to do in the middle of this freezing winter weather. Not only does using the oven warm up the house, but warm bread also warms up our bellies! Cheddar batter bread totally satisfies all of our baking cravings. It's cheesy, soft, and totally delicious straight out of the oven. We like to spread a little apple butter on top, and that combination of the cheddar with the apple is just so homey and inviting…so we typically invite ourselves to devour the entire loaf! We truly apologize for introducing you to this recipe, because once you've tried it you won't be able to stop eating it until both loaves are gone!
Here's the deal: batter breads have an extremely wet dough. If you've been making sourdough or french bread or even sandwich bread lately, this dough may throw you for a minute. Don't worry though and just trust the process. This dough is meant to be quite wet, so just keep on going with the recipe and we promise it will turn out. It really is a fairly simple and easy recipe. Some bread recipes are really involved and time consuming, which is why we keep coming back to cheddar batter bread time and time again. It is quick, it is easy, and it is delicious.
Buttermilk Substitute:

Don't have buttermilk on hand? No problem! You can always make a buttermilk substitute. For this recipe, you will need 3/4 cup of milk and 3/4 tablespoon of white vinegar. Stir together and let sit for 5 minutes and voilà, you have buttermilk!

Cheese Options:

We love this recipe as is, but there are plenty of different cheeses you could try out depending on your personal taste preferences. A few cheeses to consider: asiago, gouda, and colby.

Can I use bread flour in cheddar batter bread?

Yes, you have the option to use either all purpose or bread flour. Some bakers prefer to always use bread flour, so it's just up to your own personal preferences.
If you like this recipe, you may be interested in these other delicious bread recipes: