Heavenly homemade pesto and sweet yet tart sun-dried tomatoes come together with thinly sliced chicken breast for these tasty and unique pesto chicken roll-ups. You'll enjoy a blast of flavor in every bite!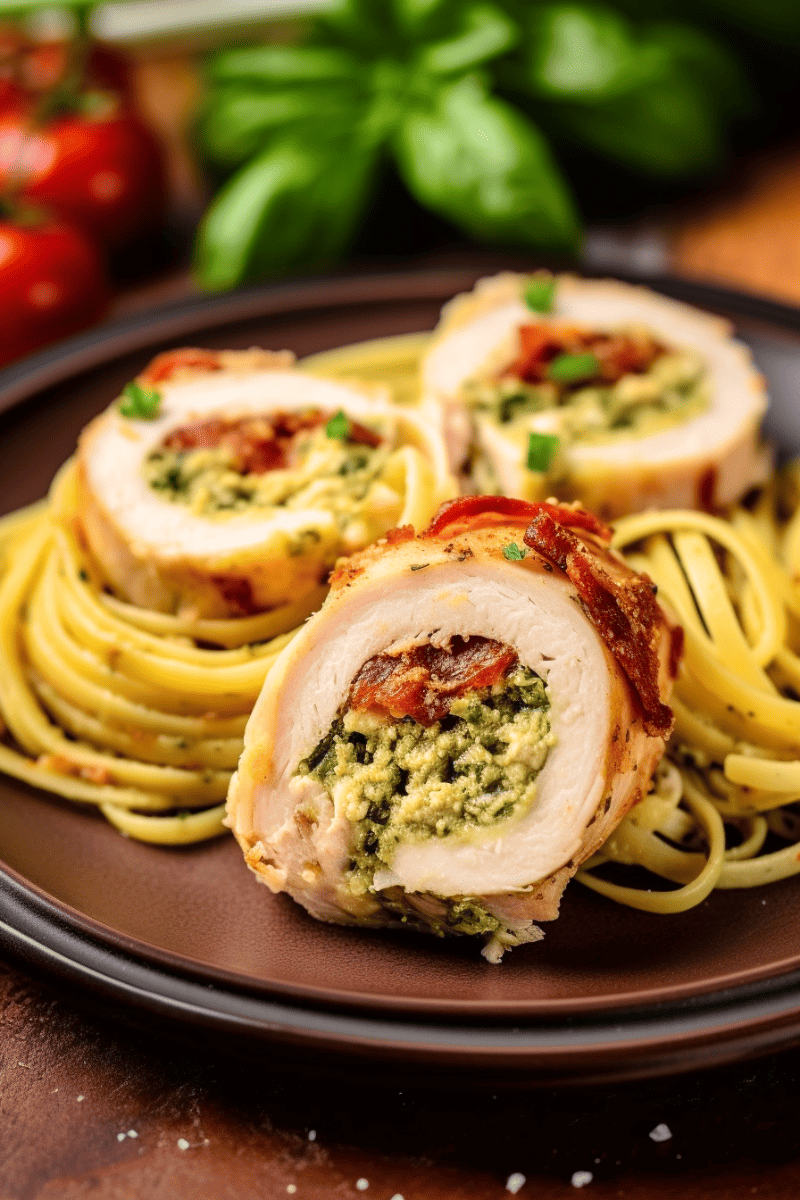 Pesto chicken roll ups have quickly become a staple in the Stay at Home Chef house. You need a bit of skill to pull off this dish, but it's worth every second of prep work! While you can always use store bought, you'll definitely want to go for homemade pesto. It's super easy to make, comes together in a matter of minutes, and the results are simply mouthwatering. You can even make extra to add to pasta dishes for the rest of the week. Looking for cheesy goodness? You've got it. We use both mozzarella and Parmesan for an Italian-inspired flavor. Paired with the homemade pesto, flavorful sun-dried tomatoes, and tender chicken breast, you've got yourself a fun weeknight dinner idea that everyone will love!
Equipment Options:
You will need some special equipment to prepare this recipe, and you have a few options for what you can use!
To blend the pesto: Opt for a food processor, an immersion blender, or even a standard blender (as long as it's powerful enough!).
To flatten the chicken: You can use a special meat pounder or simply a rolling pin to flatten your chicken breast.
Pesto Options:
We already mentioned that you can use store-bought pesto for these chicken roll-ups when you're in a crunch. While we always suggest that you go the homemade route, we know that it's not always possible for every chef. Check out the pesto variations below, some of which you can buy premade at the grocery store:
Garlic pesto
Walnut pesto
Arugula pesto
Sun-dried tomato pesto
Cheese Options:
As you'll read on the recipe card, we add mozzarella and Parmesan to the dish after the chicken has been browned. We also add in a bit of heavy cream to make this chicken dish ooey, gooey, and cheesy! Some recipes will also add a bit of mozzarella to the roll ups themselves. We don't include this step in ours, but you can feel free to get creative if you're a big mozzarella lover! You can also make this dish creamier without any extra cream by adding a bit of chicken broth before you bake it. Yum!
Sun-Dried Tomato Options:
If you don't have any sun-dried tomatoes on hand, are allergic, or simply don't like them, you can replace them with:
Roasted red bell pepper
Artichoke hearts
Mushrooms
It's important to note that each of these substitutes will alter the taste of your chicken pesto roll ups as the sun-dried tomatoes do lend a very specific flavor. Regardless, any of the replacements above will be delicious!
Serving Suggestions:
If you're wondering how to make pesto chicken roll-ups into a full meal, you've got quite a few options! We suggest that you serve it with: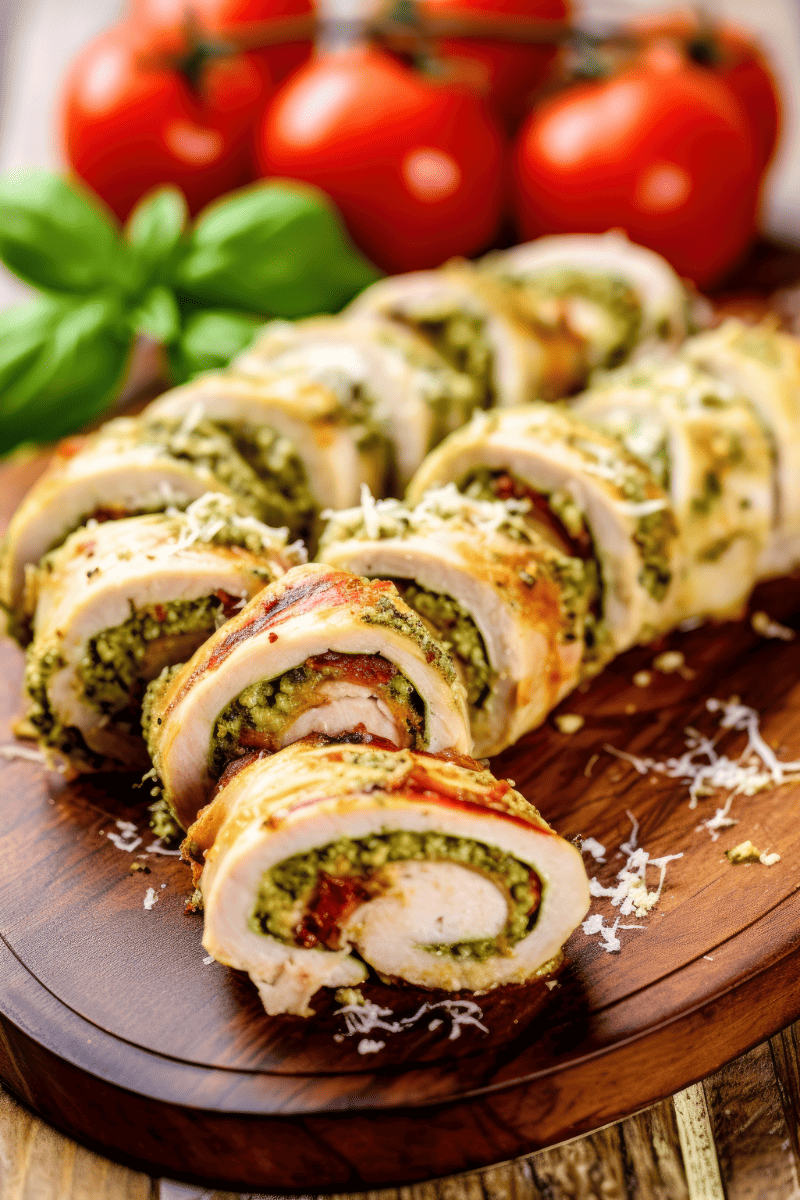 Storage and Reheating Instructions:
You can place any leftover chicken roll-ups in an airtight container and store them in the refrigerator where they will keep for 3 to 4 days. To reheat, place your leftovers in the microwave and heat in 30-second increments until warmed through. You can also reheat in the oven at 350 degrees Fahrenheit for about 10 minutes, until warmed through.
Freezing Instructions:
Follow the recipe instructions below, then let the dish cool completely. Transfer to a freezer-safe container (it would work really well in a dish made out of aluminum) and store it in your freezer for up to one month. When you're ready to enjoy, make sure to let the dish thaw in the fridge overnight. You can reheat in the oven at 350 degrees Fahrenheit until warmed through, about 15 to 20 minutes. You can add a bit of extra cheese if desired!
If you like this recipe, you may be interested in these other delicious chicken recipes: