Chicken Pesto Pasta is a 30 minute, one-pot meal! Whether you make it with homemade pesto or store-bought, it is creamy and savory and addictingly good. You're going to love it!
We are thrilled to bring you Chicken Pesto Pasta today. This is one of those meals we salivate over. The creaminess of the sauce mixed with freshly made pesto is addictingly good, even our picky eaters agree! Meals like this don't even require any side because it is so filling. Not only are you reaping the benefits of easy clean up with a one pot meal, but this one pot is really everything you need for your entire dinner!
Pine Nut Substitute:
If there are nut allergies in your family, or you simply want to lower the cost of this meal, you can substitute the pine nuts with sunflower seeds.
Pasta Options for Chicken Pesto Pasta:
Smaller, tube shaped pasta (such as penne, rotini, or radiatorre) is fantastic in this recipe. However, you could use practically any pasta you like.
Store Bought vs. Fresh Pesto:
Freshly made pesto will always taste best. However, we know how much time and effort that requires. You can always simply use 1 cup of prepared pesto instead.
Variations:
If you prefer to go heavier on the veggies in this recipe, you can always add halved cherry tomatoes or baby spinach in the last few minutes of cooking. For more substantial vegetables like broccoli or asparagus, you will want to steam or roast them before adding in at the very end.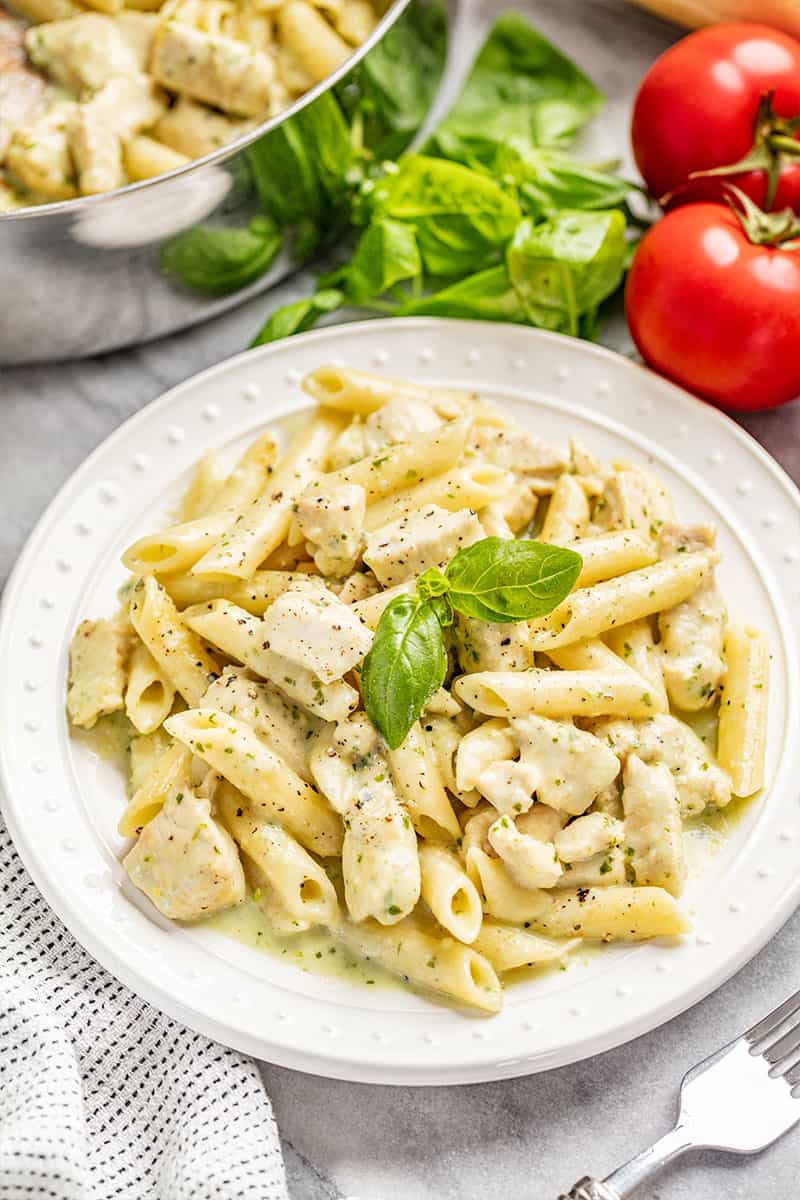 Make Ahead Instructions:
Pasta is best prepared and served fresh. If you want to save some time, you can make the pesto 5-7 days ahead and store it in an airtight container in the fridge.
Serving suggestions:
Chicken pesto pasta is a rather filling meal, so you won't want too much else with it. Add some veggies to your pasta or serve with a side salad.
Storage and Reheating Instructions:
Store any leftovers in an airtight container in the fridge for up to 5 days. Reheat in a skillet on the stovetop over medium-low heat until warmed through. Add water to the pan, 1 tablespoon at a time as needed to thin the sauce.
If you like this recipe, you may be interested in these other delicious pasta recipes:
Watch the video below where Caytlin will walk you through every step of this recipe. Sometimes it helps to have a visual, and we've always got you covered with our cooking show. You can find the complete collection of recipes on YouTube, Facebook Watch, or our Facebook Page, or right here on our website with their corresponding recipes.