Chicken Francese is a family favorite Italian-American meal. With its crispy coating and creamy lemon butter sauce, you will be going back for seconds and thirds! This to-die-for meal is ready in just 45 minutes!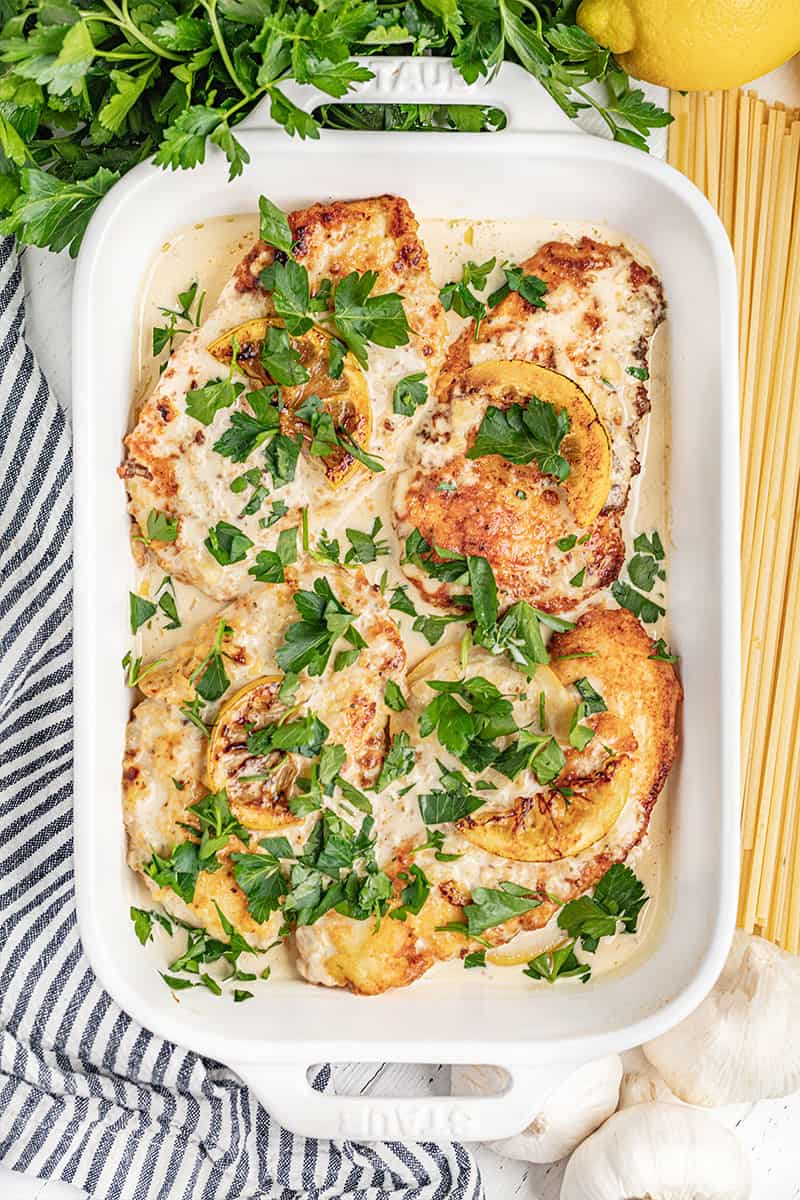 There are few meals out there that we find ourselves quite literally licking the plate clean. Bad table manners? Definitely. But we're not even sorry about it. It is that good. It's all in that creamy lemon and butter sauce. It simmers and reduces and concentrates all of that goodness into one of the best sauces we've ever had. The best part about this is that all of that deliciousness is ready in just 45 minutes! Move over chicken piccata, there's a new favorite Italian-American dish in the house!
Chicken Cut Options for Chicken Francese:

You have a few options when it comes to what chicken you use. If you want to use chicken breasts, you want to be sure they are thin. There are a few options on how to do this:

Cut each chicken breast in half horizontally, giving you 2 thin chicken breast pieces.
Use chicken cutlets.
Pound the chicken breasts thin.
Alternatively, you can always use boneless skinless chicken thighs if you prefer dark meat. Boneless skinless chicken thighs are typically thin enough that you shouldn't need to pound thin.
Doubling Recipe Instructions:

If doubling the recipe, be sure to add in extra butter and olive oil in between batches. You can add all of the cooked chicken pieces to a 9×13 pan and pour the sauce over the chicken and warm in the oven at 350 degrees Fahrenheit for 10 minutes for the final steps.

Sauce Thickness:

This sauce is fairly thin. If you want a thicker sauce, sprinkle in 1-2 teaspoons of flour into the sauce and stir it in.

White Wine:

Some home chefs love white wine in their Chicken Francese. If you are going to add in white wine, we highly recommend you use a good quality white wine. Cooking wine does not have the same flavor as standard drinking wine, and unfortunately just has a ton of salt. We do not recommend it. In a white wine butter sauce, you want to use quality ingredients.

Add 1/2 cup white wine when you add in the chicken broth. You will also need to reduce the amount of chicken broth down to 1 1/2 cups to account for the extra liquid.

Serving Suggestions:

We believe nothing goes better with chicken francese than a large bed of mashed potatoes or pasta to soak up any remaining sauce.

Fresh vs. Bottled Lemon Juice

When lemon is the star of the show in a sauce like francese, you really need to use freshly squeezed lemon juice.

Storage and Reheating Instructions:

Chicken francese is best served immediately. However, you can store any leftovers in an airtight container for up to 5 days. Reheat in a skillet over medium-low heat until warmed through.
If you like this recipe, you may be interested in these other delicious chicken dinner recipes: