Easy Chicken Teriyaki is sweet, tangy, and a crowd favorite menu item at Americanized Japanese restaurants. Serve it up with your favorite rice and some steamed veggies, and get ready to enjoy a delicious and easy takeout fakeout meal at home!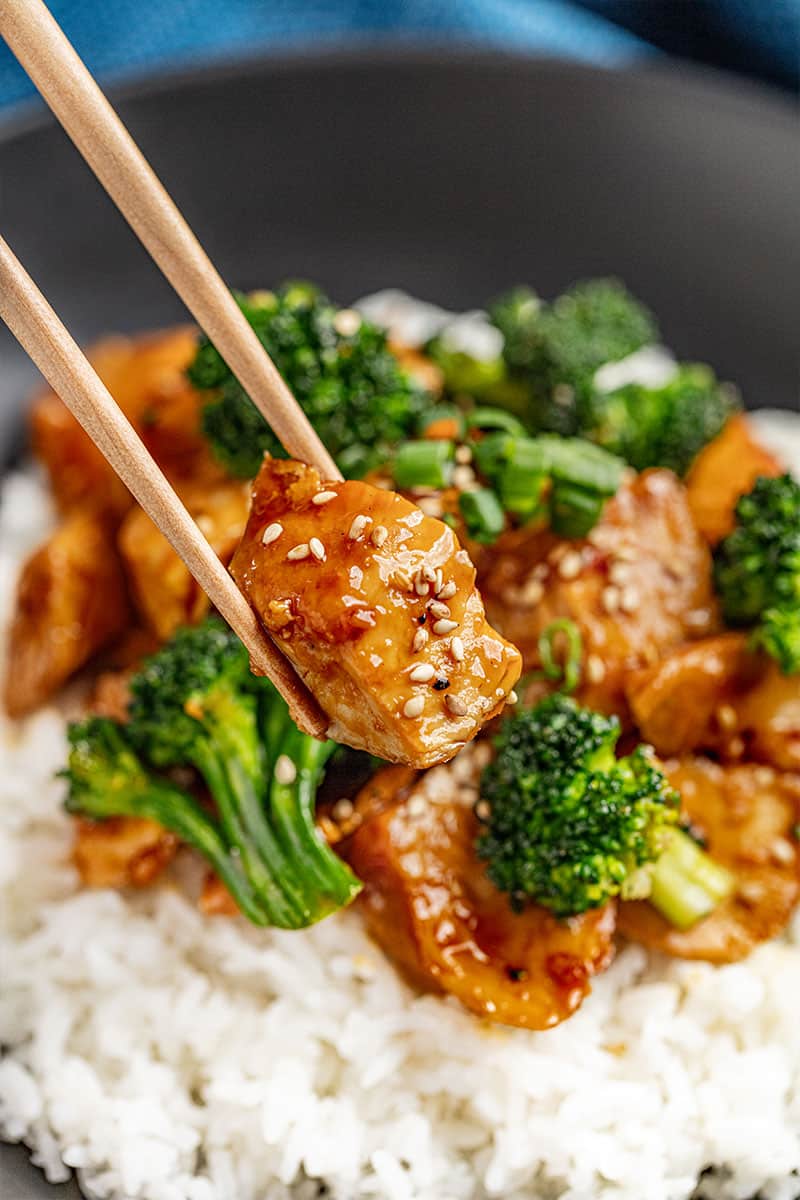 In traditional Japanese culture, teriyaki is more of a cooking method than an actual dish, where fish is broiled or grilled with a glaze of soy sauce, mirin, and sugar, and then basted with that sauce while cooking. Fish is most common in Japan, where poultry and red meat are used in Western cultures. Sesame seeds are not found in traditional Japanese Teriyaki, but are a common additional in Western versions of this dish.
Easy Chicken Teriyaki is not an authentic Japanese recipe, but rather a typical American version of Japanese-American takeout restaurants. The Stay At Home Chef uses ingredients that are easily accessible for most people in the United States and Canada so that anyone can easily celebrate world cuisines even if their opportunities for travel or access to regional ingredients are limited.
Serving Suggestions for Easy Chicken Teriyaki:

It is customary to serve chicken teriyaki on top of rice. Whether you prefer brown or white rice, either would go well with this dish. We also love that steamed veggies are a common side dish in Japanese American takeout, and always add steamed broccoli whenever possible to the side of chicken teriyaki.

Chicken Variations:

If you prefer dark meat, swap out the chicken breasts for chicken thighs. You will simply need to account for a few extra minutes of cooking time.

Slow Cooker Instructions:

Rather than dicing up your chicken (breasts or thighs), place them whole in the bottom of your slow cooker. Do not use any oil, and season your chicken with salt and pepper. Make sauce in a separate bowl and then pour over your chicken. Cover and cook on low for 6 hours, or high for 4 hours. Serve over rice.

Spice Level:

Teriyaki chicken has a mid spiciness to it from the red pepper flakes. While we think it simply adds flavor and not heat, if you are particularly sensitive to spice, you can lessen or omit the red pepper flakes.

Can I use low sodium soy sauce?

Yes! We honestly prefer to use low sodium products so we can control the salt content ourselves. Simply add enough salt to taste.
If you like this recipe, you may be interested in these other delicious Asian-inspired recipes: