Restaurant style chicken hot and sour soup is super easy to make and takes all of 30 minutes from start to finish! It's got that perfect hot and sour flavor that everyone loves.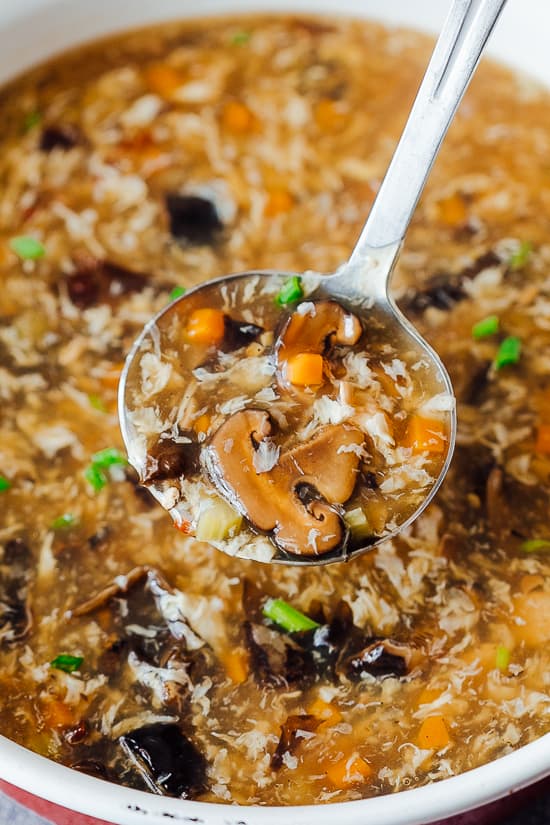 Hey there! It's Richa from My Food Story and I'm all about the soups this month. The cold weather just makes me crave a bowl of chicken hot and sour soup. I love the kick of heat and authentic chinese flavours in this soup.
This soup is loaded with shiitake mushrooms, carrots, tofu and chicken. And it's incredibly easy to make. You will only need about 30 minutes from start to finish and you'll be left with a flavourful restaurant quality soup that will leave you licking the bowl!
The best thing about this soup is how versatile and customizable it is. Make it vegetarian by skipping the chicken. Add pork instead of chicken if that's what you prefer. Like more heat in your soup? Just add more chilli peppers.
I like to use dry shiitake and wood ear mushrooms in the soup because the liquid after rehydrating them has tons of flavour and adds so much to the actual soup. But if you want, you can always use fresh mushrooms. Just simmer them a little bit longer.
This chicken hot and sour soup is great because it cooks so quickly. You will take only 30 minutes from start to finish. The flavours of hot and sour come from red chili peppers and vinegar. It's important to add the vinegar right at the end so that it doesn't evaporate while cooking.
Carrots and celery are not authentically added to a hot and sour soup recipe, but I love the crunch and depth of flavor that they add to this soup. I believe the celery is what gives it that restaurant like flavour that is so hard to achieve at home.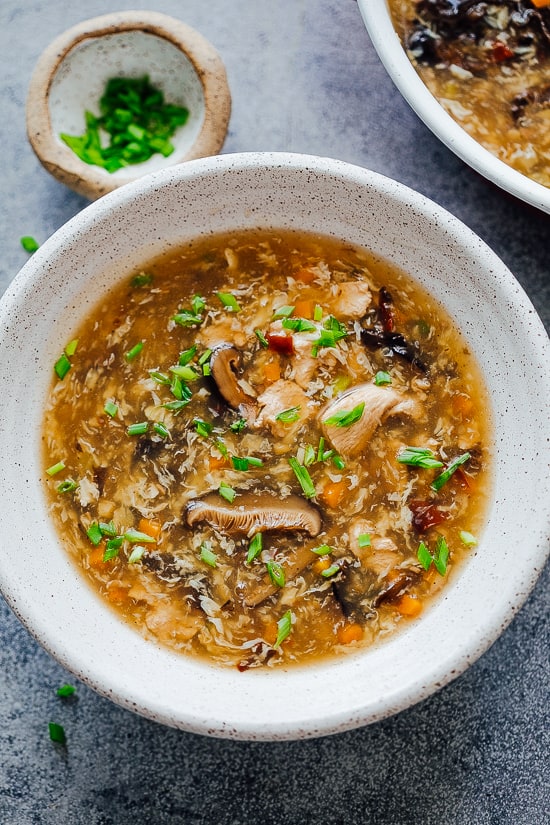 I know that you will love this soup once you try it! Its sooo much better than takeout because you know exactly what's going into it!
If you love asian flavours, you'll love my Shrimp Chow Mein and Teriyaki Chicken Meal Prep Bowls too!