This Wonton Soup Recipe is easy to make, including the wontons themselves. You'll fall in love with this restaurant quality recipe you can easily make at home!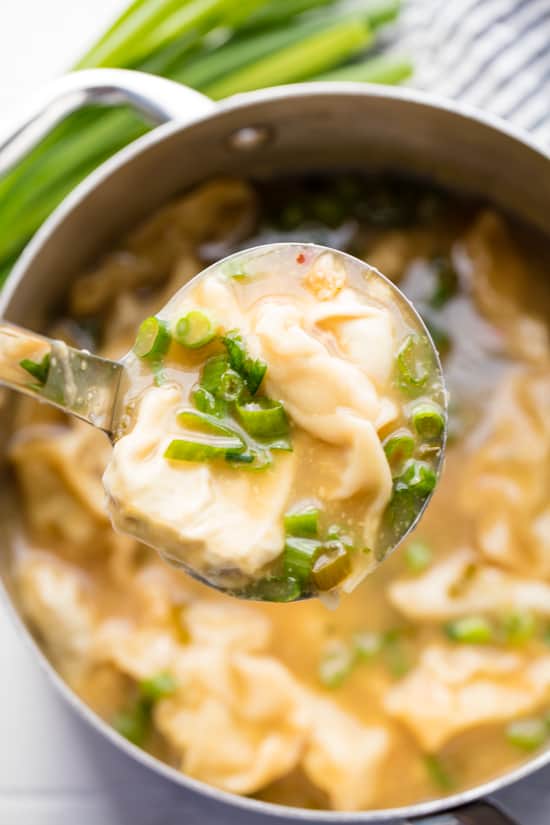 This Wonton Soup Recipe has a hot and sour soup as the base, and then delicious wontons stuffed with flavorful shrimp and veggies. The wontons are homemade, but simple to put together. The entire soup comes together in about 30 minutes for a classic soup that's good enough to be served in a restaurant.
Is there meat in wonton soup?
Often times the wontons themselves contain meat in wonton soup. Shrimp is a common filling, but you can also find chicken and pork wontons out there as well. The filling possibilities are truly endless so you can feel free to experiment with what you like. You can easily make wonton soup vegetarian by not including any meat in the wontons themselves and using a vegetable broth for the soup base.
Can I adjust the heat level in this recipe? I don't like spicy.
Yes! Adjust the amount of heat in this recipe by decreasing the amount of red pepper flakes used.
Can I make extra and freeze the wontons?
Yes! You can freeze these wontons. Place them onto a parchment lined baking tray and freeze. Once frozen solid, transfer them to a resealable plastic freezer bag for longer term storage.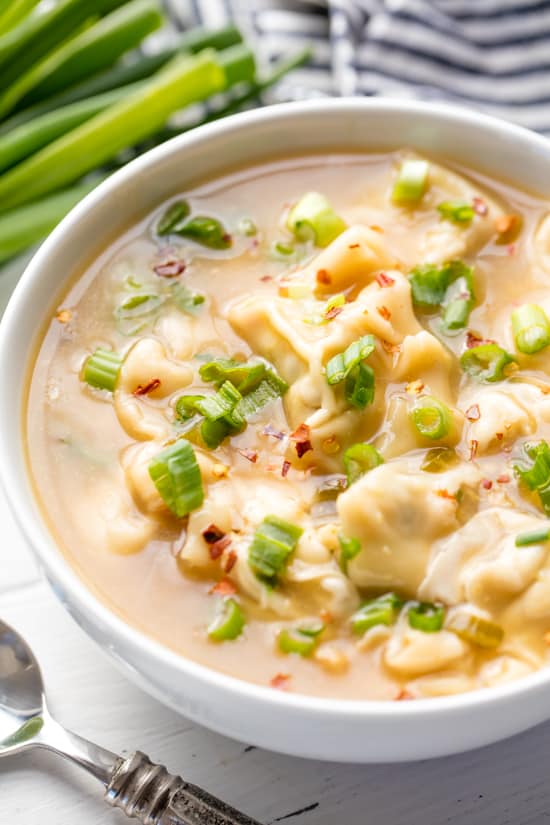 Can I use frozen wontons to make wonton soup?
If you don't want to make your own wontons, you can use frozen wontons instead. Simply skip the instructions for making the wontons and move directly to making the soup base. Frozen wontons will need a slightly longer cooking time to boil in the broth.
Can I add vegetables to wonton soup?
Yes! You can easily add vegetables into the soup base before adding in your wontons. Sliced bell peppers and shitake mushrooms make great additions.
If you liked this recipe you may also be interested in these Asian-inspired soup recipes: