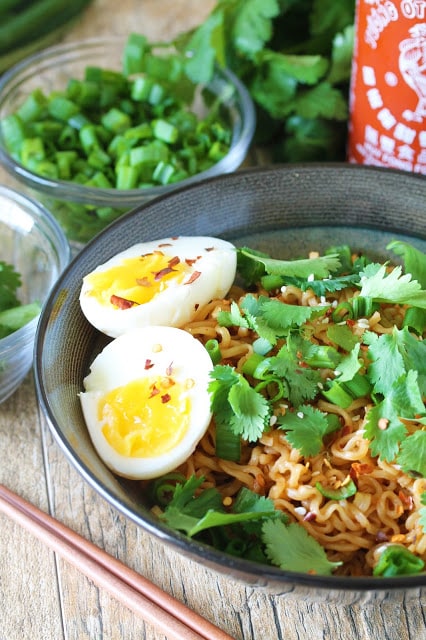 Ramen noodles are flavored with a sriracha-spiced sauce and served up with soft boiled eggs, cilantro, and green onions. All in just 15 minutes!
Quick and easy meals are something we love. When you are hungry you just want to eat, dangit! Cheap, quick, and easy meals are a staple for almost every household. This recipe is all three. This isn't your standard packaged ramen with a spice pack. This ramen is souped up with real Asian ingredients like sriracha, sesame, and soy. It's got a soft boiled egg in there for some protein, and some greens for color, and you know, the good green stuff. These noodles are spicy and delicious. If you want to turn up the heat, double the sriracha. It'll burn your face off. If you want to tone down the heat, half the sriracha. You can use packaged ramen noodles. Just discard the spice pack. Alternately, you can purchase soba noodles which are very similar and cook quickly.
Check out the video to see just how easy it is to make this recipe.

MY OTHER RECIPES
15 Minute Sriracha Ramen Noodles
Time to Make It:15 minutes
Yield:Serves 2 to 4
Ingredients
4 large eggs
2 tablespoons sriracha sauce
2 tablespoons sesame oil
2 tablespoons soy sauce
2 tablespoons rice vinegar
2 teaspoons honey
1 teaspoon ground ginger
2 packages ramen
1 cup fresh cilantro leaves
1 cup sliced green onions
(optional) sesame seeds and crushed red pepper flakes for garnish
Instructions
Place eggs in a saucepan and fill with water so they are covered by about 1 inch of water. Bring to a boil over high heat. Once boiling, cover the pan with a lid and remove from heat. Set a timer for 6 minutes. Remove eggs from water and place in an ice bath. Once eggs are cooled, peel. While you wait, prepare the noodles and sauce.
In a small bowl, combine sriracha, sesame oil, soy sauce, rice vinegar, honey, and ground ginger. Stir to combine.
Bring another large saucepan of water to a boil. Cook noodles for about 2 minutes, until softened. Drain.
Toss cooked noodles with prepared sauce. Top with fresh cilantro leaves, green onions, and soft boiled eggs. Garnish with red pepper flakes and sesame seeds if desired.