Chicken Carbonara is full of indulgent bacon flavor and smothered in a cheesy egg sauce with juicy tender chicken added in. This easy pasta is ready in 30 minutes!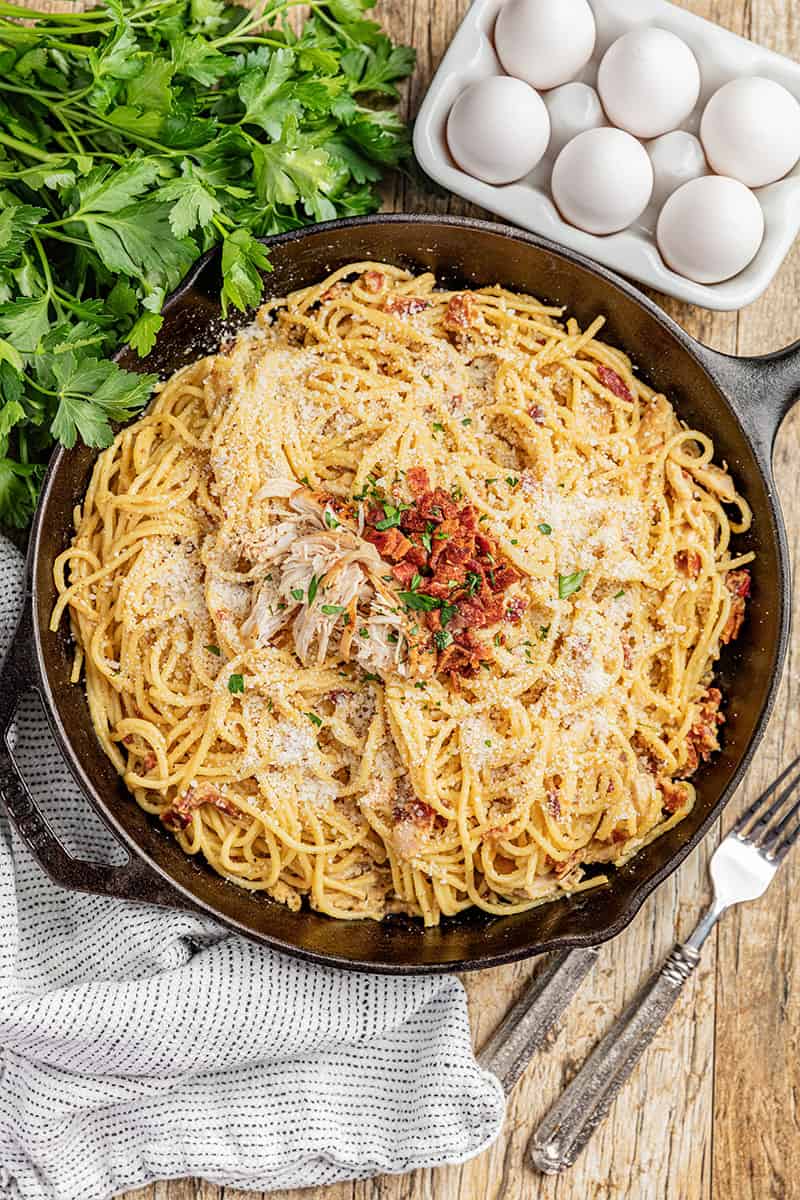 We can't get enough of carbonara. We used to just wait around for a special occasion and only enjoy this when eating out. Can you imagine how over the moon thrilled we were to discover just how easy it is to make at home?! We now get to enjoy this at our kitchen table whenever the craving strikes! And that craving strikes all the time. Seriously folks, it is one of our top 10 favorite meals. Can you blame us though? Between the pasta, creamy sauce, and pancetta, how could we not love this dish?! Adding chicken to a classic carbonara makes this meal a bit more substantial with the added protein, so it's not just a carb load. You are going to love it!
Chicken Options:

We prefer to use boneless skinless chicken breasts, but you could always use chicken thighs if you prefer dark meat or a fattier cut of chicken.

Pasta Options for Chicken Carbonara:

Spaghetti is the traditional choice for pasta in a carbonara, however you could use almost any long, skinny pasta shape. Other favorites are linguine and fettuccine.

Pancetta vs. Bacon:

You can always substitute pancetta for bacon. Pancetta isn't always as easy to come by, so definitely opt for bacon if you don't have access to it.

Can I use store bought powdered parmesan cheese?

You definitely want to stick with freshly grated real parmesan cheese. The powdered stuff simply won't do.

Storage and Reheating Instructions:

Store any leftovers in an airtight container in the fridge for up to 5 days. To reheat, add a scant amount of water with your pasta to a large skillet over medium-low heat until warmed through. Add more water, 1 tablespoon at a time as needed.
If you like this recipe, you may be interested in these other delicious pasta recipes: