Creamy sun-dried tomato chicken is a quick, easy one pan recipe with a delicious sauce that will have you licking your fingers! Serve this with pasta, brown rice or quinoa and you have a delicious dinner for your family.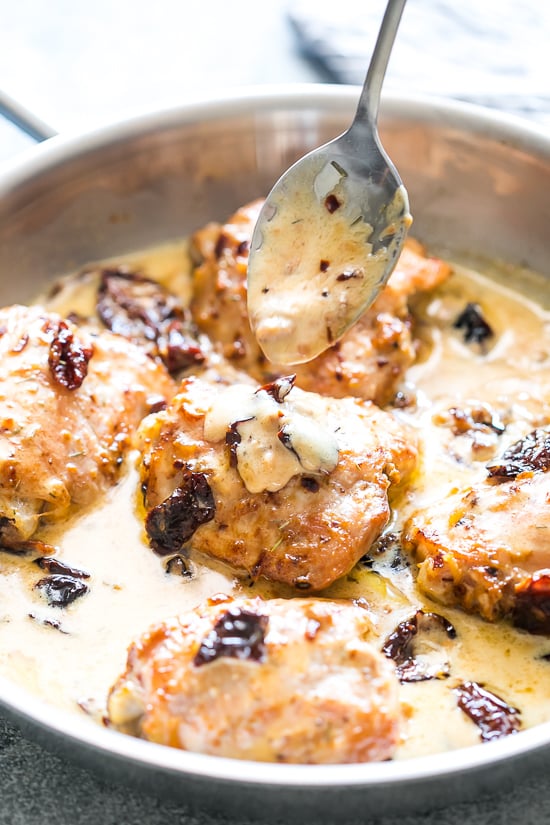 Hey there! I'm Richa from My Food Story and I'm so excited to share this recipe for creamy sun-dried tomato chicken with you on Rachel's blog! This recipe is one of our favourite dinners and everytime I make it, the family can't get enough. I mean what's not to love about chicken thighs and sun-dried tomatoes in the most delicious, creamy, garlicky sauce?
I don't even need anything on the side because that sauce is enough to make me lick the pan clean!
This is a really easy, one pan recipe which makes me love this even more because who doesn't like easy cleanup?! And because the list of ingredients is so small, this creamy sundried tomato chicken doesn't need a ton of planning. As long as you have some sundried tomatoes in olive oil and chicken lying around, you are good to go.
Let's talk about sundried tomatoes for a minute. Its one of those things that I can snack on because they are so addictive! I usually pick up a jar at the supermarket, even before the one at home gets over because I just can't run out of them. We are using a lot of sundried tomatoes in this recipe because when they simmer in this sauce, they become really soft and the juices from them are what makes this sauce so delicious.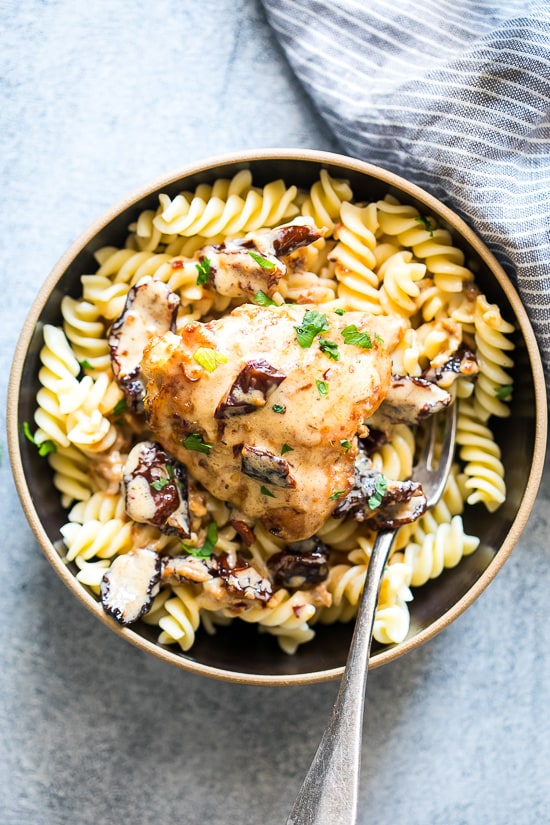 We are also going to cook everything in the oil from the jar of sundried tomatoes, but if you don't have some available, feel free to use regular olive oil for this recipe.
Serving suggestions: I love serving this creamy sundried tomato chicken with my sauteed brown sugar bacon green beans and slow cooker mashed potatoes or you can just go ahead and serve this with pasta, like you see in the picture. It really depends on your mood!
And if you love chicken recipes, check out creamy bacon mushroom chicken which is another house favourite!