Cajun-spiced chicken breasts stuffed with bell peppers, mushrooms, and onions and zesty pepperjack cheese.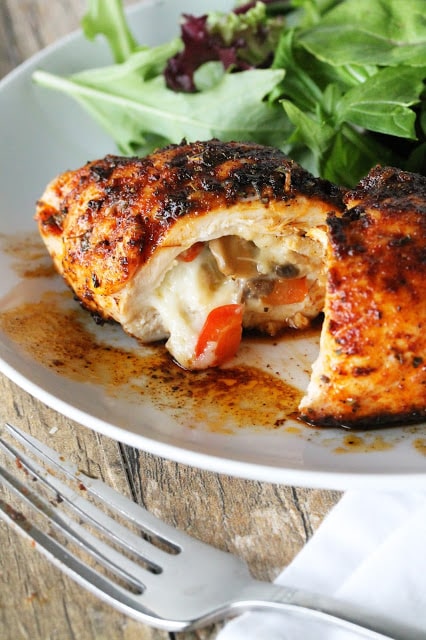 This one is a keeper for sure. It took several rounds of testing to get this recipe just right and we were happy to eat each and every version. This is all the goodness of cajun chicken pasta, without the pasta. You can serve it with buttered pasta. I did and it was great. Or you can skip the carb loading and serve it up with veggies or a salad as shown. Either way no one is going to complain about that gooey cheese oozing out of the middle with mushrooms, bell pepper, and onion all stuffed inside a deliciously seasoned chicken breast.
COOKING LESSON
Cajun seasoning can be bought in the seasoning section of the grocery store. Each brand will be slightly different in their ingredients and proportions. I like to save myself the money and make my own. Bonus, I also get to control the exact flavor. I mix it up in a ziploc bag or small jar. If you want to make a big batch, just change all the measurements to tablespoons.
2 tsp onion powder
2 tsp garlic powder
2 tsp oregano
2 tsp basil
1 tsp thyme
1 tsp black pepper
1 tsp white pepper (if you don't have it, just substitute black pepper)
1 tsp cayenne pepper
4 1/2 tsp paprika
2 1/2 tsp salt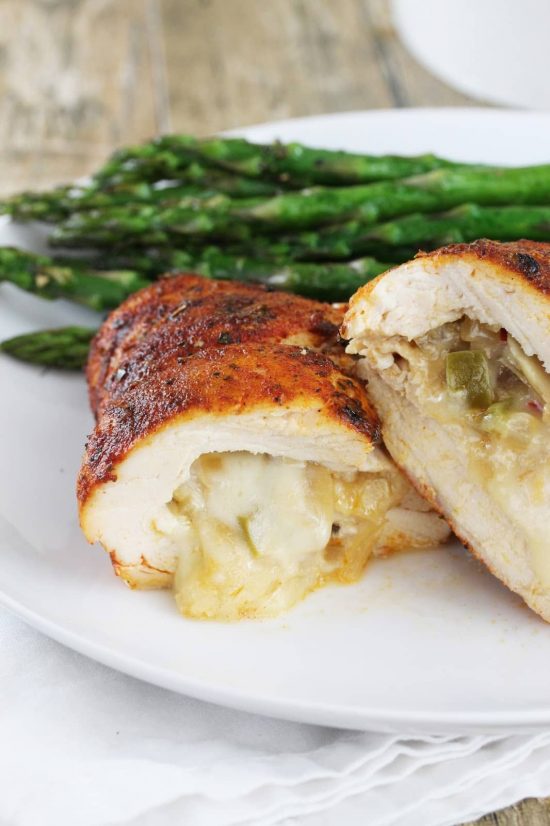 The reviews on this speak for themselves…..people love this recipe! Be sure to watch the video where I show you exactly how to make this recipe. This will be particularly helpful if you need to see how to do the stuffing part. I promise, it's super easy! Sometimes you just need to see it rather than read it.
Watch the video
where I walk you through every step of the recipe with my very own cooking show. And don't forget to subscribe to my
YouTube Channel
where I have more than 100 restaurant quality recipes you can easily make at home.

[brid autoplay="true" video="415413″ player="17586″ title="Cajun Stuffed Chicken Breasts"]
Cajun Stuffed Chicken Breast