Spice things up with this Cajun Shrimp Lasagna! You'll be blown away with the flavor in this spicy Southern seafood version of lasagna.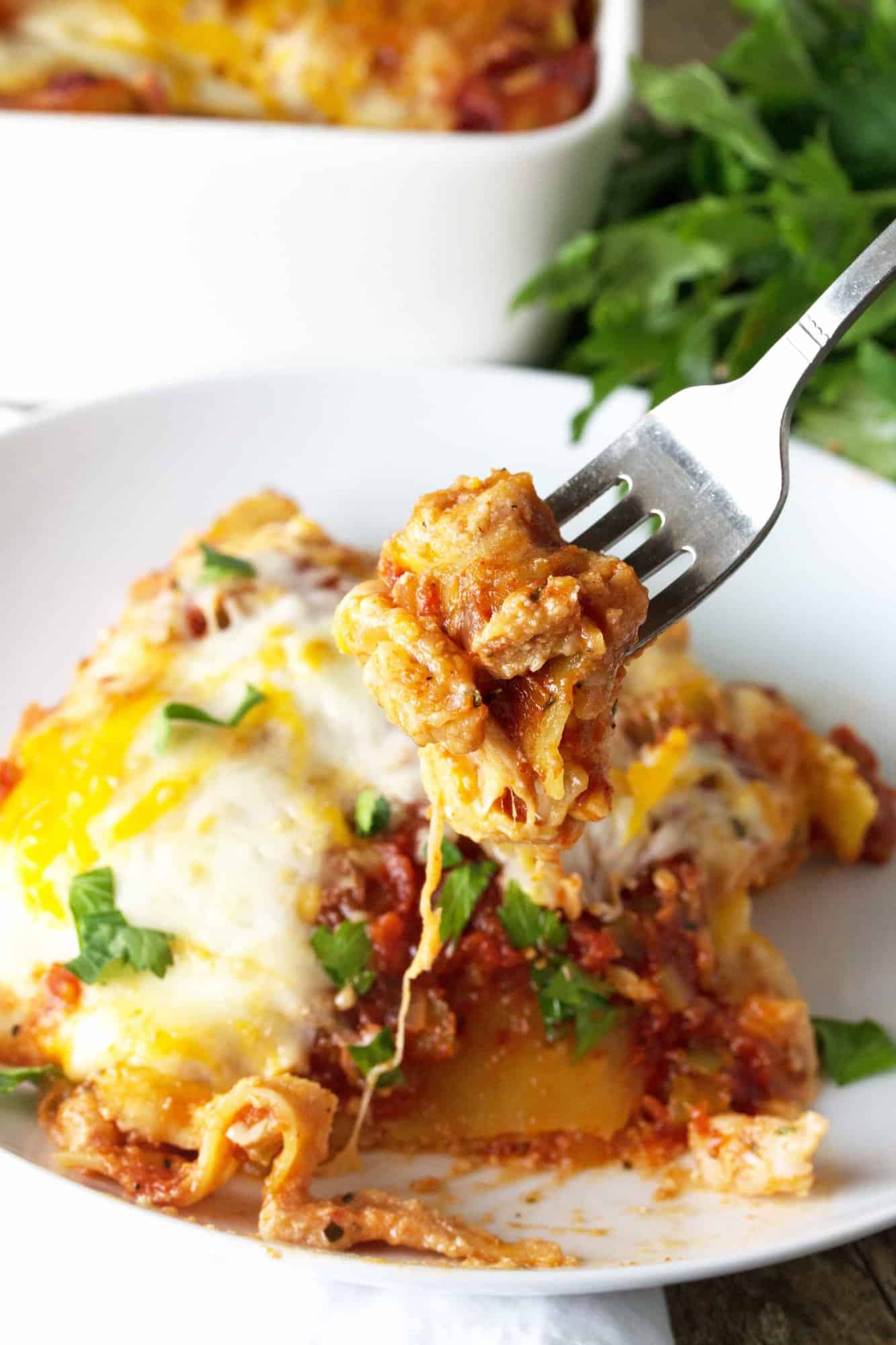 Get ready to be blown away with flavor with this Southern twist on lasagna. Shrimp is the star of the show in this seafood pasta with lots of cheese and a homemade Southern-style tomato sauce. This is what I mean when I say something is made from scratch, with love!
Oven ready lasagna noodles are a huge time saver in this lasagna dish. You just put them in all hard and uncooked and they end up perfectly cooked. It's kind of amazing. If you can't find oven ready lasagna noodles you'll have to use regular lasagna noodles and pre-cook them in boiling water according to the package directions.

MY OTHER RECIPES
Questions about the recipe? Watch the video where I'll walk you through every step. You can also check out the rest of my cooking video library on my YouTube Channel. People are loving to be able to see the cooking process, rather than just read about it. So helpful!
Cajun Shrimp Lasagna
Cajun Shrimp Lasagna
Spice things up with this Cajun Shrimp Lasagna! You'll be blown away with the flavor in this spicy Southern seafood version of lasagna.
Author:
Rachel Farnsworth
Ingredients
Sauce
1 tablespoon olive oil
1 white onion, diced
1 bell pepper, diced
2 stalks celery, diced
6 cloves garlic, crushed
2 tablespoons cajun seasoning
28 ounces crushed tomatoes
6 ounces tomato paste
2 teaspoons sugar
Cheese
4 ounces shredded sharp cheddar cheese
4 ounces shredded jack cheese
4 ounces shredded mozzarella cheese
16 ounces ricotta cheese
1 cup freshly grated parmesan cheese
2 eggs
1 tablespoon cajun seasoning
Shrimp
1 pound raw shelled shrimp, tails removed
1 tablespoon cajun seasoning
1 pound oven ready lasagna noodles
Instructions
Heat olive oil in a saucepan over medium-high heat. Add in onion, bell pepper, and celery. Saute until tender, about 5 minutes.
Add in garlic and cajun seasoning. Toast 1 minute. Pour in crushed tomatoes, tomato paste, and sugar. Bring to a boil. Reduce heat to low and simmer 10 to 15 minutes.
In a mixing bowl, combine cheddar, jack, and mozzarella cheese. Toss to combine. In another mixing bowl, combine ricotta, parmesan, eggs, cajun seasoning, and a handful of the shredded cheese mixture. Stir well to combine.
Chop the shrimp so that it is in small pieces. Transfer to a mixing bowl and toss with cajun seasoning.
Assemble lasagna: spread a large spoonful of sauce to cover the bottom of a lightly greased 9x13 pan. Create a layer of the lasagna noodles, overlapping each noodle about 1 inch. Cover with ⅓ of the sauce. Spread half of the ricotta mixture on top. Top with half of the shrimp, and a handful of the shredded cheese. Repeat, creating another layer of noodles, sauce, ricotta, shrimp, and cheese. Top with a final layer of noodles, the remainder of the sauce, and the remainder of the shredded cheese.
Cover the pan with foil and bake in a 375 degree oven for 40 minutes. Remove foil and cook another 20 minutes until cheese is hot and bubbling.