Prepared with breaded, fried, and tender chicken breasts that have been slathered with marinara sauce and gooey mozzarella cheese, this is the Best Chicken Parmesan recipe of all time. Now, this is classic comfort food perfection!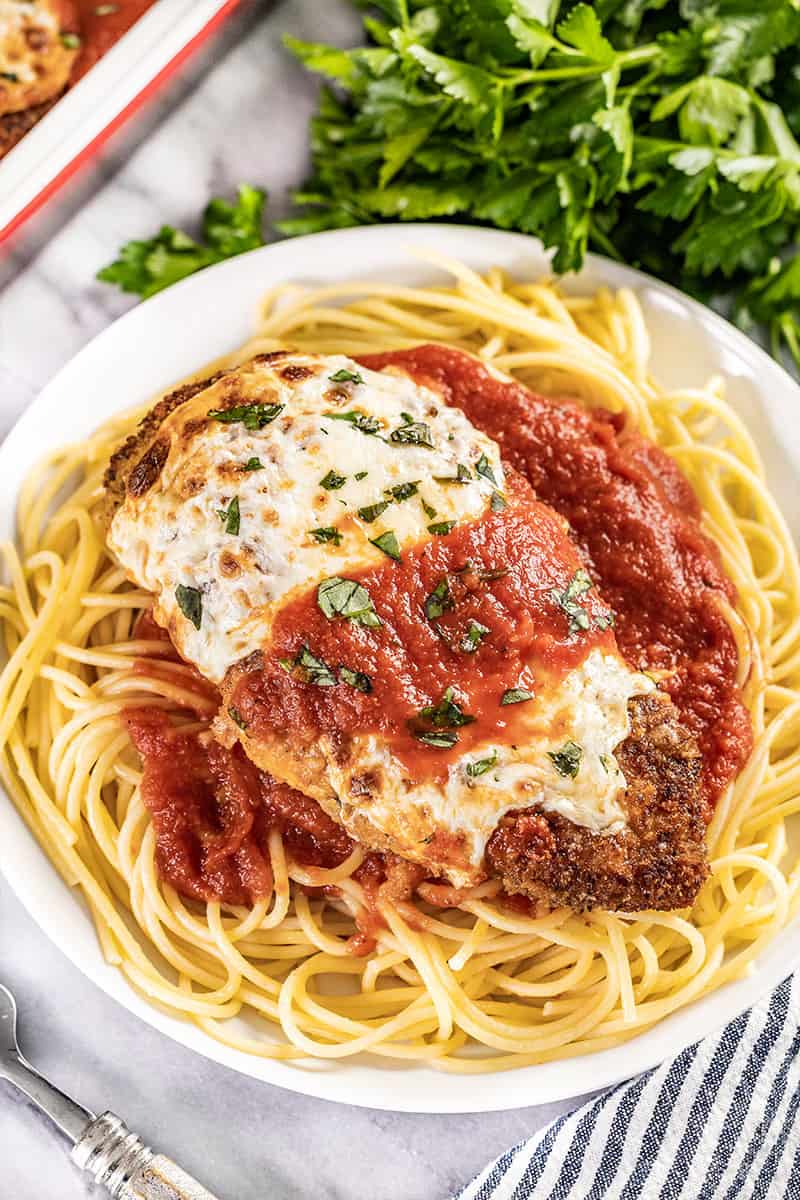 Chicken parm is one of those classic recipes that we always come back to. It's filling, comforting, and makes for a wonderful weeknight dinner that we know the whole family will enjoy! After a lot of trial and error over the years, we wanted to share the best chicken parmesan recipe ever. It's simple and calls for no-fuss ingredients too. You likely already have many of them in your pantry! When you taste how good it is, it may seem like a lot of work needs to go into it. But, this dish comes together in just about 30 minutes. Whether you serve it on its own, with a heaping plate of pasta, or with a side of veggies, this is a meal that just can't be beat.
Ingredient Notes
Chicken Options:
We like to use skinless and boneless chicken breasts for our parmesan chicken recipe. You'll want to be sure to use thin chicken breasts. If the chicken you purchase isn't thin enough (which is so often the case these days), you can use a mallet to pound out your chicken to an even thickness that's on the thinner side.
Breadcrumb Options:
A vital part of this recipe for comfort food perfection is the bread coating. It starts with a seasoned flour mixture, then gets dipped into beaten eggs, and finally rolled in seasoned bread crumbs. This recipe calls for a combination of panko bread crumbs AND regular dried bread crumbs. We find that it is the perfect combination to provide the ultimate crunchy combination. Be sure to use seasoned Italian-style bread crumbs. If using plain, you'll need to add 1 ½ teaspoon of Italian seasoning to the mix.
Marinara Sauce:
You can absolutely use store-bought marinara sauce for this recipe, especially if you're really short on time! That said, you can step your chicken parm up a notch if you make it from scratch!
Cheese Options:
Chicken parmesan is usually made using a combination of mozzarella and parmesan cheese. Mozzarella provides the ooey-gooey melted cheese factor, while parmesan adds a lot of extra flavor. For best results use both fresh mozzarella cheese and freshly grated parmesan cheese.
Troubleshooting Guide
Problem: The breading falls off the chicken while it's cooking.
Solution: Make sure the chicken is dry before breading it. Pat it with a paper towel to remove any excess moisture. Use a shallow dish or pie plate to evenly coat the chicken in the breading mixture, and press the breading gently onto the chicken to help it stick.
Problem: The chicken is undercooked or raw in the middle.
Solution: Use a meat thermometer to check the internal temperature of the chicken. It should reach at least 165 degrees Fahrenheit in the thickest part of the meat. If the chicken is not cooked through, continue to bake it in the oven until it reaches the correct temperature.
Problem: The cheese on top of the chicken is not melted or browned.
Solution: Make sure the oven is preheated before baking the chicken parmesan. Also, try increasing the oven temperature to 400-450 degrees Fahrenheit and baking the chicken for an additional 5-10 minutes, or until the cheese is melted and golden brown. You can also broil the chicken for a few minutes at the end of baking to help melt and brown the cheese.
How Do You Keep Chicken Parmesan Crispy?
If you want to give your parmesan chicken the ultimate crisp, wait to put the marinara sauce on until just before serving. This means that you will need to melt the mozzarella and parmesan cheese directly onto the fried chicken breast. Warm the marinara sauce before saucing the chicken for the best results.
Serving Suggestions
​​You can serve chicken parmesan on a bed of cooked pasta of any shape, such as spaghetti or linguine. Coat your pasta with a little olive oil or melted butter to keep it from sticking together. Add an additional cup of marinara to this recipe when serving over pasta so that you have enough sauce to coat the pasta. You can also:
Serve it with a side of sautéed vegetables, such as zucchini, bell peppers, and onions.
Serve it with a side of garlic bread, breadsticks, or focaccia bread to soak up the delicious sauce.
Serve it with a side of roasted potatoes or mashed potatoes.
Serve it with a side salad, such as a Caesar salad or a mixed green salad.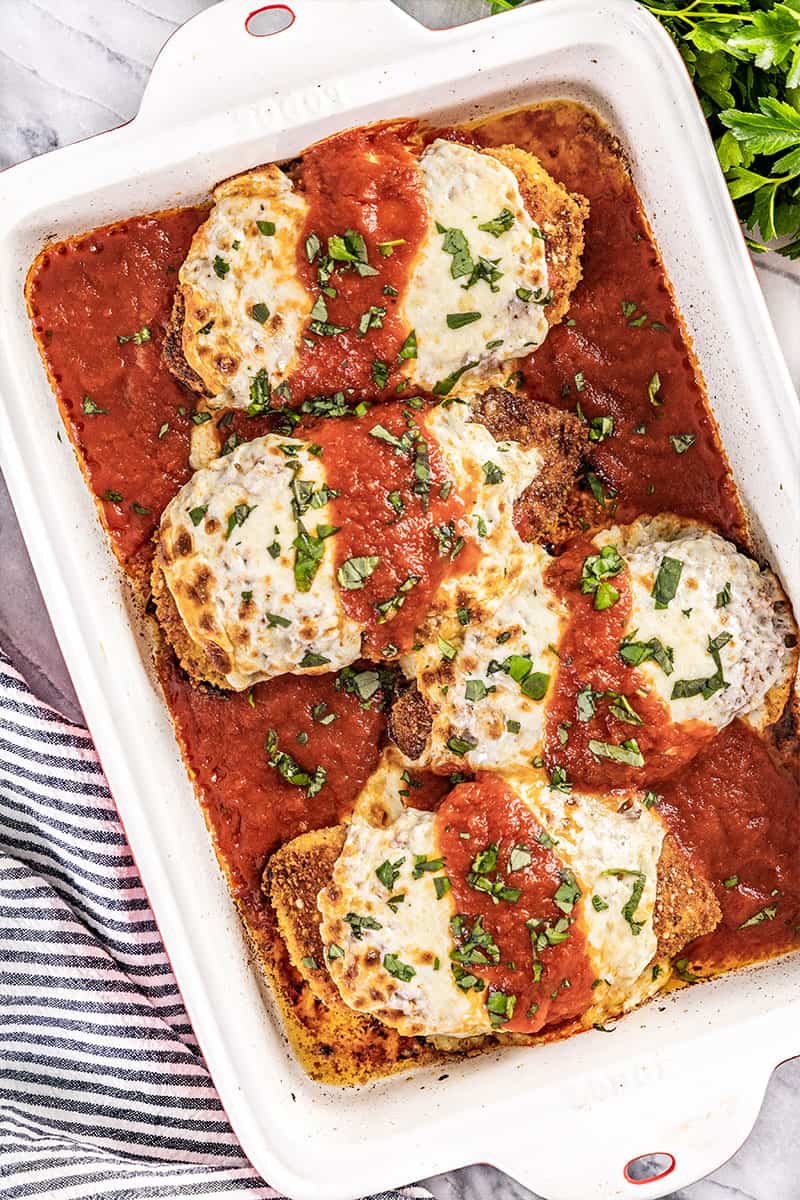 Make-Ahead Instructions
You can certainly make this parmesan chicken recipe ahead of time! It's perfect for those busy evenings when you just want to be able to pull something out of the freezer, but you prefer it to be homemade.
Follow the instructions below, but don't add the sauce or the cheese. Then, once it's completely cooled, place the chicken in a freezer-safe bag. You can either store them together or individually. To reheat, make sure to let it thaw in the fridge overnight. You can reheat them in the oven at 350 degrees F for about 20 minutes. Add the marinara sauce and cheese, then cook for around 5 minutes more and enjoy!
Storage and Reheating Instructions
Place any leftover parmesan chicken in an airtight container and store in the fridge. It will keep for 3 to 4 days. When you're ready to dig in, you can heat it up in the microwave in 30-second increments until warmed through. You could also reheat it in the oven for extra crispy results. Place the chicken parm in an oven-safe dish and cover with aluminum foil, then heat at 350 degrees F for 15-20 minutes.
If you like this recipe, you may be interested in these other delicious chicken recipes: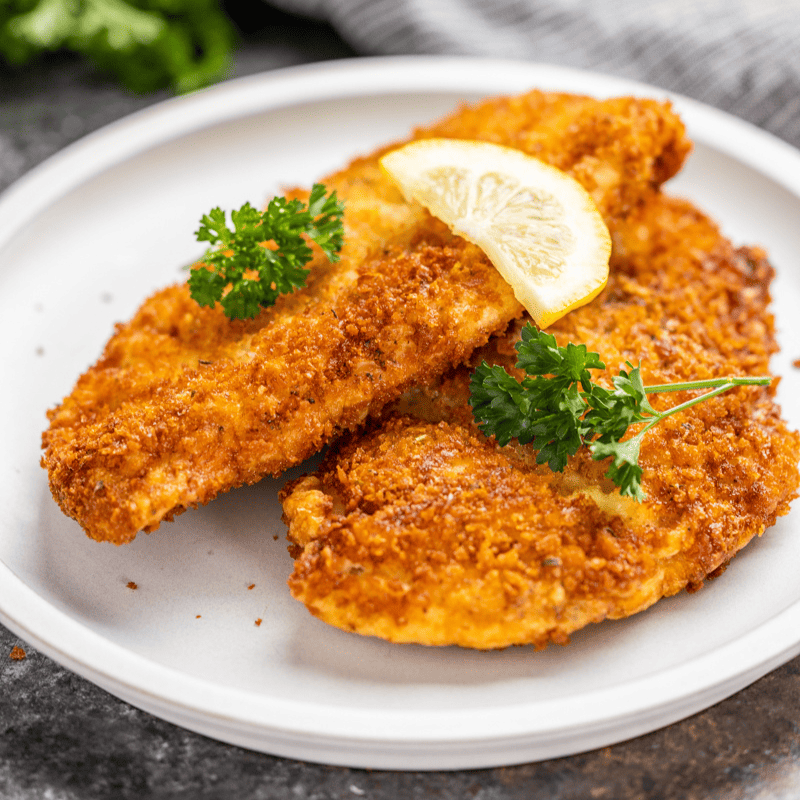 Best Chicken Parmesan