Chicken Kiev is lightly fried chicken with the most delicious compound butter in the middle. It is crispy and juicy and one of our top 10 favorite dinners!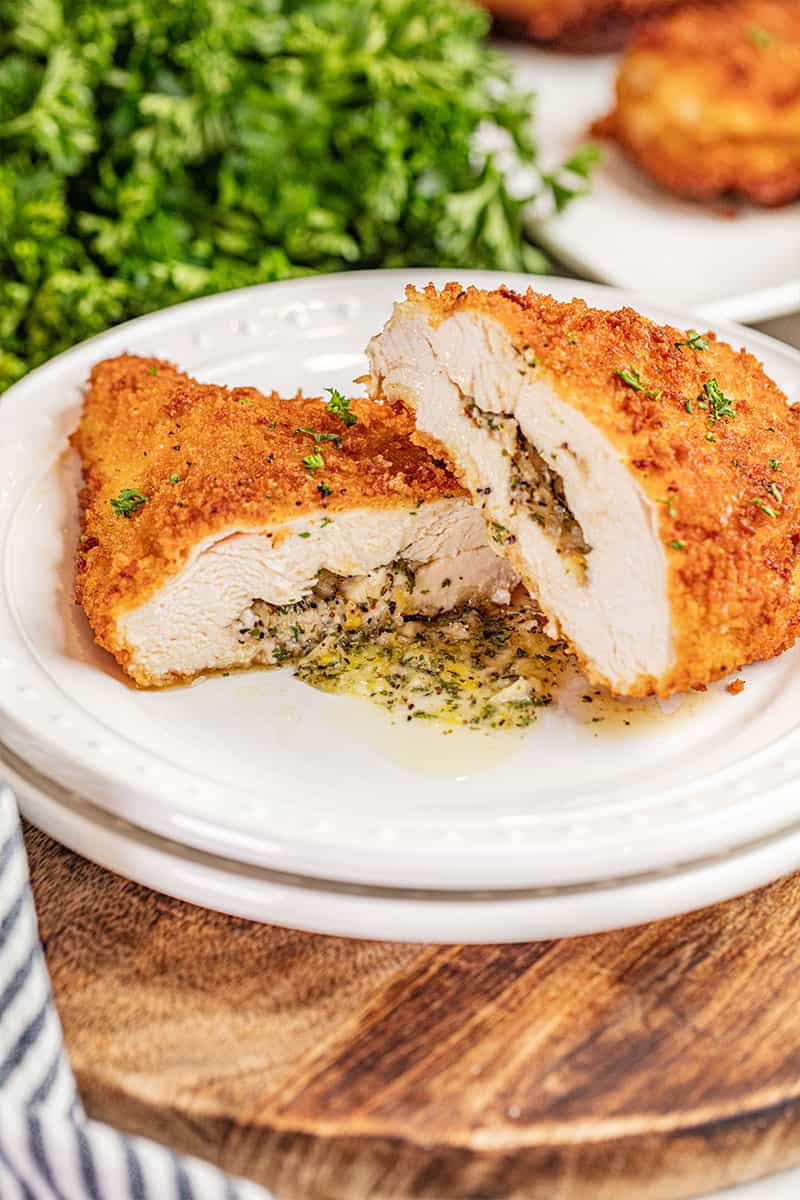 Chicken Kiev is exactly the kind of recipe we crave for dinner. Don't judge us, we're just all about the lightly fried chicken. The difference between chicken kiev and all of your other favorite fried chicken recipes is the lemon compound butter. Mmmm! We just can't get enough. As you cut into your chicken, the melted lemon-y, garlic butter pools out, perfect for dipping your chicken in. This is seriously a top 10 dinner around here, and we are sure you'll love it too!
Compound Butter:
Compound butter is simple to make, and can be kept in the fridge for weeks! To make:
Combine 6 tablespoons softened salted butter with:
1 tablespoon minced garlic
1 teaspoon chopped parsley
Zest from 1 lemon, approximately 1 teaspoon zest
1 teaspoon salt
1 teaspoon pepper

Stir all ingredients together until combined and store in the fridge until ready to use.
Serving Suggestions for Chicken Kiev:
We love a good helping of mashed potatoes on the side, to sop up any of that leftover compound butter on the plate.
Make Ahead Instructions:
You really need to fry your chicken right before serving, however you can always make the compound butter ahead of time. It lasts in the fridge for weeks.
Storage and Reheating Instructions:
Store any leftovers in an airtight container for up to 5 days. Reheat in a skillet over medium heat with a tablespoon of oil in the pan until warmed through, flipping half-way through reheating.
If you like this recipe, you may be interested in these other delicious chicken recipes: