Ooey, gooey, and bursting with flavor, this lasagna stuffed chicken recipe is filling and hearty! You'll enjoy the tastiness of lasagna and perfectly baked chicken all in one delicious comfort food recipe.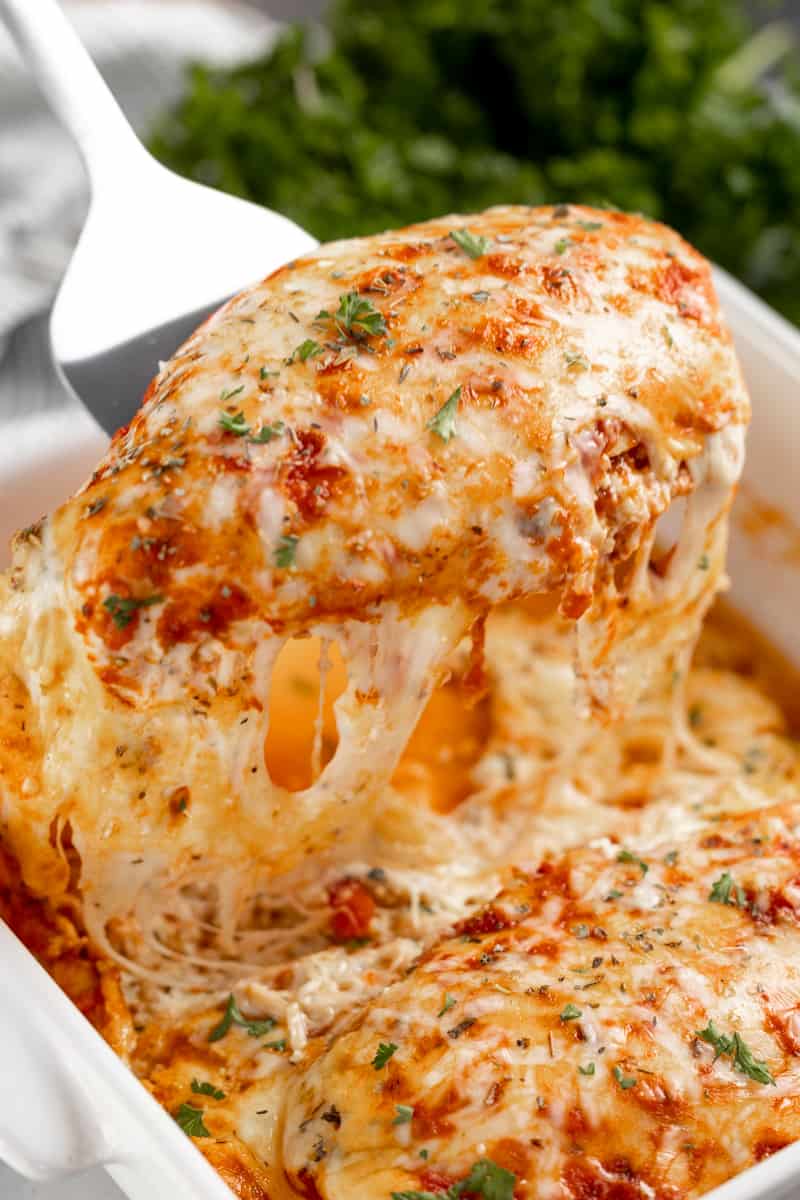 Who knew lasagna and chicken would go so great together? It makes sense, considering how well Italian-inspired spices, marinara sauce, and mozzarella marry with tender and juicy chicken. Well, we decided to bring all of these flavors together to bring you this lasagna stuffed chicken recipe! This is the kind of dish that will please the whole family. You can keep things on the low-carb side by serving it with a salad. Or, you can pair it with buttered noodles for a cheesy, saucy, carb overload. We won't judge you either way! It is so easy and delicious, and it makes for the perfect weeknight dinner. And, oh, that cheese! We're huge fans, and we're sure you will be too after trying it yourself!
Can I Use Store Bought Marinara Sauce?
Our lasagna stuffed chicken recipe calls for marinara sauce. You can opt to use store bought sauce if you're in a crunch, but we always prefer to make our sauce from scratch! Try our homemade spaghetti sauce if you have the time – we promise it's worth it!
Shredded Mozzarella Cheese:
You'll notice that our lasagna chicken recipe calls for shredded mozzarella cheese. Now, you can find this stuff prepackaged at pretty much any grocery store. But, these types of mozzarella include an additive that makes the cheese harder to melt. Resist the urge to pick up pre-shredded varieties and go for fresh mozzarella that you'll have to shred yourself. You'll get perfectly cheesy results every time!
Baking Dish Options:
This recipe makes two servings. If you want to double or triple this recipe (say you're cooking for a large family or want to meal prep), make sure to use a larger dish. A 9×13 baking dish should do the trick, but you can always go bigger if needed.
Egg Substitutes:
The egg in this recipe works as a binder to hold the cheesy lasagna chicken filling together. If you prefer to skip it, are allergic, or are trying to cut out eggs, there are a few different options:
Flaxseed and water (vegan!)
Mashed potato (or parsnips!)
Béchamel sauce
Heavy cream
Yogurt
Ricotta Cheese Substitutes:
Picture this: you did all of your shopping to try our lasagna stuffed chicken yourself. You thought you had all of the ingredients but, alas, you forgot the ricotta cheese! Or, maybe you're looking to cut down on using animal products where you can. Here are our favorite ricotta replacements:
Cottage cheese
Cream cheese
Mascarpone
Goat cheese
Tofu (vegan!)
Paneer
How to Butterfly Chicken:
Like all stuffed chicken breast recipes, this lasagna chicken variation calls for you to butterfly your chicken breast. If you've never done it before and are feeling intimidated – don't sweat it. It's a really simple process:
Place your chicken on a cutting board. Put your hand on top to hold it in place and use a knife to cut lengthwise into the side of the chicken, starting at the thickest part. Make sure not to cut it completely in half.
If you've left a bit of the side of the chicken breast connected, you should now be able to open it up so that it forms a butterfly shape.
This step is optional, but to make the chicken even easier to stuff, you can cover it with plastic wrap and flatten it with a rolling pin.
Serving Suggestions:
Enjoy this dish on its own, or with some other side dishes to make a hearty meal that will fill up your entire family. Here are some suggestions: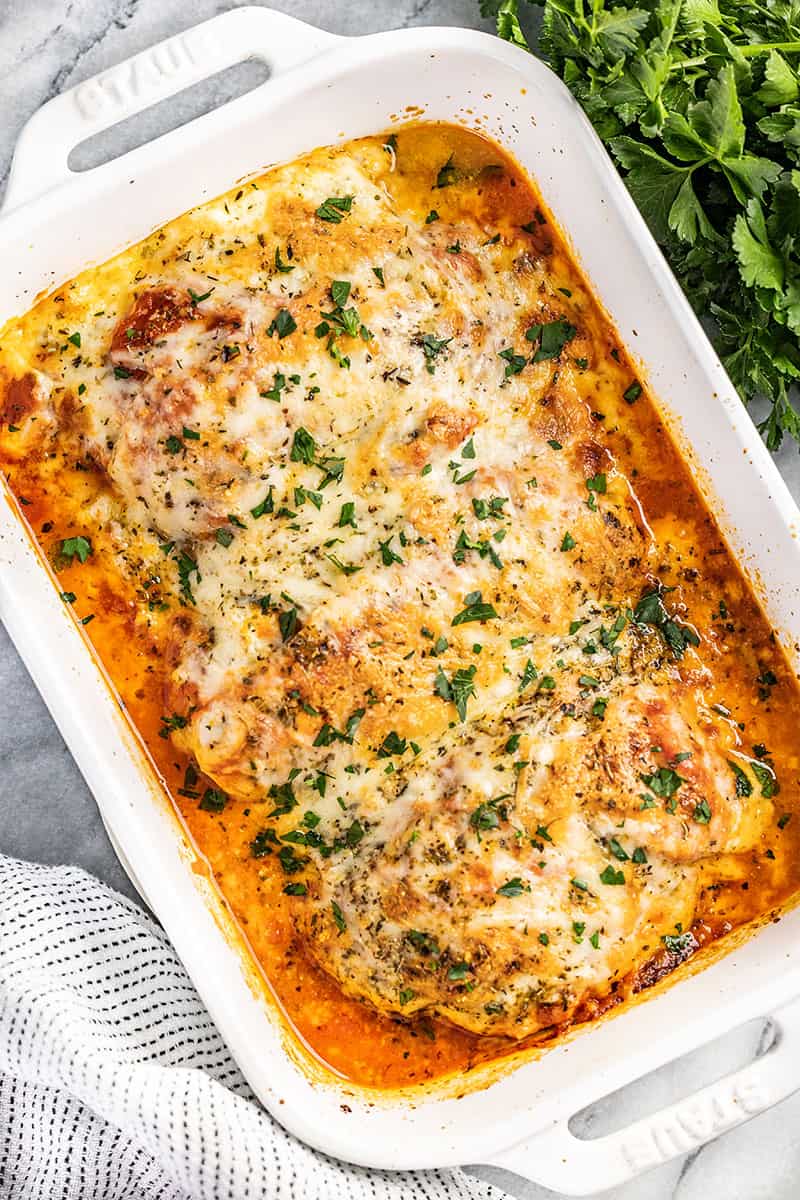 Make-Ahead Instructions:
You can easily double or triple this recipe if you want to meal prep for the week, or if you want to freeze leftovers to eat later. Simply follow the instructions as indicated, making sure to use multiple baking dishes for the extra portions. Our lasagna stuffed chicken freezes and reheats wonderfully! When you're ready to eat, preheat your oven to 350 degrees F and bake for 30-35 minutes or until warmed through.
Storage and Reheating Instructions:
If you want to freeze your leftovers, follow the make-ahead instructions above. If you want to store your leftovers in the fridge, they will keep in an airtight container for up to 3 days. When you're ready to enjoy, reheat single servings in the microwave in 30-second increments until warm. You can also reheat in the oven at 350 degrees F for 10-15 minutes if working with multiple servings.
If you like this recipe, you may be interested in these other delicious stuffed chicken breast recipes: